United States Dressage Centers of Excellence
A conversation with USEF Director of Para Dressage, Laureen Johnson
What are Centers of Excellence (COEs)?
About three years ago, Will Connell, who is from Great Britain and is now our sport director, suggested that we start these COEs within the Professional Association of Therapeutic Horsemanship (PATH) therapeutic riding centers, as they do in Great Britain through what they call "RDA" (Riding for the Disabled Association). The purpose is for the PATH centers to identify talents within their therapeutic riding students. So, for those students that are disabled that want to take on competitive riding, they would work with the COE to get there. The COEs are the primary hubs for delivering the USEF Para-Equestrian Dressage Developing and High Performance Programs, as well as coaching clinics.
Is the COE more of a program, or is it an actual place?
PATH centers apply to become a COE. We have certain criteria that they must meet, such as they need to have an arena and the footing needs to be proper for dressage. Having competitive horses is ideal and somebody on staff who does have a knowledge of dressage. Right now we have seven centers. Our goal is to have one in every state so that anybody who may contact us and say, "I'm a disabled person who would love to learn to ride. Where would I go?" We can send them to their closest COE.
Will there be a COE in each state at some point?
We didn't want to start growing it too quickly because we needed to ensure there were enough appropriately trained coaches and staff, so we started with pilot centers and to see how it would develop, and if there was any success with it. So far it's going really well and we have three new applications for COE certification that just came in within the last month. We have a panel that will evaluate it and we'll have someone from the panel go visit the center to make sure it's safe and that the facility itself is what we're looking for within USEF parameters. And then, if all goes well, we'll name them Centers of Excellence.
Where can our readers learn more about COEs?
On USEF's website: https://www.usef.org/compete/disciplines/para-equestrian/para-equestrian-dressage-programs-forms/centers-of-excellence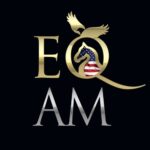 As an equestrian media outlet focused entirely on American horse sport, EQuine AMerica showcases the USA's equestrian talent (both two-legged and four) in the disciplines of para dressage, dressage, hunters, jumpers, and eventing. We support and promote our nation's fantastic equine events, products, services, artists, authors, science/tech, philanthropy, and nonprofits through our online magazine and social media platforms. Our mission is to offer you interesting/inspiring short and long-form content in a format that's beautiful, readable, and relatable.