You could say I fell in love with Standardbreds as a tween back in the '70's. I discovered Hoofbeats magazine, and in those pages met the fillies Silk Stockings and Handle With Care, and Steady Star when he paced a world record 1:52 mile.
There wasn't much chance I'd ever meet a Standardbred in south Texas though, and with no harness races ever on the television, my attention eventually drifted toward Thoroughbred racing.
I grew to know Thoroughbreds as a racetrack groom for a decade, and then I discovered my sport in Endurance riding in the late 90's. I started working for the website Endurance.net, and I cared for and rode my boss Steph Teeter's herd of Arabians in Endurance for 10 years.
It was early 2016 when, serendipitously, Steph decided on a whim that she'd like to try a Standardbred in Endurance. Through a friend with racing connections, she bought, sight-unseen, a 4-year-old gelding off the track. Steph asked for a short trotter and got a tall pacer. The story we heard was that Shotgun Rider raced at two and three (winning two races) and injured a hind leg. He'd gotten time off to heal, but when they tried bringing him back to racing, he was uninterested.
The first time I met my first real Standardbred was at night, an anonymous brown horse in a dark stall. We loaded him up and took him home to Idaho the next day.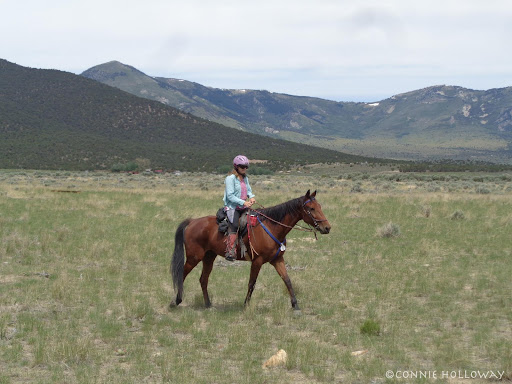 Shotgun Rider was sent to a trainer to break to saddle for his new career in Endurance. The trainer nicknamed him Willie. Naturally, I stuck Hillbillie on the front of that, because, well, it kind of fit, with his high-stepping gangly legs and his goofy upper lip that he stuck out when he was curious about something.
Steph had plenty of other horses to ride, so as luck would have it, I inherited riding Willie by default. He was pretty bomb-proof, which makes sense if you think about all the commotion racehorses encounter in the track world. He rarely spooked, which is a good thing, since you were a long way from the ground in the saddle. If he did spook, it was rather in slow motion, because he was too tall to be quick. He was forward and willing, and seemed to like being out on the trails. What horse wouldn't enjoy the great outdoors, after training and racing round and round in circles for years?
After a year of trail riding and conditioning, Owyhee Shotgun Rider made his debut in Endurance with me in 2017. 
Can you say… enthusiastic?
This ex-racehorse brought plenty of his former competitive enthusiasm with him to the Endurance trails. He always wanted to go much faster than was good for him. He likely could have won his early Endurance rides. But I'm a completely non-competitive person – I love the rides, not placing high in them – which made no sense to Willie, when there were horses ahead of him on trail to catch, particularly at the start of rides when 20 to 60 horses took off down the trails.
We often wrestled through the first 10 miles of a ride, after which he mostly settled down to a nice ground-eating trot. And lucky for me, Willie, a pacer on the track, defaulted to a trot on the trails. When he did slip into a pace, it was a rough, wiggly, bumpy ride until he shifted back to a trot. We finished five of our six 50-mile rides in his debut season for 255 miles, earning him AERC's (American Endurance Ride Conference) and USTA's (United States Trotting Association) High Mileage Standardbred award.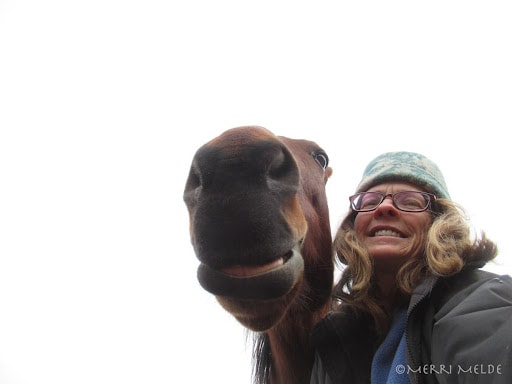 When we first got him, Willie resembled more of a giraffe than an Endurance horse: high-headed, high-stepping, with a sloping butt, because what flat-land racehorse ever needed hill-climbing butt muscles? You could hear him coming a mile down the trail with forehand-heavy clop clop clopping.
In 2018 Willie and I both worked diligently, teaching him to lower his head and collect, round up and lighten up on his front end and stop pulling. Neither one of us enjoy arena work, but it paid off, as Willie has turned into a smoother, softer, super trail horse, one who (almost always) starts out calmly at the start of Endurance rides on a loose rein and moves forward steadily. Some rides he does get wound up, and I'd rather just skip those first 10 miles of the ride until he calms down. At times I still have remind him to drop his head, round up, stop pulling, and settle down. I like to call him my constant work in progress.
Through our six seasons of Endurance together so far, Willie has finished 22 of his 23 starts, earning AERC and USTA's High Mileage Standardbred award in 2017 and 2021, and reaching the 1000-mile AERC mark. A highlight was finishing all three days in a row, 155 miles, at the 2019 City of Rocks Pioneer ride in Almo, Idaho. My favorite ride, and Willie's favorite ride for the incredible scenery, was the Moab Canyons ride in Utah.
In April of 2021, Steph quit Endurance and quit horses, and she generously gave Willie to me. All the thousands of miles over 20 years that I've ridden Endurance, I'd never owned my own Endurance horse. Willie became mine just in time to help heal the hole in my heart left by my 30-year-old off-the-track Thoroughbred, Stormy, who died that July.
He's Got Personality
Hillbillie Willie can be quite the dork. He's sometimes naughty, often getting into something, always entertaining. He likes to climb in water troughs, and once punched a hole in the bottom of a $500 trough. I've measured him at 16.2 hands, but I swear he's 17 hands, which he most certainly is at the end of a 50-mile Endurance ride when I have to get off just one more time to open and close one more gate on trail. He inspired the ongoing cartoon series I created, The Grand Adventures of Hillbillie Willie.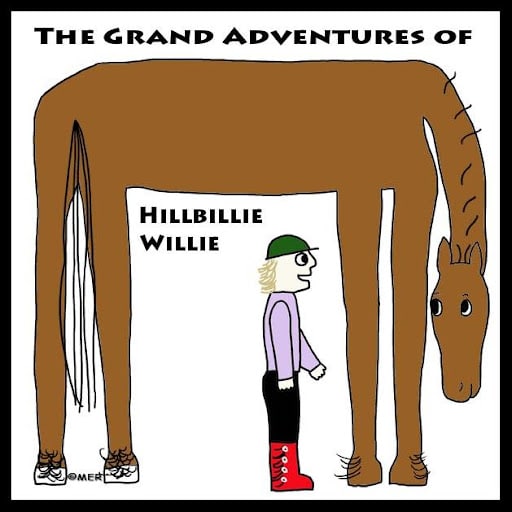 He's very personable, and he's kind and willing and wants to do things right. Once he thinks he knows something, he has a righteous opinion about it and doesn't like to be told what to do. If I ask him to scoot right instead of his choice of left while trotting down the trail, I'll get the head toss and stink-eye from him as he glares back at me. I let him make most of the decisions on trails, which path to take, what speed and gait to go. I've ridden him at the pace at close to 20 mph, at which point I'm giggling so hard I have to slow him down before I fall off.
Out on trail, Willie's brave and bold, and if something rare does happen to scare him, I can talk him through it. "Oh, that's just a newborn calf hiding behind the sagebrush. Nothing to worry about!" We often pass a cow carcass in one particular wash and he likes to stop and inspect and ponder if the cow went to cow heaven.
We ride by ourselves in our desert back yard most of the time, which really bonds us together as a team. He loves to stop on the top of high hills and admire the scenery. He's got much better eyesight, spotting coyotes or antelope before I do. There was the one ride along a ridge trail where, in a National Geographic moment, eight mule deer ran up a hill right at us, streaked across the trail right in front of us, then hurled themselves over the cliff edge on the other side.
He loves to explore new trails. I think he was a cow horse in a former life, because he loves being out in the West.
Off-the-track Standardbreds often have a good solid fitness foundation, and since they've been handled so much and been exposed to so much at the track, in general they aren't spooky horses. Standies are versatile enough to compete in all kinds of disciplines after racing, though long distance riding can come so naturally to them. There might be a Standardbred out there waiting for you. Check out the many Standardbred adoption groups to help you find your own.
I'm so grateful this hunk of a noble Standardbred came into my life!
Read more about The Equestrian Vagabond here!
Check out Merri's website!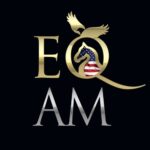 As an equestrian media outlet focused entirely on American horse sport, EQuine AMerica showcases the USA's equestrian talent (both two-legged and four) in the disciplines of para dressage, dressage, hunters, jumpers, and eventing. We support and promote our nation's fantastic equine events, products, services, artists, authors, science/tech, philanthropy, and nonprofits through our online magazine and social media platforms. Our mission is to offer you interesting/inspiring short and long-form content in a format that's beautiful, readable, and relatable.