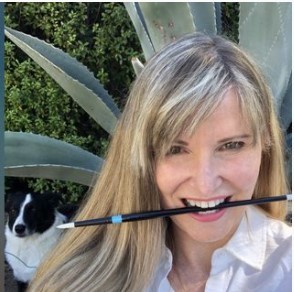 In her own words: I grew up in Northern California sneaking over to the local stable and begging anyone with a horse to let me ride. To this day, the smell of alfalfa, fresh bed shavings, and the look of dirt under my nails from a curry comb make me feel like I'm ten years old again. The barn has always felt like a second home―it's where I got my first taste of independence as a kid, it was where my girls spent their summers and all of their free time, and it's where I met my second husband. The whiskered nuzzle of a horse, a dog curled up at my ankles, and the purr from a friendly barn cat are my versions of a childhood stuffed animal.
I have always had a desire to express myself through visual creations. My mom loves to tell stories of how I would spend a week designing the cover for a book report only to barely finish writing the book report on the last night before it was due. My mind processes details, ideas, and concepts visually. My hand with a pen, paintbrush, or even a saw has always been my preferred tool to communicate with the world.
I attended art school but spent most of my time feeling like I was fighting with my creativity rather than letting it flourish. I became a hobbyist who would go years without picking up a paintbrush only to have a flurry of creativity―making handmade cards, cakes, and even wood cutouts―but I wasn't consistent and never imagined I could pursue art full time.
When I became a mom, the creativity flowed into party decorations, decor for my girls' rooms, costumes, and painting with my children. I created felt boards with custom pieces for my girls and their friends. People started to notice, I got orders, and then a friend with an MBA from Stanford convinced me that we could make it into a business. With her business acumen and vision, FeltKids was born.
For the next seven years, I worked as the founder and chief designer. I created custom boards for popular children's tv shows and movies such as Curious George, Winnie The Pooh, Thomas the Tank Engine, Madeline, Wizard of Oz, Stuart Little, and Teletubbies, along with dozens of my own creations. I had a consistent creative outlet, but I was limited to felt, puffy paint, and an audience of 3 to 10-year-olds. We won over thirty Openheimer awards and were purchased by Learning Curve, a large toy company based in Chicago.
The next decade was spent riding and training horses, and my creative outlet was helping design our barn and tending to the grounds of our ever-expanding equestrian property in Washington.
After an injury prevented me from being able to continue riding, I found myself drawn back to the canvas. I started painting every day, drawing inspiration from horses, tack, and the elegance and playfulness of riding. I challenged myself to experiment with different styles and mediums.
I made custom pieces for friends and family.
I think I would still be giving away pieces if it wasn't for my daughter who set up a website and Instagram account for me and insisted that there were people who would buy my creations.
Instagram quickly became the most-used app on my phone as I found an incredible community of people who inspired me and appreciated my talent. I have created dozens of custom pieces and over a hundred original pieces.
---
SIDE 1
---
In 2017, I made a signature horse out of the simplest shapes. I couldn't stop for months. This horse is the basis for my split horses and my artists as horses series. I have a sketchbook full of versions yet to try.

Blue Ribbon Black
18" x 24" acrylic on gallery-wrapped stretched canvas.
I love the graphic quality of my split horses. I did a commission of this series for a customer in her barn colors. These colors are not only lively but they're the colors of America (and the United Kingdom, England, France, Australia, Norway, and a hundred more).

Double Horse #1
24" x 36" acrylic on gallery-wrapped stretched canvas.
I came up with an abstract horse full of different repeating shapes: curls, paisleys, circles, triangles, and diamonds. It has both a feeling of symmetry and asymmetry. The three horses are tied to each other and because they have extra legs, they are standing and dancing at the same time. The horses had such action and color, I needed a non-competing environment. The dark grey fence gave me the horizon lines and the row of palm trees gave me the tall vertical pattern I wanted. I left each palm tree with one green palm frond. I liked the mix of unrestrained opaque colors in the horses and the very restrained use of color and transparency in the palm trees.

Abstract Horse #2
18" x 24" acrylic on gallery-wrapped stretched canvas.
I have always been inspired by Picasso and wanted to play around with horses and his style.

Picasso Reimagined
20" x 30" acrylic on gallery-wrapped stretched canvas.
Jackson Pollock is one of many artists I imagined as horses. I used my signature horse and combined the characteristic physical look and style of the artist. I still have many more to do as they combine my love of art and horses, and are insane.

I Dreamed Last Night My Horse Was Jackson Pollock
18" x 24" acrylic on gallery-wrapped stretched canvas.
This is an abstract capture of the first few seconds of a mare being flirted with.

The Male Gaze
11" x 14" acrylic on heavy archival paper.
This is an abstract capture of the 60 seconds following that flirtation. I really liked the X-ray vision of the stallion through the mare's tail, and her expression is priceless.

The Mare's Glare
11" x 14" acrylic on heavy archival paper.
---
SIDE 2
---
I referenced a picture of two of the side saddle riders from England that I follow on Instagram. Faces terrify me but it came together! I added the horse in the center and then cut out a piece of kilt from a magazine for the COVID-19 mask to give it a 2020 vibe. On the black and white prints, I hand-painted glossy red lipstick to make them really pop.

Quaran-team
6" x 6" acrylic and collage on board.
The hounds are not amused in this picture as the English Bull Terriers have escaped through the gate and want to join the party. I think Churchill would have approved.

Hunt Delayed By Running Of the Bulls
9" x "9 acrylic on heavy archival paper.
I like to imagine and add something unexpected to the hunt scenes. I thought this had a New Yorker magazine cover kind of vibe to it.

What the Fluff?!!
12" x 16" gouache and acrylic on heavy archival paper.
What can I say? I'm in love with the drinking, (some smoking) badass women who don top hats and bowlers and gallop over hedges side-saddle. I painted referencing several collected photographs of the women on their mounts, then made up a background and sprinkled in lots of hounds. If your art collection doesn't have a hound peeing, do you even have a collection?

The New Feminists #2
11" x 14" acrylic painting on heavy archival paper.
Work in progress, celebrating the beautiful Roman nose in multiple species.

Cheers to the Fine Roman Nose
8" x 10" gouache and acrylic.
---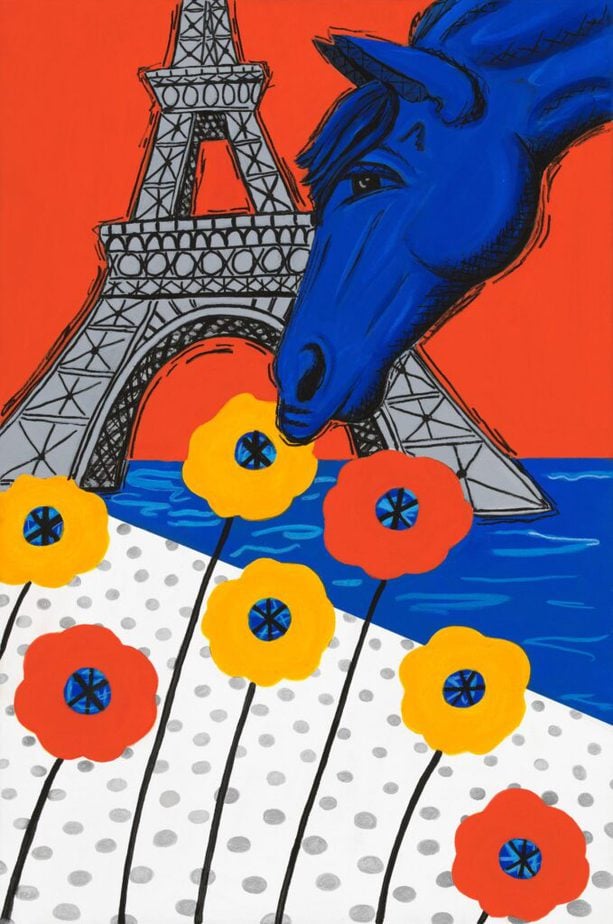 In 2019, my piece, Blue Horse in Paris, was selected by the curator of the Emile Hermès private art collection in Paris. As someone who once rode in an Hermès saddle, wears jeans with a white shirt and an Hermès scarf and lives in my 18-year-old Hermès loafers, I continue to be amazed that one of my paintings was selected to be a part of an incredible collection to inspire designers.
I live in Menlo Park, California and work out of my garage with my border collie, Raleigh, and his best friend, my daughter's French Bulldog, Bouchon. My creativity continues to thrive on the energy, support, and playful teasing of my husband and daughters. Most of my work is available for prints. I welcome commissions, and some originals are still available. You can message me on Instagram or email me at [email protected]. You can also find me on Instagram @susanhsilverman.
I wanted bright and graphic. I made a rough sketch in bed one night and liked it in the morning. This piece lives in the Émile Hermès Private Collection in Paris, above their flagship retail store. Unfortunately, the collection is not open to the public.

Blue Horse in Paris
20" x 30" acrylic on gallery-wrapped stretched canvas.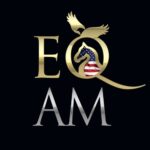 As an equestrian media outlet focused entirely on American horse sport, EQuine AMerica showcases the USA's equestrian talent (both two-legged and four) in the disciplines of para dressage, dressage, hunters, jumpers, and eventing. We support and promote our nation's fantastic equine events, products, services, artists, authors, science/tech, philanthropy, and nonprofits through our online magazine and social media platforms. Our mission is to offer you interesting/inspiring short and long-form content in a format that's beautiful, readable, and relatable.