From the Trailblazing Horsewomen Livestream Presented by
StreamhorseTV and Horse Illustrated
―STREAMHORSETV, SARAH HICKNER
International Women's Day was like any other day at the barn for me, except for a special event featuring several legendary horsewomen, which was cued up on my phone.  As The Trailblazing Horsewomen Livestream, presented by StreamhorseTV and Horse Illustrated, was getting underway, I was putting my own horse's bridle away, changing out of my riding boots and into mud boots, and gathering the kids and pup to head home. The women were talking about horses as therapy, and all I could think was, this is my therapy, and this is therapy for my kids. 
Most of the recognizable equestrian influencers of the day are competitors, which leaves most of us feeling like everyone who loves horses must compete. But Linda Tellington-Jones, when asked what she had seen change in the industry, said, "well there's so much evolution. I think now actually the fact that horses are used for various types of therapy and when I say used I mean been brought into this position of being respected for therapy. That's a whole new thing. And I get a lot of people who come to my courses who have maybe 5 or 6… horses they've given a beautiful life at home, and they have no interest in riding them. They just want to be there for them."
Veterans like Tellington-Jones are being joined by newer faces on the horse healing scene. Even Chrissy Teigen recently brought the healing power of horses to light when she announced on Twitter, "My therapist says I need something that I do for just me, as I have absolutely nothing currently lol. Today begins my journey into the horse world. I hope this dude likes me. He's so handsome and appears lazy, I love," of course accompanied by a picture of a handsome horse taking a snooze break in his stall.
A week ago my own friend, who I have convinced into returning to the riding hobby she loved as a preteen, sent me a selfie, flushed and smiling, and said, "I looked at myself in the mirror tonight after my shower and I was like wow who's that happy girl with life in her veins?" A couple hours prior we had each been astride a horse – simply riding around the inside of the arena while our kids played together. Horses fulfill something within us. Psychology Today released an article on it, explaining how horses can serve as an emotional mirror for humans.
The therapy goes deeper than a mom needing to get out of the house. Anne Kursinski, part of the #metoo movement, who went into detail during the livestream about how she survived childhood abuse by a prominent horse trainer, described horses as therapists for many little girls who "tell the horses everything," and commented that she was no different. "The horses were my savior, they were my therapy when growing up."
When Patricia E. Kelly, founder of Ebony Horsewomen, a non-profit organization located in Hartford's historic Keney Park, was asked about her first therapy horse, she stated that "all of them were therapy horses."
Kelly, in reference to using transition horses for therapy, said, "Many of the horses had issues – not just the kids had issues but the horses did too. We had one horse that had been given up so many times that he had developed an anger about being left. And so as we were using him to help a child, he needed help as well."
I was intrigued by how we seem to see some horses as needing to be rescued, and some people as needing to be rescued, yet normally only the skilled horsemen and women take on the horses who need to be rescued. And generally, only the horses who have nearly achieved sainthood set foot into the therapy barns I've visited. Yet this group of women, with a collective multiple decades of experience among them, commented throughout the program that horse and human – from any respective walk of life – mesh tremendously well together.
Debbie Roberts Loucks, daughter of Monty Roberts and "Legacy Strategist" for the family business, found herself filling clinics with rescue horses when people didn't want to loan out their "made" horses to be used as guinea pigs for training. What started as a purely functional act of backfilling horses for clinic attendees, turned into a fantastic opportunity for everyone involved. Soon horses who were looking for their next career were made more adoptable by participating in the Monty Roberts clinics.
Loucks concurrently decided to stop using the term "rescue" for horses and call them "transition" horses. They launched the Monty Roberts Mustang and Transition Horse Program, available on livestream, and those transition horses are now being used for a program for veterans and first responders called Horse Sense and Healing and a program for at-risk youth called Lead Up.
During the Monty Roberts Horse Sense and Healing program, participants experience Roberts' infamous "join up" with a horse. According to Robert's website definition of the method, "Join-Up is an effective tool to help participants rediscover themselves through the eyes of the horse to deal more effectively with emotional trauma, anti-social behavior and withdrawal, anger, stress, combat stress and Post Traumatic Stress Injury (PTSI)."
Loucks expressed her gratitude to people like Kelly who built equine therapy programs before it was common. "It's really exciting to feel like I've got… like you Pat, all these people who have come before us who recognized horses in therapy early in the game, now we're able to expand on that." Loucks gave reverence to the innate traits of horses and the power they can hold for human wellness. "The qualities of horses are so amazing for therapy. Not like a dog or cat because those are carnivores. But horses are a flight animal which is a completely different set of principles. Those qualities of horses amaze me."
Toward the end of the live discussion, Lynn Palm mentioned how horses have helped relieve our stress. "People are stressed, and horses are taking that away from them… and making them smile," she said.
People come to the barn stressed from work, a global pandemic, family issues, and so much more, but when they sit in the saddle, it is just them and the horse underneath them. The complexity of life is narrowed down to this moment, and handling what your training ride or trail ride is bringing at you. It breathes fresh air into our world when we really need it most.
The women featured on the live show will also be showcased in the upcoming "Trailblazing Horsewomen" article in the May issue of Horse Illustrated. If you missed the livestream event, it's still available for replay. These legacy horsewomen unleashed so much wisdom in a short span of 90 minutes, which helped change my perspective on therapy and horses, and challenged me to rise up as a horsewoman.
WATCH THE REPLAY HERE:
Watch Patricia E. Kelly of Ebony Horsewomen Tell a Touching Personal Story of Horse Therapy:
---
ABOUT THE AUTHOR:
Sarah Hickner has always been a storyteller and a bit of an adventurer. As a kid, her favorite books were from the Thoroughbred series, and the books inspired her to leave her home state of Mississippi to gallop racehorses in Kentucky while in college. Sarah is now settled down (which sounds more grown-up than she feels) in Virginia with her husband, two kids, a horse, a dog, and a bearded dragon.
---
This article was brought to you by StreamhorseTV in partnership with EQuine AMerica Magazine.
Follow StreamHorseTV on Facebook, Instagram, YouTube, and Twitter.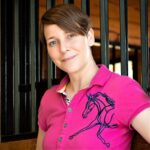 Carina is a 3rd generation equestrian who currently trains her Belgian x Haflinger gelding (below) in the fine art of dressage. Carina recently medically retired from the U.S. Army after 17 years of service as an aviator turned JAG attorney. After taking orders for many years, Carina is inventing a new, creative, entrepreneurial, and autonomous future for herself. EQuine AMerica is 1/3 of that invention. The other 2/3 is Carina's new law firm, CLR Law, PLLC, which focuses on legacy planning, equine law, and land use law.