Hunter phenom, Kat Fuqua, the three-time USEF Pony Finals Champion and rising Junior Hunter 3.6 foot jumping star, just imported her new horse, "Dream Girl," from Holland—but she's not a hunter horse. Kat's adding dressage to her repertoire.
Jason Canton, American FEI Grand Prix competitor and trainer says, "I've known Kat since before she was born. I gave her first rocking horse to her for Christmas before she was one. I've been training her in the flatwork on her ponies and junior hunter horses the last several years, and waiting patiently on the sidelines to make her a Junior Dressage Champion! Kat has the raw talent and listens to instruction. It's time!"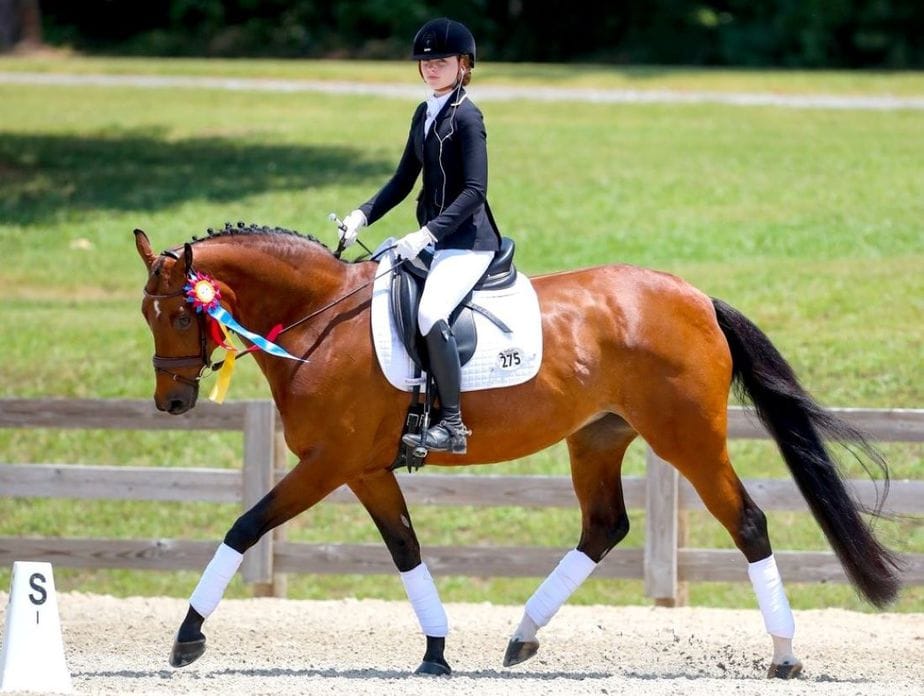 A Hunter Champion
Twelve-year-old Kat, from Atlanta, Georgia, has racked up a list of national championship accolades that rival many adult professionals. She has won over 200 division champions with her ponies and horses since she started showing at the age of five. Kat's most prestigious victory is being crowned Champion of the USEF Pony Finals presented by Collecting Gaits Farm two years in a row, 2018 and 2019, on two different ponies. Both years, she competed against over 400 combinations.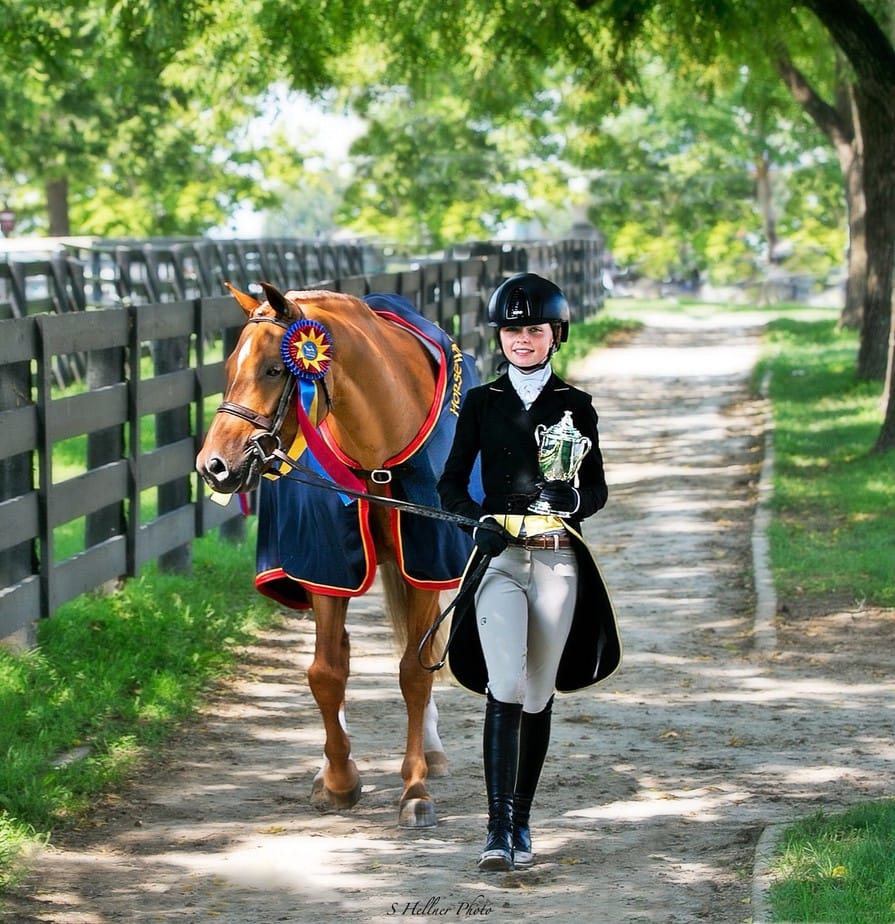 In 2018, her pony Brighton won Overall Grand Pony Hunter Champion in Lexington, Kentucky. She was the youngest rider with the highest points in the show's history, and won all three classes to be named Large Pony Hunter Champion. In 2019, Kat moved her green pony, Prestige, up to the regular division to compete against her former champion pony. The strategy paid off; Kat won the Large Ponies once again and came in as Reserve overall Grand Pony Champion. Later that week, Kat and Prestige went on to win a third major championship: the Marshall & Sterling/USEF Pony Medal Finals (a prestigious equitation competition) out of a field of 197 riders. To this, her hunter/jumper/equitation trainer, the famous Jimmy Torano, said:
She's a freak. She's a real talent. She's got ice water in her veins.

Jimmy Torano
"She's a freak. She's a real talent. She's got ice water in her veins. To come in and do what she did was unbelievable. To win it last year, you go late, you've got your former Grand National Champion mount Brighton coming in behind you, and to be able to nail it the way she did—It was unbelievable. During the Pony Medal, standing in the lineup, the coaches here were all pretty nervous. But I was pretty confident she had won. She nailed the first round, and put in the second round flawlessly. There was one spot where she could've made an inside run and didn't but the round was beautifully ridden and so beautifully executed. I was sure she won." And she did.
The following week, Jimmy took Kat to her first International Hunter Derby Championship for which she'd qualified on two of her mounts: Cornell 22 and CupidoZ. Of the experience, Kat said, "It was a real treat to get to compete with all the professionals. I'm coming back again next year and hope to ribbon!"
In the Beginning
Kat was born to Grand Prix dressage parents Jeff and Shereen Fuqua, owners of Collecting Gaits Farm and former title sponsors of the Dressage National Festival of Champions for nearly a decade, then held at the US Equestrian Team's headquarters in Gladstone, New Jersey. Shereen recalls, "In 2007, I was pregnant with Kat, and was so proud to give the championship awards to Olympian Steffen Peters in Gladstone, and then to him again at the Olympic Trials in California in 2008."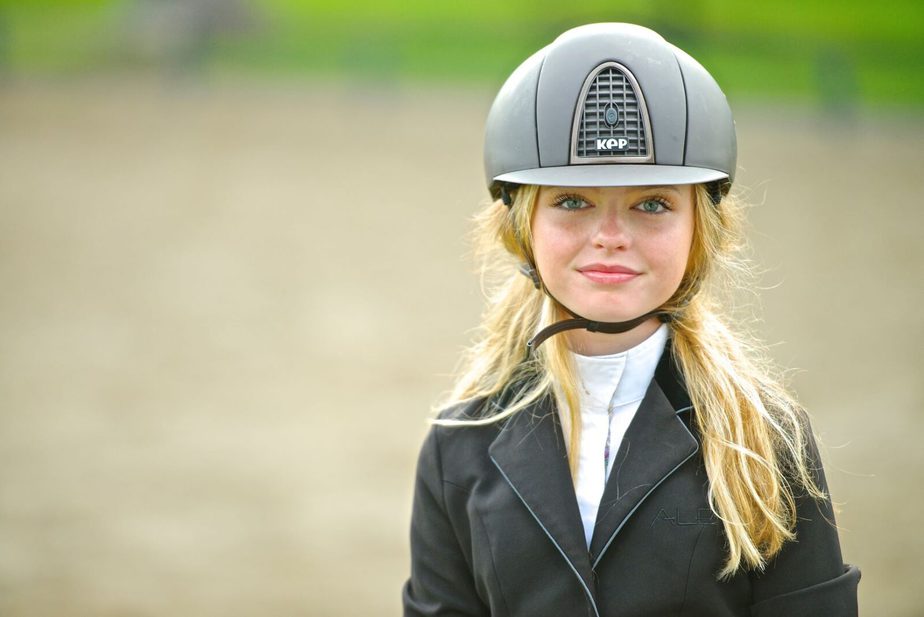 Of their support for the sport, then-US Dressage Team Technical Advisor, Anne Gribbons, noted, "For a number of years, Collecting Gaits Farm has been a vital part of the support for the High Performance department of the USEF. The Fuquas have time and again sponsored our most prestigious event of the year, the Festival of Champions, which is traditionally the event used as trials for the selection of our US Dressage Team, which represents us in Olympics, World Equestrian Games, and Pan American Games. American Dressage owes its progress to generous and selfless supporters of our sport . . . Lots of people own and operate beautiful farms, but only the very few go beyond their own ambitions to be part of the big picture."
I made sure I supported Kat with whatever activity she excelled in.

Shereen Fuqua
Growing up at a dressage barn, Kat started riding at age one with barn managers leadlining her around on her miniature horse, Buttercup, whenever her mother was riding. In time, she became so mesmerized with horses that her parents could not pull her away from them. "As a child growing up," Shereen explains, "my mother made sure I was exposed to lots of different activities like ballet, piano, and I competed at ice skating. But I was never really good at any one thing, so I made sure I supported Kat with whatever activity she excelled in." So the journey began with top trainers teaching Kat how to ride and show in the equestrian capital of Wellington, Florida for six winter circuits—but not in dressage.
Learning from the Best
The pony sport of hunters took over Kat's world. The best trainers did not live in Atlanta, so she traveled to train with them. Still, the Fuquas made certain that dressage was the foundational element of all Kat's riding skills, and quietly brought in the best dressage trainers to their farm. "We were always exposed to the best of the best in dressage. My husband always instilled in me that if you're going to learn something, learn from the best."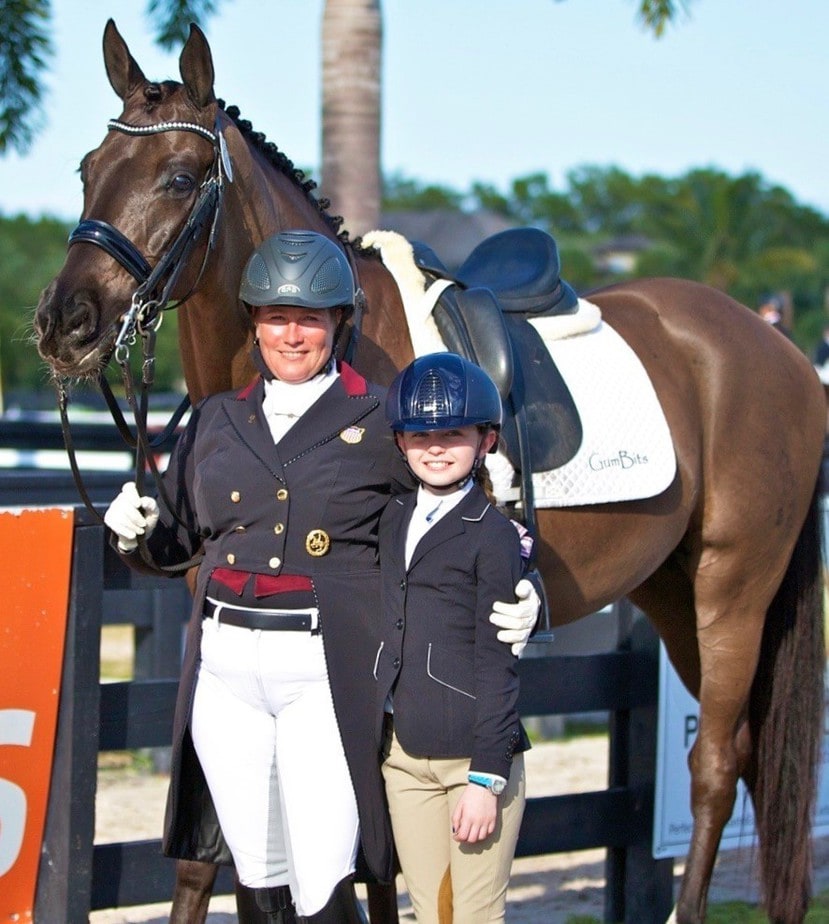 In the spring of 2015, Kat's mom realized she was leased a "stopper" pony by an early then-trainer. Rather than get upset, Shereen called dressage Olympian, Michelle Gibson, now a family friend and trainer since the '90s. Michelle had moved back to Atlanta after living in Wellington, Florida upon winning her Bronze Team Medal at the 1996 Olympics. She came to Collecting Gaits Farm and told Kat, "You have to learn to ride a live animal. You can't let them get away with stopping or running away with you. You have to let them know you are in control."
Few people know that Michelle is experienced in eventing, so she understood the jumping skills that Kat was required to perform. "If the pony was taking off and pulling me out of the tack, Michelle taught me to stop her and immediately back her up," explained Kat. "The pony then started slowing down when I wanted her to. Michelle made me jump from wherever the mare stopped so that she knew she had to jump." For the next couple of years, Michelle came and trained Kat every week she and her ponies were not on the road showing.
Meanwhile, Jason Canton left California to develop in dressage. Jason built up quite a resume, including former student of US Olympic Coach, Melle Van Bruggen, British Olympic Coach, Conrad Schumacher, and American bronze Olympian, Michael Poulin. In 1992, he was long listed for the Olympics on his Stallion St. Tropez and won the Six-Year-Old Markel/USEF Young Horse Championship in 2007 with his Stallion Grandioso. During that time, Jason was the head trainer at Collecting Gates Farm, showing their top Grand Prix dressage horses and training up their young horses. He later campaigned another top stallion, Supramat Old by Sandro Hit, dominating the 2012 Global Dressage Festival in his divisions. He then moved on to Texas before returning home to California.
Eventually, Michelle left Atlanta, and Shereen read on Facebook that Jason was driving back to the Southeast. She immediately called him and charmed him into coming to teach Kat, nine years after he gave her a rocking horse for Christmas. Committed to the Fuquas, and grateful for their sponsorship with his beloved Grandioso, Jason drove three-and-a-half hours each way, from Alabama to Georgia, to train Kat after school.
Horse Hunting
I just said I'm going to Europe to find Kat a dressage horse.

Jason Canton
Jason worked with Kat regularly, and during that time moved to Athens, Georgia, which put him two hours closer to Collecting Gaits Farm. "I watched the Fuquas purchase nice ponies and hunter horses," he said. "I tried to teach Kat the basics and not mess up the hunter way of going. One day, I told her mom, it's time for Kat to really learn to sit and work on more refined detail. So in November (2019), I just said I'm going to Europe to find Kat a dressage horse.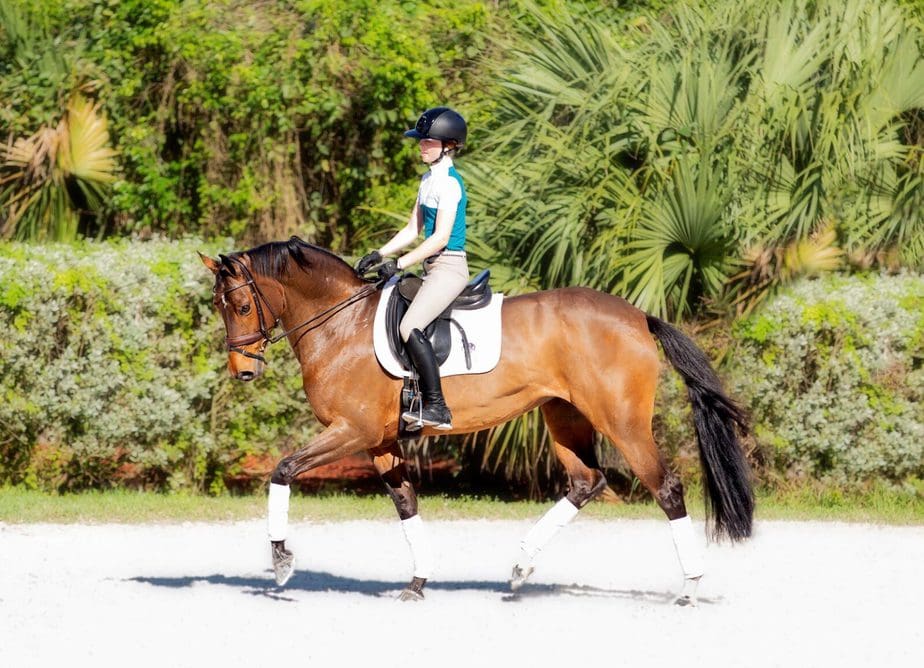 "I tried at least a dozen," he continued, "but narrowed down to three or four. We negotiated for a very fancy Small Tour Champion as well as Grand Prix schoolmasters. But at the end of the day, I recommended Dream Girl, an 11-year-old Dutch warmblood, 16hh, solid Prix St. Georges/ Intermediare 1, competitive and fancy schoolmaster. She has very good bloodlines, with her father Spielberg coming from Sandro Hit, Donnerhall, and Rubinstein. [She's] a lovely mare and uncomplicated."
Dream Girl comes from Stephanie Kok of Poeldijk, the Netherlands where Stephanie's sister, Danielle Kok, recently campaigned her. Dream Girl was bred by the Pernis/vd Kleij family, and Danielle began riding her after she was saddle broken and passed her IBOP (dressage test) with 79.5 points. She ranked second at the IBOP test with very promising comments. Stephanie took her from 2nd level to 4th and successfully competed at 4th level and Prix St. Georges. When she became pregnant, Danielle started riding Dream Girl fulltime and showing her up to Intermediare 1, where they won three times in a row in the summer of 2019.
Jason continued, "The Fuquas were great. I went on my own nickel and came back with options, and they said 'OK.' Mainly, I know how important the Maclay Equitation Championships are for them. I think they believe that the mare will improve Kat's equitation and training with Jimmy Torano. In dressage, Kat needs to learn to sit perfectly in the saddle and balance herself through the movements of shoulder-in, haunches-in to lead to half passes. She needs to learn to collect and lengthen the strides in both trot and canter. Our goals are to focus primarily on training, as the dressage shows and ribbons will eventually come. I want Kat to show when her presence is that of a professional."
Dressage Meets Hunter
"Kat loves to jump and do the hunters," said Jason. "I met Jimmy Torano at the 2019 Atlanta Winter Classic recently. I had never seen Kat compete and got to watch her win the Dover Saddlery/USEF Hunter Seat Medal. I have to admit it was impressive."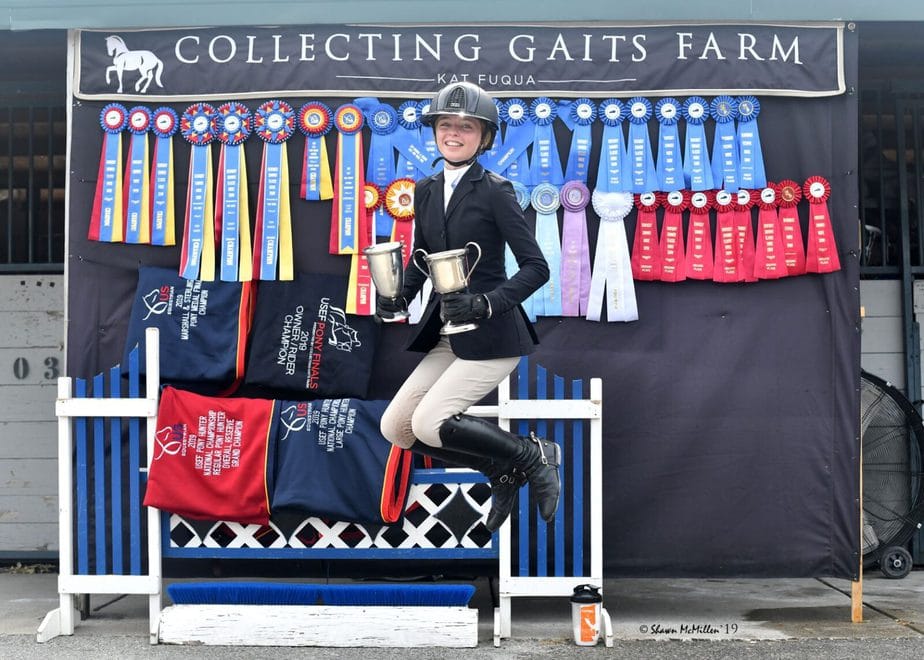 Kat was over the moon that Jimmy Torano came to Atlanta as her dressage trainer watched on. "I had to ride and jump a course with no stirrups for the test, starting out in counter canter," explained Kat. "I was very nervous because I never jumped without stirrups on my equitation horse Cornell22. He was really good and jumped the last oxer really high. I was so proud of both of us. Mainly I was proud that Jimmy came all the way to Atlanta to train me and my horses. I won the Junior Hunter Champion and Reserve Champion with Grand Remo and CupidoZ."
"My goal for 2020," Kat continued, "is to get a Championship or Reserve Championship at the Devon Horse Show. I've won blue ribbons with my ponies over fences, but never a championship there. I also want to win a championship in the Junior Hunters. I came close last year with a blue over fences with Calvaro. I want to qualify for the ASPCA Maclay Finals and hope to make the top 25, with usually over a hundred competitors. I also want to ribbon at this year's International Hunter Derby Finals in Kentucky so I hope I qualify. My national championship rounds have really improved since Jimmy took me on as a student. He has taught me so much about jumping equitation that helps my hunter competitions. And my mom always tells Jason to drill me on my flat work between the cavaletti we have at home.
My heart is always with my horses and ponies. I love spending time with them outside the show ring, but I do dream of one day going to the Olympics.

Kat Fuqua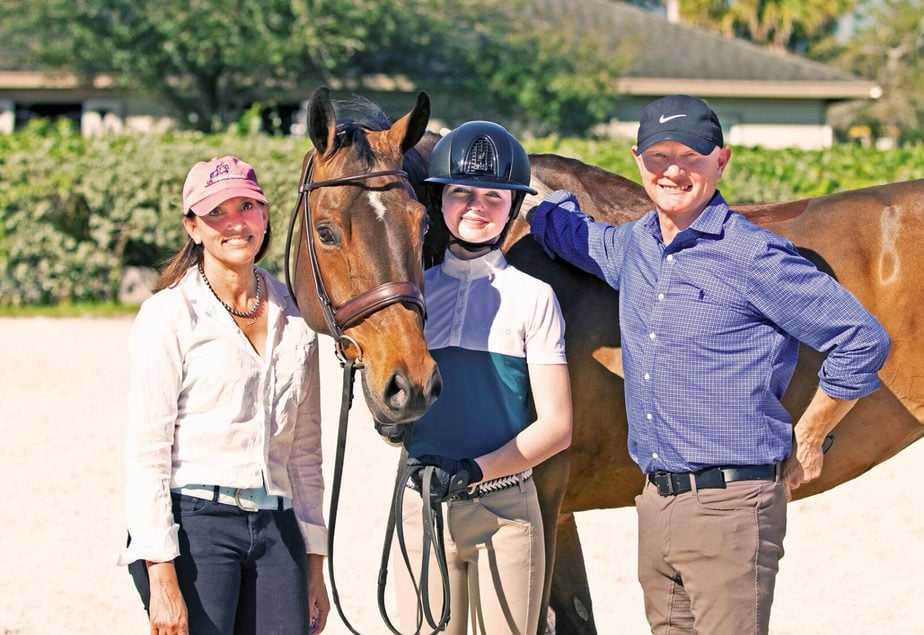 "For Dream Girl, Lendon Gray told us we should try to qualify and compete in the newly formed Children's Dressage Championships in August. We will see. I can try and qualify for the Junior Dressage Championships in 2021, when I turn 14. Last year, at the Winter Equestrian Festival, Lendon trained me between hunter rounds to help me with my equitation and flatwork. It was pretty cool that she took the time to come over to the hunter warm up area. She put a headset on me and talked quietly into her mic while all the other kids were warming up over jumps. She showed me her Olympic Ring.
I really just feel so lucky that everyone is supporting me and teaching me to be the very best I can be. My heart is always with my horses and ponies. I love spending time with them outside the show ring, but I do dream of one day going to the Olympics."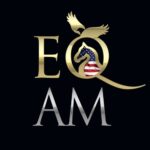 As an equestrian media outlet focused entirely on American horse sport, EQuine AMerica showcases the USA's equestrian talent (both two-legged and four) in the disciplines of para dressage, dressage, hunters, jumpers, and eventing. We support and promote our nation's fantastic equine events, products, services, artists, authors, science/tech, philanthropy, and nonprofits through our online magazine and social media platforms. Our mission is to offer you interesting/inspiring short and long-form content in a format that's beautiful, readable, and relatable.