EQuine AMerica chats with Photographer and Host of
"Wild Lands Wild Horses"
Wild Lands Wild Horses explores the beautiful, yet politically-complicated lives of America's wild horses. Wildlife photographers, Jamie Baldanza and Debb Lee Carson dig deep into the issue in their new docuseries, premiering February 11 at 7PM EST.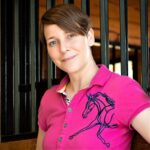 Carina is a 3rd generation equestrian who currently trains her Belgian x Haflinger gelding (below) in the fine art of dressage. Carina recently medically retired from the U.S. Army after 17 years of service as an aviator turned JAG attorney. After taking orders for many years, Carina is inventing a new, creative, entrepreneurial, and autonomous future for herself. EQuine AMerica is 1/3 of that invention. The other 2/3 is Carina's new law firm, CLR Law, PLLC, which focuses on legacy planning, equine law, and land use law.