—May 2, 2020
The NIGHTWATCH® team is proud to unveil some new and exciting features to the smart halter that provide further value to horse owners, trainers, breeders, and veterinarians.
For the first time…
​Transfer and use a single smart halter among all your horses;
Identify hyper- and hypo-activity in your horse overnight;
View objective insight via the all-new App (App Store & Google Play);
Finance for as low as $88/mo;
…and more!
Learn more about these and other new features here and join the growing community of equine enthusiasts using the NIGHTWATCH® smart halter to elevate their care and ease their workload.
Unpaid advertising because we encourage equine innovation and technology! Contact us if you think there's something out there we should see.
All photos and media courtesy of NIGHTWATCH®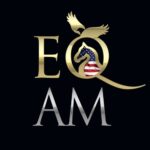 As an equestrian media outlet focused entirely on American horse sport, EQuine AMerica showcases the USA's equestrian talent (both two-legged and four) in the disciplines of para dressage, dressage, hunters, jumpers, and eventing. We support and promote our nation's fantastic equine events, products, services, artists, authors, science/tech, philanthropy, and nonprofits through our online magazine and social media platforms. Our mission is to offer you interesting/inspiring short and long-form content in a format that's beautiful, readable, and relatable.