Did you miss it live? Watch it now!
Equitana eQuestrian Celebration hosted EtalonDx for a live webinar exploring genetic secrets for horse performance. You won't want to miss this presentation and the live Q&A that followed from Etalon advisors Kent Allen, DVM, Samantha Brooks, Ph.D, Karen O'Connor, and Jeff Petska.
Find out what EtalonDx can tell you about YOUR horse by visiting their website at https://etalondx.com.
Visit EQUITANA USA to learn more about their September eQuestrian Celebration!
This webinar was reposted with permission from EtalonDx. The live webinar took place during EQUITANA USA's eQuestrian Celebration on September 15, 2020 at 4:30PST/7:30EST.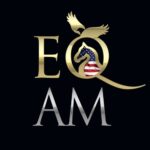 As an equestrian media outlet focused entirely on American horse sport, EQuine AMerica showcases the USA's equestrian talent (both two-legged and four) in the disciplines of para dressage, dressage, hunters, jumpers, and eventing. We support and promote our nation's fantastic equine events, products, services, artists, authors, science/tech, philanthropy, and nonprofits through our online magazine and social media platforms. Our mission is to offer you interesting/inspiring short and long-form content in a format that's beautiful, readable, and relatable.