The Wellington Equestrian Community Plays for P.I.N.K.
March 6, 2020—One night every year during the Adequan Global Dressage Festival, the spotlights of Palm Beach International Equestrian Center illuminate a distinctive competition that varies significantly from the standard freestyle programs of other weeks. Creative costumes replace the familiar tailcoats of traditional Friday Night Lights programs, and eight sets of hooves canter up centerline in unison during the annual Challenge of the Americas musical dressage team competition in Wellington, Florida.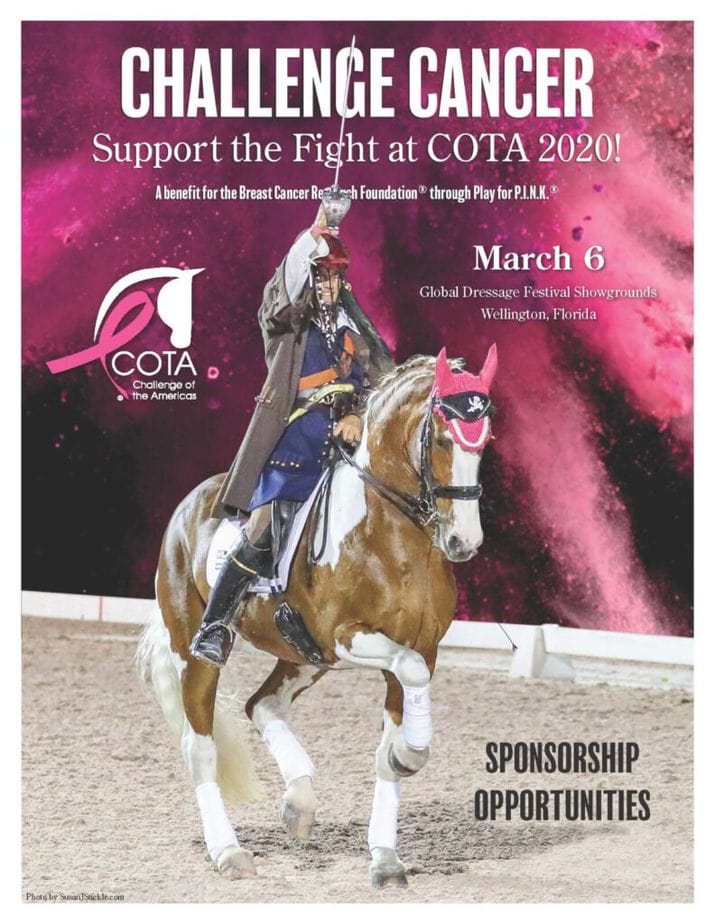 A highlight of the Wellington season, the challenge offers an exciting extravaganza for the equine enthusiast. Quadrille teams of eight Grand Prix riders perform highly choreographed freestyle routines in front of a lively crowd before an elegant gala concludes the evening. This unique showcase not only reveals that even the dressage crowd of Wellington is capable of occasionally loosening their stock ties but also highlights the generosity of a community willing to apply their passions to a noble cause.
The challenge benefits the Breast Cancer Research Foundation and Play for P.I.N.K., an organization dedicated to raising donations for breast cancer research through lifestyle and sporting events. What began as a small afternoon fundraiser in 2002 grew into a renowned exhibition by harnessing the dedication and charity of the Wellington equestrian community.
Breast cancer has touched the lives of nearly every member of this community in some way, and several prominent equestrians have battled the disease themselves. The fight for a cure motivates the countless volunteers necessary for the event's organization and drives distinguished participants to dedicate countless hours to perfecting their performances. The combined efforts of the entire community elevated the challenge into an exceptionally successful fundraiser responsible for significant donations to the cause.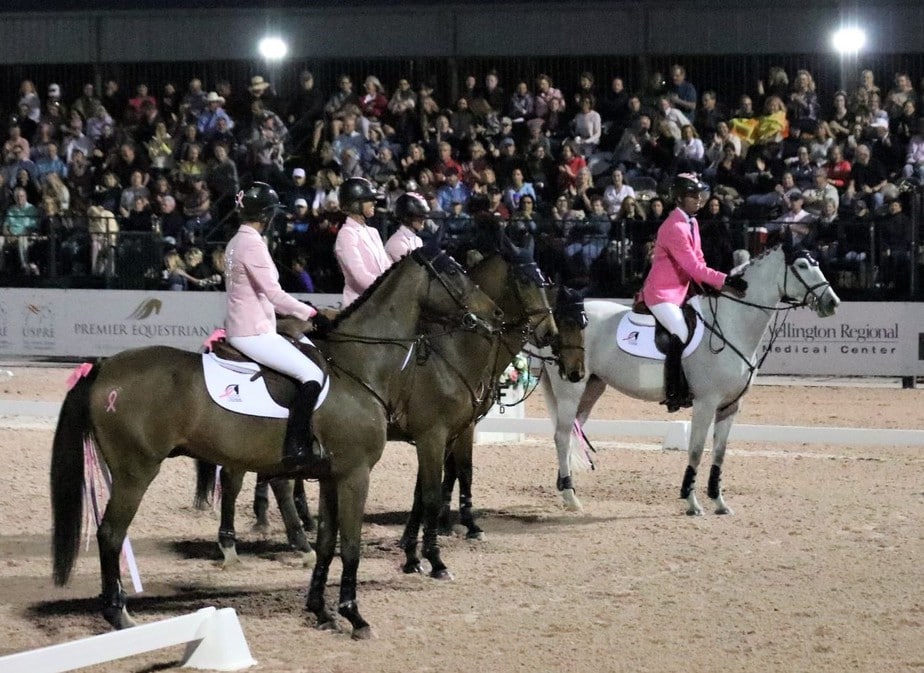 Quadrille teams regularly feature several top competitors, including Olivia Lagoy-Weltz, a U.S. High-Performance rider. Busy professionals like Olivia work tirelessly during the winter season to pursue personal international competitive goals while also running successful training businesses. Despite packed schedules, many riders happily donate their precious time to support a worthy organization.
Few people fully appreciate the time and effort necessary to plan, practice, and perfect the complicated routines showcased during the team competition. Preparation begins months before the event when eight riders join a sponsored quadrille group. Sponsors like Betsy Juliano of Havensafe Farm generously allow the teams to hold practices at their facilities. Olivia hauled to Havensafe with Team Purina every Tuesday evening to learn their freestyle under the direction of expert coaches and choreographers.
The quadrilles required special mounts capable of performing the Grand Prix movements while sharing an arena with several other horses in an energetic atmosphere. The event would be impossible to stage without supportive owners willing to share these exceptional horses for an important cause.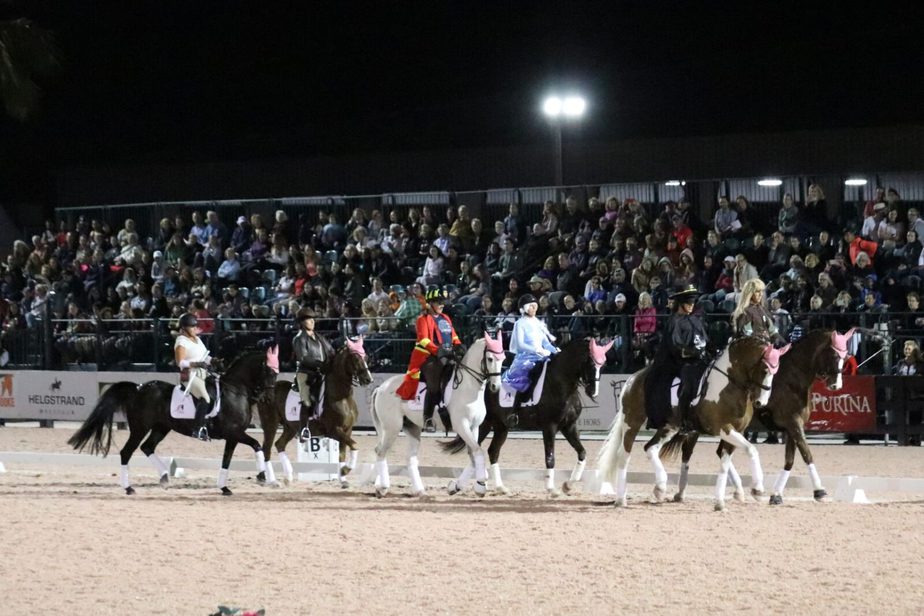 Olivia partnered with Fürst Peter, affectionately known as "Chunky" in the barn, for the 2020 Challenge of The Americas. Chunky's owner, Linda Graves, enthusiastically agreed to share his extraordinary character with Olivia to support breast cancer research. Linda even elected to attend the weekly practices to gain a first-hand look at the preparations.
"The practices occurred at the end of long training days for everyone involved so the 'in-kind' donation made by Olivia and her team, as well as all other riders and coaches, was impressive. I honestly had no idea of the amount of time and effort that goes into pulling this evening together." Linda shared.
Behind the riders, owners, and sponsors, teams of grooms and support staff extended their already lengthy hours to groom and haul horses for practices, sometimes even acting as a placeholder when riders could not attend. All willingly donated their time to support the Breast Cancer Research Foundation and Play for P.I.N.K. in honor of those impacted by breast cancer in the equestrian community.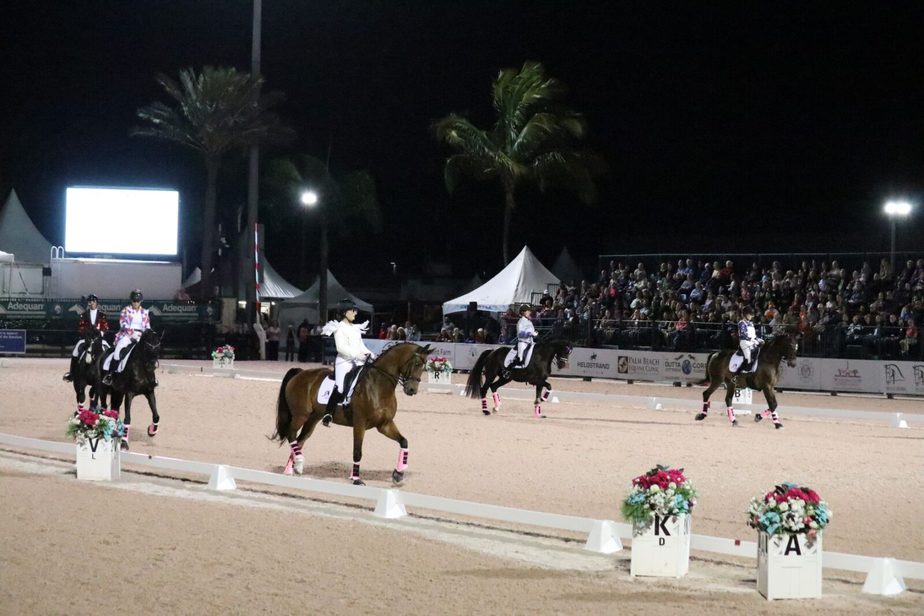 Despite fundraising for a serious cause, the event itself offered an evening of fun and entertainment for all attendees. Teams chose unique themes for their freestyles, and coordinated costumes with beloved soundtracks, including the music of Star Wars and a personally approved compilation of Bruce Springsteen hits. There are not many occasions during the Wellington season where you can see top dressage stars dressed as Jedi warriors, but the Challenge of the Americas showcased successful competitors donning everything from lightsabers to pirate swords in the saddle.
The competition also featured renowned international judges who generously donated their time to determine the winner of the challenge in collaboration with the spectators. Spectators make pledges and bid on donated silent auction items, including lessons graciously offered by top dressage trainers, to raise funds for beneficiaries during the gala following an evening of unparalleled equestrian entertainment.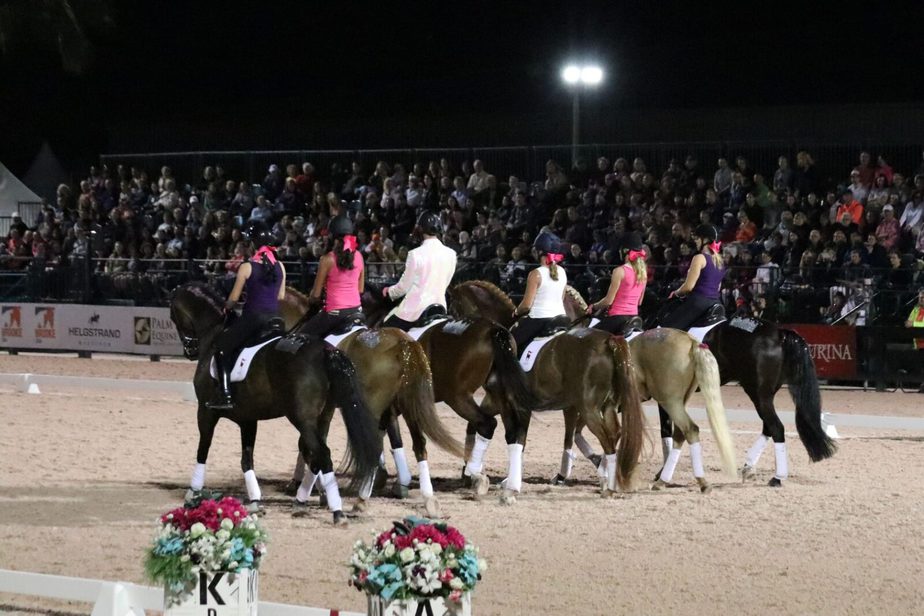 100% of the proceeds earned from the Challenge of the Americas benefit breast cancer research via Play for P.I.N.K., which turns playful entertainment into serious support. Play for P.I.N.K. efforts raise over $4.9 million annually for the Breast Cancer Research Foundation.
The Challenge of the Americas provides the opportunity for all members of the Wellington equestrian network to work together to support finding a cure for breast cancer. This disease has heavily impacted this community, and the quadrille competition allows dressage riders to showcase their passion and demonstrate that the beauty of life will always prevail in the fight against threats as hideous as cancer.
The winning team danced it out to Bruce Springsteen's Born in the USA, which obviously we loved!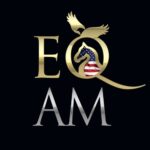 As an equestrian media outlet focused entirely on American horse sport, EQuine AMerica showcases the USA's equestrian talent (both two-legged and four) in the disciplines of para dressage, dressage, hunters, jumpers, and eventing. We support and promote our nation's fantastic equine events, products, services, artists, authors, science/tech, philanthropy, and nonprofits through our online magazine and social media platforms. Our mission is to offer you interesting/inspiring short and long-form content in a format that's beautiful, readable, and relatable.