EQuine AMerica: What's it like to be a USET Board Member?
Betsy Juliano: It's an interesting thing. It's more of a fundraising board than a governing board, so it's different for me than all of the other board appointments I have that are mostly governing boards. So there's a lot more oversight and interaction. The USET Foundation board has been really, really fun because it's function is extremely important: it raises the majority of funds for the Olympic teams. So just by nature, by virtue of what its mission is and what it's about, you are always mindful of what's happening in the US equestrian world so we can prepare for the next big games, whether it's the WEG or whether it's the Olympic Games. It's a very big, big responsibility and it's enjoyable to be part of that effort.
There are three to four board meetings a year. Then there are some committee meetings, but it isn't an overwhelming amount of a time commitment. However, there's a lot of work done behind the scenes. Bonnie Jenkins is the CEO of the Foundation and she asks a lot of us to help with fundraising, so we will set up meetings with different owners or different supporters and donors. That way, Bonnie can meet and tell them what the foundation is doing and what we're all about.
So there's a lot of building new donor relationships or building upon past donations. Some of the donations are huge, but still, the USET Foundation builds every championship or Games brick-by-brick to keep the sport going in an upward trajectory. It's a lot of responsibility.
It's also introduced me to so many people, particularly those of different disciplines. Jumping, eventing, and driving whom I know, in the normal course of my equestrian life, I would never have run into. And I've gotten to know some of the jumper owners who are members of the board and even some of the driving people and some of the eventers. They're all wonderful and we really have a great time working together. And we run into each other in Aachen, so that's fun. It all helps bring the disciplines closer together. Some of the jumper owners were at Aachen in the Deutsche Bank Arena, which is the dressage arena. I looked down at the table right in front of mine and saw a bunch of jumper owners watching our horses compete. They were guests of somebody else. We had a great time catching up, hearing about how their horses did, and telling them how our horses were doing. So it's been a neat opportunity to meet some very interesting people who all love horses.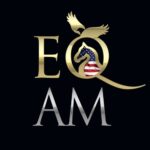 As an equestrian media outlet focused entirely on American horse sport, EQuine AMerica showcases the USA's equestrian talent (both two-legged and four) in the disciplines of para dressage, dressage, hunters, jumpers, and eventing. We support and promote our nation's fantastic equine events, products, services, artists, authors, science/tech, philanthropy, and nonprofits through our online magazine and social media platforms. Our mission is to offer you interesting/inspiring short and long-form content in a format that's beautiful, readable, and relatable.