Tragedy Assistance Program for Survivors
—TAPS Staff
The Equestrian Community Joins TAPS to Honor the Families of Fallen Heroes
The Tragedy Assistance Program for Survivors (TAPS) shares a special connection with horses that brings hope and healing to those grieving the loss of a fallen Service Member.
Most people think of horses and immediately envision their beauty and grace, but for some, what's most important is their keen therapeutic ability to perceive human emotion. For this reason, we frequently use these treasured animals to bring comfort to those facing life's most difficult challenges.
It's no surprise, then, that horses have long been a part of the work done by Tragedy Assistance Program for Survivors (TAPS), an organization whose mission is to provide compassionate care and support for those grieving the loss of a fallen military hero.
Since 1994, TAPS has assisted more than 80,000 surviving loved ones who have lost their military service members. TAPS helps survivors in their journey to find hope and healing by connecting them with others who have shared their experiences. They provide a foundation of support to all those grieving the loss of a loved one who died while serving in the Armed Forces, regardless of the cause of death or the survivors' relation to the deceased.
Bonnie Carroll, a 2015 Presidential Medal of Freedom recipient, founded TAPS following the death of her husband, Brigadier General Tom Carroll, who died in an Army C-12 plane crash in November 1992. Understanding that the needs of survivors go beyond what the government can offer, her goal was to provide them emotional support not just immediately after the loss, but for a lifetime. With programs offered all across the country, TAPS makes sure all military survivors are part of a caring community that helps them know they're never alone.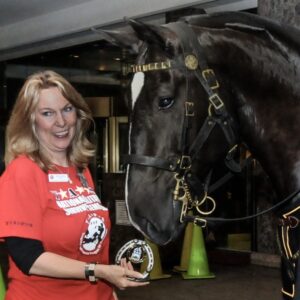 Before founding TAPS, Ms. Carroll had a long history in the equestrian world. She grew up riding competitively and received a degree in equine science through Springfield College at Morven Park Equestrian Institute.
Because of her connection to horses, they've always played an important role in TAPS programming. Over the years, TAPS has partnered with several charitable equine organizations—including most recently Horses Help Heroes and Project Horse Empowerment Center—to bring small groups of survivors to horse farms in their local communities where they can bond with others and heal in the company of horses.
TAPS has befriended many horses over the years, but one special equine stands out: Klinger. A black Percheron Morgan crossbreed with a white star on his forehead, Klinger has served as the unofficial mascot of TAPS for more than a decade. His connection to the TAPS family runs deep. No ordinary horse, Klinger serves in the esteemed Caisson Platoon of the 3rd United States Infantry "Old Guard," where his mission is to provide the mounted escort for our nation's fallen heroes during Full Honor Military Funerals at Arlington National Cemetery.
TAPS first met Klinger during its annual National Military Survivor Seminar, held over Memorial Day weekend in Washington, D.C. The seminar invites children who have lost a loved one in the Armed Forces to participate in Good Grief Camp, where they partner with military mentors to share feelings and learn coping skills through games, crafts, and other age-appropriate activities.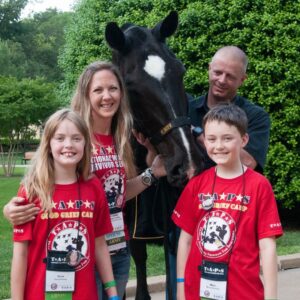 During the weekend of learning and bonding, TAPS has routinely brought children participating in Good Grief Camp to Fort Myer, Virginia to visit the Caisson Platoon. Many of these children have attended funerals at Arlington Cemetery and may associate the horses in the platoon with a sad, dark, and scary memory. Good Grief outings aim to undo that trauma, and in this instance, show the young survivors that horses are gentle creatures that can provide comfort and companionship.
Over a decade ago, on one such excursion, TAPS leaders asked Good Grief volunteer soldier mentors from the Caisson Platoon to select a horse that could serve as an unofficial mascot for TAPS. Klinger—a horse so gentle he lets soldiers sit on him while he's lying down—was their immediate choice.
Since that day, TAPS survivors of all ages have loved Klinger and embraced him as a member of the TAPS family. They recognize that there is more to this beautiful horse than just his distinct markings and gentle demeanor, which is why he's so special.
"Klinger and the Caisson honor the fallen, and that's exactly what our organization does," Ms. Carroll said. "That's what makes for such a strong connection."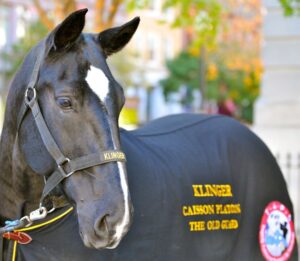 Klinger has become an integral part of the TAPS community, appearing as mascot at events and continuing to comfort children in grief. In 2010, Betsy Beard, a military surviving mother, authored a children's book entitled "Klinger: A Story of Honor and Hope" based on Klinger's journey from a farm in Iowa to the Caisson Platoon at Arlington. In the book, Klinger undergoes the hardship of leaving his parents, like many of the children TAPS serves, but eventually he finds meaning in honoring those who have made the ultimate sacrifice.
Today, the Klinger story continues to serve as a relatable way to describe a military survivor's journey through grief. The children's book—which has sold tens of thousands of copies across the world—is included in the resource package given to families when they are first connected with TAPS. Through Klinger, TAPS children come to understand what it means to be part of the long American legacy of service and sacrifice.
In the future, Klinger and his fellow horses will continue to support the TAPS mission of caring for the survivors of our nation's fallen military heroes. In October, Klinger will once again make an appearance at the Washington International Horse Show (WIHS) in downtown D.C.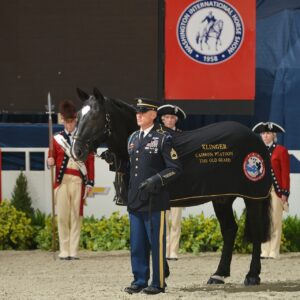 For nearly a decade, TAPS has proudly partnered with WIHS to support a lasting connection between the equestrian community and the Armed Forces. Engagement with the show has provided many opportunities for surviving family members to participate through course walking with Olympians, presenting championship ribbons, and being in the ring when the entire WIHS community honors TAPS on Military Night of the event.
At this year's 60th annual show, TAPS will once again man a booth on the concourse to educate equestrian enthusiasts about the TAPS mission. As part of Military Night, WIHS riders will have the chance to "Jump for TAPS" in the $50,000 International Jumper Speed Final—an event made possible by the generosity of T. Boone Pickens—to raise awareness and funds for the families of America's fallen heroes.
At the horse show and beyond, TAPS is proud to stand shoulder to shoulder with the equestrian community in the shared commitment to honor our nation's fallen by caring for those they have left behind. It is a partnership embodied in the spirit of Klinger, and one that TAPS intends to nourish for years to come.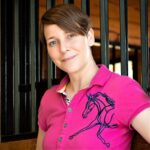 Carina is a 3rd generation equestrian who currently trains her Belgian x Haflinger gelding (below) in the fine art of dressage. Carina recently medically retired from the U.S. Army after 17 years of service as an aviator turned JAG attorney. After taking orders for many years, Carina is inventing a new, creative, entrepreneurial, and autonomous future for herself. EQuine AMerica is 1/3 of that invention. The other 2/3 is Carina's new law firm, CLR Law, PLLC, which focuses on legacy planning, equine law, and land use law.