Explain a little bit about Sterling Essentials.
Our story is really a little bit of the fun quintessential start-up story… I founded Sterling Essentials in 2015 with my husband, Matt, and I love that we're a family business. As you may already know, Sterling Essentials is the leading pH-matched, premium, all-natural leather care brand for equestrians around the world.
To say that we are now a growing international brand is really amazing to me, humbling even! I look with wonder at our journey so far. Our home kitchen near Portland, Oregon gave birth to our products and has been our hub for many years. We filled our very first tack shop order there with our amazing local store, Gallops Saddlery, and now we're still here in the kitchen working on our international expansion and beyond.
It's a lot of fun to have a very hands-on approach to my business since this allows me to stay really close and connected to our fans, customers, and the equestrian community. Keeping in touch, helping our community grow, and helping riders and their horses thrive is near and dear to me. I believe that this is accomplished by making even the smallest changes in our sport and industry.
With this philosophy, I am on a mission through our products and other work to empower equestrians to leave outdated ways behind and take the reins to improve the health and wellness of their horse, their leather, and themselves through healthy, powerful, scientific, and natural solutions to their everyday life.
When did you realize there was a need for your business?
Have you ever seen your horse in discomfort or suffering? Just like many fellow equestrians, I have. Seeing this has a lot of power to make you jump into action in order to relieve your horse's pain. My horse was breaking out in hives from the leather care products I was using at the time. When I investigated, I realized just how unhealthy, counterproductive, irritating, and even harmful a lot of the leather care products on the market are.
If my horse was experiencing a bad reaction to what was available on the market, I knew other riders were dealing with this, too. There had to be a better way. I threw the products I was using, even the fancy expensive European brands, right into the trash and got to work developing Sterling Essentials.
What was the idea behind Sterling Essentials?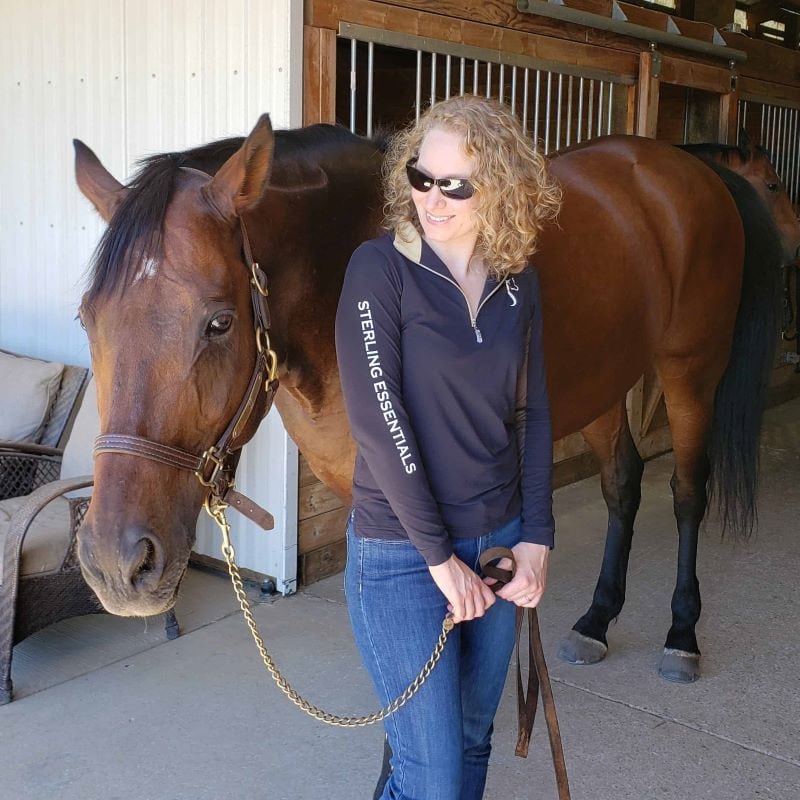 Over the years, I've ridden Western and English, and I'm most currently a hunter/jumper. I've seen more than a few practices, products, and traditions that have left me frustrated or scratching my head. I'm sure many of you can absolutely relate to that, right?
My experience with my own horse and his hives was just the straw that broke the camel's back, and I realized I needed to step up and see about making some positive changes in our equestrian community. Health-forward solutions using natural ingredients were at the forefront of my mind.
As an engineer, I also wanted to ensure that my leather care products were supported by science to ensure they'd be gentle, yet still powerful and effective. I wanted to create a product line that disrupted the norms and current wisdom of leather care in our sport—from excluding the oh so common glycerin from our products to using powerful essential oils instead of harsh chemicals to prevent mold and creating our special formula that is pH-matched to the pH of leather so that it nurtures the leather rather than damages its fibers like most products on the market do.
To pull it all together, I thoroughly enjoyed cracking open my chemistry books again and developing and testing each of our formulas. Yes, nerd that I am, I love doing that kind of stuff! Of course, the best part is that all of the calculations, testing, and efforts of my barn mates trying out our first samples paid off so that I could get these products out into the world to start helping riders.
What has been the overall impact of Sterling Essentials on equestrians?
It's so clear that more and more equestrians are shifting toward healthier, natural, supportive products for their horses, themselves, and their equestrian lifestyle. I love seeing fellow riders making this shift because it's something I adopted in my life years ago and have become only more passionate about over time. I'm playing a part in this in many ways, including by raising awareness that leather care is horse health care.
The products you use on your tack also contact your horse when you tack up and don't you think your horse feels better when safe, gentle, non-toxic products touch him/her instead of harsh and irritating ones? That's exactly why Sterling Essentials products use only all-natural, vegetarian, and food-grade ingredients as well as pure therapeutic essential oils. I don't want riders to experience what I went through: the hives, the harsh chemicals, the fumes—even my own irritated hands and damaged expensive tack.
That's why I always ask riders to consider, is it more important to stick with the same old traditional products you've been using for years, or is it more important to create a healthy and safe experience for your horse? It's amazing to see that my message is reaching our community. Hearing from riders every day about how my products bring them such joy and transformation truly lights me up inside. I'm so glad I've been able to help!
What would you say is the most unique feature behind Sterling Essentials?
Our unique Leather Cleaners and Leather Conditioners deliver comprehensive benefits that few if any other products on the market deliver, all while being a completely animal-friendly, environmentally-minded, and all-natural product line, but we feel we also stand for something important in our equestrian community. Health, science, and empowerment are such cornerstones of Sterling Essentials' mission, making our brand about so much more than leather care products alone.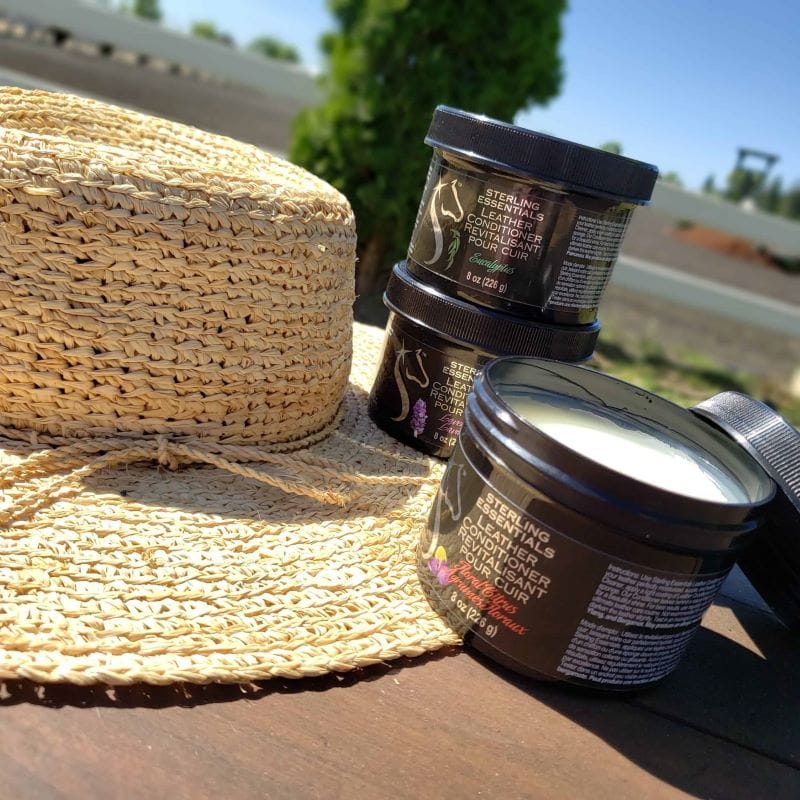 How has Sterling Essentials helped riders and those in the equine industry?
One of my favorite things to do is to cheer on fellow riders. In 2020, I launched our ELEVATE interview series where I honor, lift up, and feature riders from all disciplines and walks of life. Every rider deserves to be cheered on, whether they are an Olympian or just starting their riding journey. I love to elevate riders just like us so we as a community can collectively celebrate them and say, "Welcome, I'm so glad to meet you and excited that you're part of the equestrian community!"
To me, part of lifting riders up is all about empowering them. I've seen things in our sport that have definitely left me befuddled and hungering for a better way. I know that many riders feel this way, too, even though perhaps many don't share their feelings publicly or even among friends out of worry of being judged. If that's ever been you, I feel you and completely relate, so I wanted to create a safe space to dig a bit more into the different and the unconventional. With this in mind, I recently released my new podcast, The Empowered Equestrian Podcast.
If you're wanting more as a rider and think our equestrian world can be better—if you're curious and even a little frustrated with the conventions of the equestrian industry—this podcast is for you. If you're looking for what empowers and builds you up as an equestrian rather than tears you down, this podcast is for you. My intention is that, through the stories shared and community built around the podcast, this is a space where all riders are welcome and "where Empowered Equestrians feel at home," and I really mean that.
Why do you choose to have your products made in the USA?
I believe that our horses deserve the best quality products possible. Sterling Essentials' fans all over the world also believe this and expect this through their trust in my brand. Honoring that trust and delivering on our promise of premium high-quality products is so important to me, so we manufacture our products in the USA where I can be closely involved with all aspects of production. I often talk about how we are "from our home to your barn," and that's no joke. Every product is manufactured by my team in-house, with no outsourcing at all.
I love having things done in-house because it also gives us the ability to easily and quickly pivot and adjust on the fly. With such flexibility, we can serve equestrians and our business partners with whatever they need whenever they need it—from launching our newest ecologically-friendly Leather Cleaner Refill Pouch to hustling to produce and ship a huge retail order in record time.
What has been the greatest challenge to building Sterling Essentials and what did you do it overcome it?
One of my biggest challenges actually came early in the pandemic. With the pandemic disrupting supply chains, we weren't able to get our hands on all of our usual product packaging. Lead times of 6 months or more were not unheard of at the time. As you can imagine, that wasn't going to work because thankfully we were experiencing a big demand for our products and needed to keep producing and shipping as fast as we could.
Since we manufacture in-house, we were able to quickly research and hunt down enough packaging odds and ends in order to keep our customers supplied. For quite a while, all of our 16 fl oz Leather Cleaners were packaged in bright red bottles instead of their usual glossy black. It brought a little levity to the situation though, as many riders laughed and told me they thought Christmas had come early when they received their vibrant and wild-looking bottles.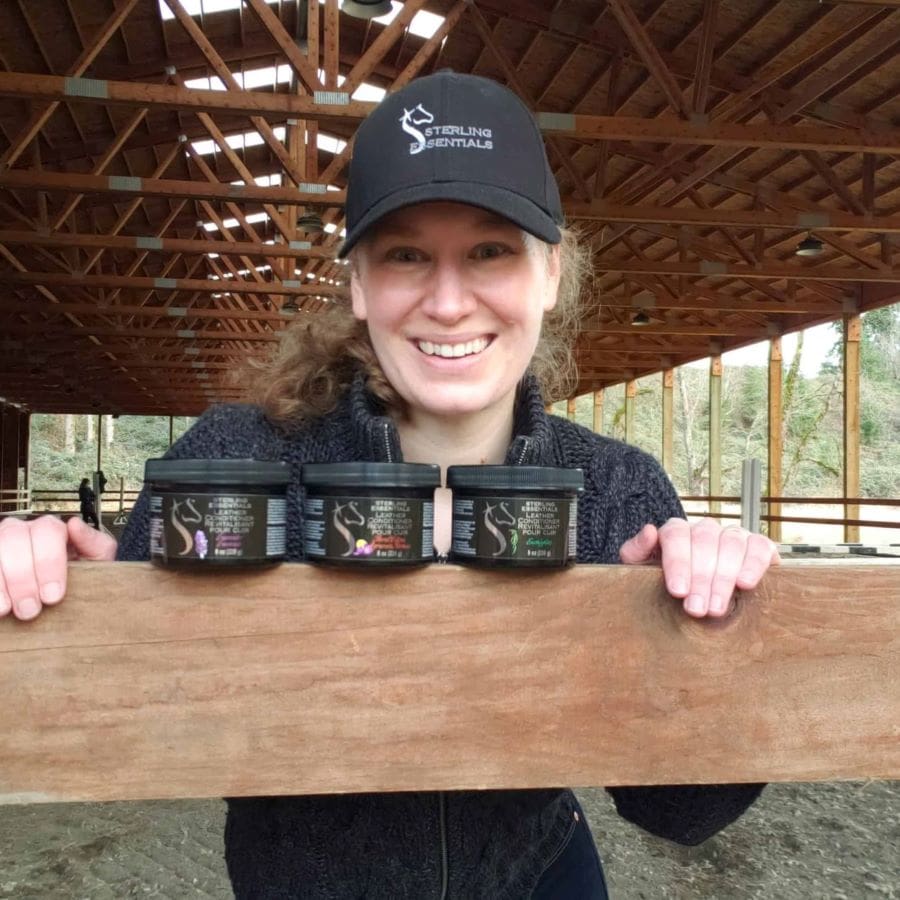 How has your business shifted during the pandemic?
To be honest, I've really looked at the pandemic as a blessing for Sterling Essentials. It pushed us to really lean into our brand values and ethos, becoming even more clear about our mission to help riders become empowered equestrians.
How do you see the future of Sterling Essentials?
I'm really excited to watch Sterling Essentials continue serving more and more riders, their tack, and their horses all around the world. With each rider we serve, whether with our leather care products or my podcast, I want to empower them to feel like they matter, are welcome in the equestrian world, and are in the driver's seat of their equestrian life.
When riders are empowered and open-minded, they feel confident to make their own choices and push back against outdated traditions, practices, products, and advice—even going against what the industry gurus, trainers, and elite riders tell them. I believe that even the smallest changes help us and our horses thrive. The more we help empower equestrians, the more outdated ways we leave behind, the happier and healthier horses and riders become, and the more our equestrian community becomes a welcoming place that grows and thrives.
What advice do you have for aspiring equine entrepreneurs?
Listening to your intuition and to yourself is one of the best things you can do as an entrepreneur. I wished I'd understood this more when I first started my business. There are so many opinions out there on how to run your business, how to market, and what you should or shouldn't do. However, what works for someone else will most likely not work for you in quite the same way it did for them, if at all.
Each business and entrepreneur is unique due to their unique circumstances, life experiences, and energy. It's your job to cut through all the noise and dozens of options to settle on the choices and actions that feel aligned with you and your business. For me, this is all about quieting my mind, maybe going for a peaceful walk, and seeing what comes to me in that mental space and silence. Sometimes a quick idea will flash for me or I might feel a gut reaction that guides me.
Sometimes my head is telling me one thing, but my gut and intuition are telling me something else. Advice can sound amazing on paper, be touted by the foremost gurus in the business, and still be the wrong thing for you. My advice is to go with your gut and intuition every time. Early on, I let my brain override and shut down my intuition (thank you to the engineer and Type-A personality that I am), and I wasted a boatload of time and money on the "wrong" things in the process. Get honest with yourself, quiet your mind, and lean into your intuition to get a little guidance to help you on your business adventure.
Visit www.sterling-essentials.com
Learn about other brands we're featuring here.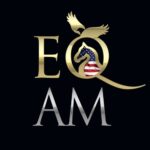 As an equestrian media outlet focused entirely on American horse sport, EQuine AMerica showcases the USA's equestrian talent (both two-legged and four) in the disciplines of para dressage, dressage, hunters, jumpers, and eventing. We support and promote our nation's fantastic equine events, products, services, artists, authors, science/tech, philanthropy, and nonprofits through our online magazine and social media platforms. Our mission is to offer you interesting/inspiring short and long-form content in a format that's beautiful, readable, and relatable.