―Story and Photos by Charlene Strickland
Jenny Karazissis has teamed up with many champion hunters and says that Big Shot is a unique partner. "He is unlike any other horse I have ridden in that he never gets bored. He comes out every day eager to work, always with his ears perked forward and interested!"
Imported from Germany, Big Shot has impeccable jumper bloodlines (Lordanos x Corrado I). He's been with Jenny for five years. "He was five when I started him," she said. "He was for sale at the time. I asked a client about him, and they bought him. Dulcie Lou Morris is his owner and shows him [in amateur/owner classes]."
Big Shot, called "Dude" in the barn, has excelled in 2021, winning four international hunter derbies in three months. The 2011 Holsteiner won two in two weeks of the Desert Circuit, Thermal, California. At the $100,000 World Championship Hunter Rider West Coast Hunter Spectacular in March, he was first over 65 others, scoring over 90 in both the classic and handy rounds.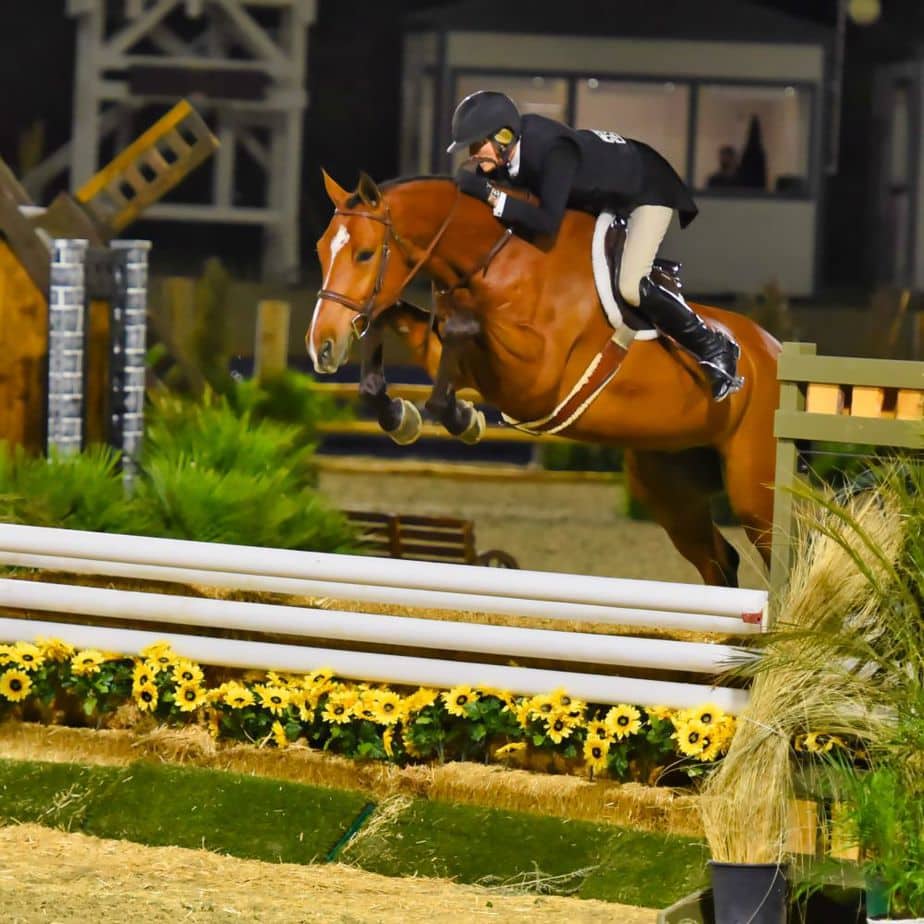 Jenny and her husband Kost train hunters at Far West Farms in Calabasas, California. She describes their program for Big Shot: "We train out of El Campeon Farms [located in Thousand Oaks, California], which has a lot of hills for trail riding, so I take him on the trail a couple of times a week. He goes on the Eurociser twice a day and gets turned out every day. I flat him about five to six days a week and incorporate cavaletti or poles on the ground a couple of times a week."
About his jumping, Jenny says, "With him, we don't do too many shows—just the ones with a specialty class—so we only school him over bigger jumps a couple of times the week prior and usually gymnastics." She said that she and Kost "definitely do a lot of planning during the week leading up to a big event. I use the 3'6″ Performance or High-Performance divisions as a warm-up and a barometer for his energy level. Depending on how he performs, I may or may not do every class of the division.
"For example, he had a rail down, which is very uncharacteristic of him, in the third class at Thermal before the Spectacular. We chose not to do the final class because I knew it would make him more careful in the Spectacular."
She said, "From week one of this circuit, I've been trying to peak for this class. Kost is my groundman and best supporter. I get pushy and not relaxed—he deals with it and puts up with me."
Jenny and Kost refine their strategy on show day. They explained, "On the day of the actual event, I hack my horse in the ring if permitted and then decide if I think he needs a longe or not. He rarely gets longed but sometimes if the class is held at night or if it is cold out I have him go on the line just to play a little, but never to make him tired, and I always watch."
About the course at the Hunter Spectacular, Jenny said, "It was nice that there were not a lot of related distances, and the horses tried hard. The bending lines worked in my favor, especially the right bends." The Hunter Spectacular was held in the Grand Prix stadium, starting in daylight in the late afternoon and then under Thermal's brilliant new stadium lighting. Twelve horses qualified for the handy round, under the lights.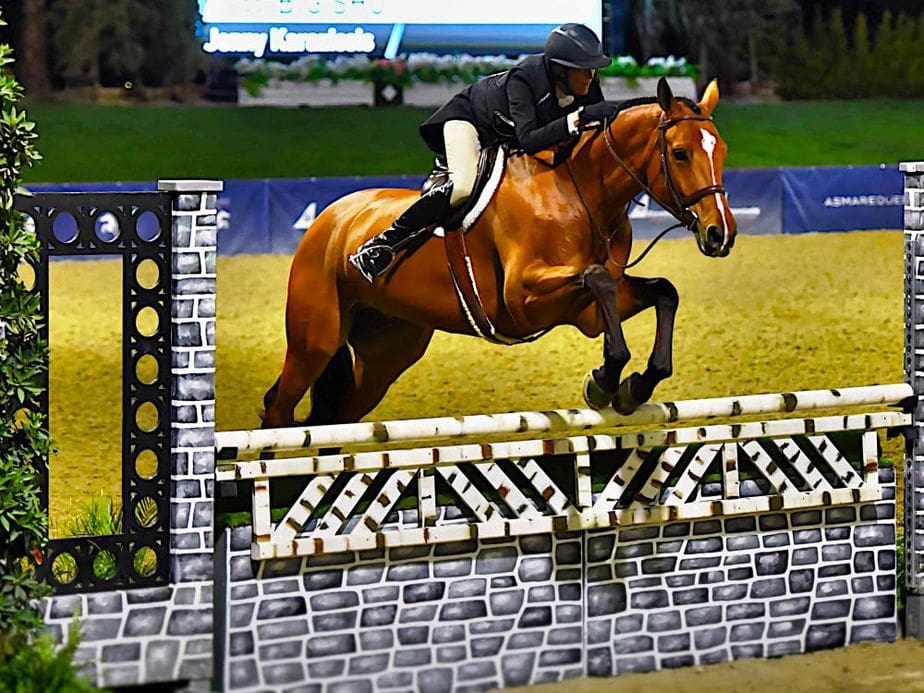 Big Shot was the last to go in the classic round, scoring 90.75 from the two panels of judges. In the handy round, he earned 91.5. His win of $30,000 moved him into first place in the USHJA Southwest Region.
Jenny rode him in the International Hunter Derby Championship at the Kentucky Horse Park in August 2021 where she received the award for Leading Horse of the Qualifying Championship Series. "I actually didn't know he was the leading horse in the series until I got to Kentucky for the Championship and saw it in the program. He had only competed in four Derbies but he won all four. I was honored and especially thrilled for his owner, Dulcie Lou Morris, who was there for the awards presentation."
When Big Shot started the championship, Jenny said, "His classic round felt amazing! He schooled so well I almost got jumped off in the warmup ring, so I knew he was going to try his best in the show ring. We ended up fourth out of 86 horses, so I was very pleased!"
The handy round didn't go well. Jenny recalled, "When we went in, I didn't feel the confidence I had the day before." After a rub and a rail in the warmup, her horse wasn't jumping as usual under the lights in Kentucky. She retired, saying, "It was a big disappointment, but I am relieved that he is okay and so thankful that his owners were so understanding."
Jenny also placed sixth in the Desert International's Hunter Spectacular with Cartier du Rouet. Cartier is a 2013 Westphalian (Caramsin x Baloubet du Rouet). "He is a new ride for me. He is trained by Nicole Kane, and we have had successful collaborations over the years, so I feel confident working with her to help bring this horse along."
She also rode the 2015 KWPN gelding Picnic (Canabis Z x Ahorn) in Kentucky, who'd competed in the Hunter Spectacular. Jenny said, "Picnic was only five years old at the time of the Spectacular, which is incredibly young to be going in a class like that on the Grand Prix field. But he has a great brain, and he continues to amaze me."
When asked how her two younger Derby horses stack up, Jenny said, "I cannot compare any horse to Big Shot!  He is very unique!"
Learn more about Jenny Karazissis and Far West Farms.
Read more Hunter/Jumper stories here.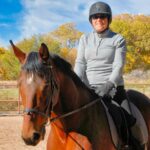 From Bosque Farms, New Mexico, Charlene is an equestrian journalist, writing about sport horse training, showing, and breeding. She's earned awards for her magazine work from the US Equestrian Federation, The Chronicle of the Horse, and the Society for Technical Communication. In 2013, she won the Alltech A+ Award for Best Article. She is a member of the International Alli-ance of Equestrian Journalists. Charlene has ridden and shown Western, hunters, and dressage.