—Story and Photos by Charlene Strickland
Meet the Ebelings
Jan Ebeling first rode on a U.S. Team at the 2003 Pan-American Games, winning Team Gold. At the time he said, "For me, the first time being on the team—it is just an unbelievable experience. It's great to represent my country." On his horse Feleciano (Florestan I x Barbados), he scored highest of the U.S. riders with a 70.4 in Prix St. Georges. Jan also represented the U.S. at the 2012 Olympics in London, riding Rafalca (Argentinus x Rubenstein I). Meanwhile, he and his wife Amy were raising their son Ben, born in 1998. Like them, Ben is into horses.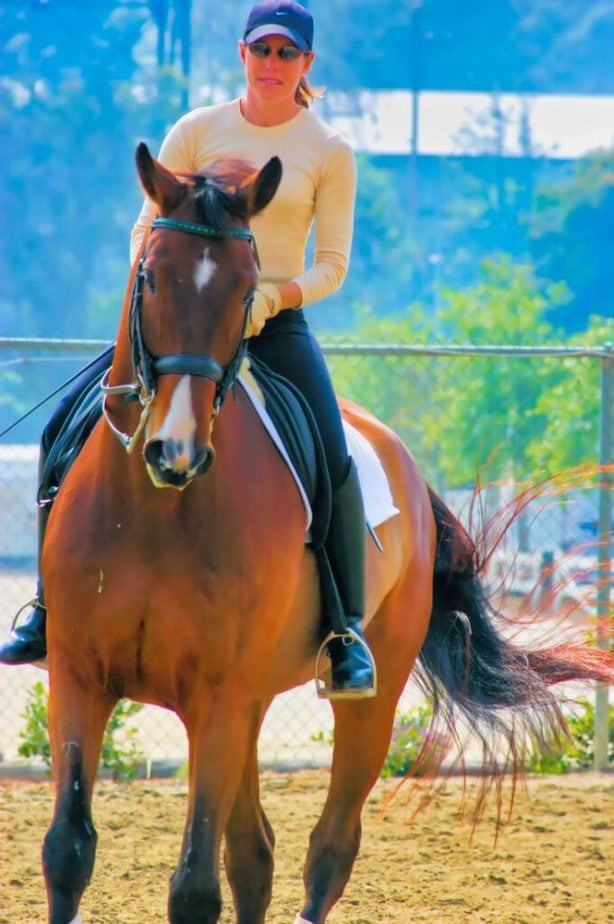 Jan tells how he introduced Ben to dressage: "The first time Ben sat on a horse, he was about two years old. I held him in front of me with my arms around him riding Ricardo (Rosenkavalier x Dakar), one of our Grand Prix horses, doing tempi changes, half passes, piaffe, etc. He was giggling the whole time."
Ben started riding ponies, taking jumping lessons, and then earned his first dressage scores in 2015. He competed in both jumping and dressage, and in 2017 won Team Gold in dressage for the U.S. at the North American Youth Championships.
The Ebelings run The Acres, a dressage training barn in Moorpark, California. They train as a family. Jan describes their usual program: "When we are home at The Acres, Ben and I are busy when riding. We bring horses out staggered so I can watch him. He does his warmup. He watches what I do. Then Amy comes out. We are watching each other all the time. We're all mounted, or sometimes I'm on foot teaching, then I might get on if Ben or Amy get in trouble. We trade horses for a few minutes."
Ben talked about Behlinger (Breitling W x Weltmeyer), the 2008 Hanoverian he rode to his Team Gold. "Behlinger is my junior horse. I've been lucky to take him through the levels. He's a traditional German horse—very trainable, very submissive. He wants to work with you."
Ben's jumping partner was Caddilac FS Z, a 2008 Zangersheide of Holsteiner breeding (Contefino x Lord). Willy Arts of DG Bar Ranch found the youngster for Ben in the Netherlands. Contefino's sire was the legendary Contender, and his damsire Corofino scored a 10 in jumping ability at his stallion test. Ben and "Caddy" won prize money at their first show in 2016.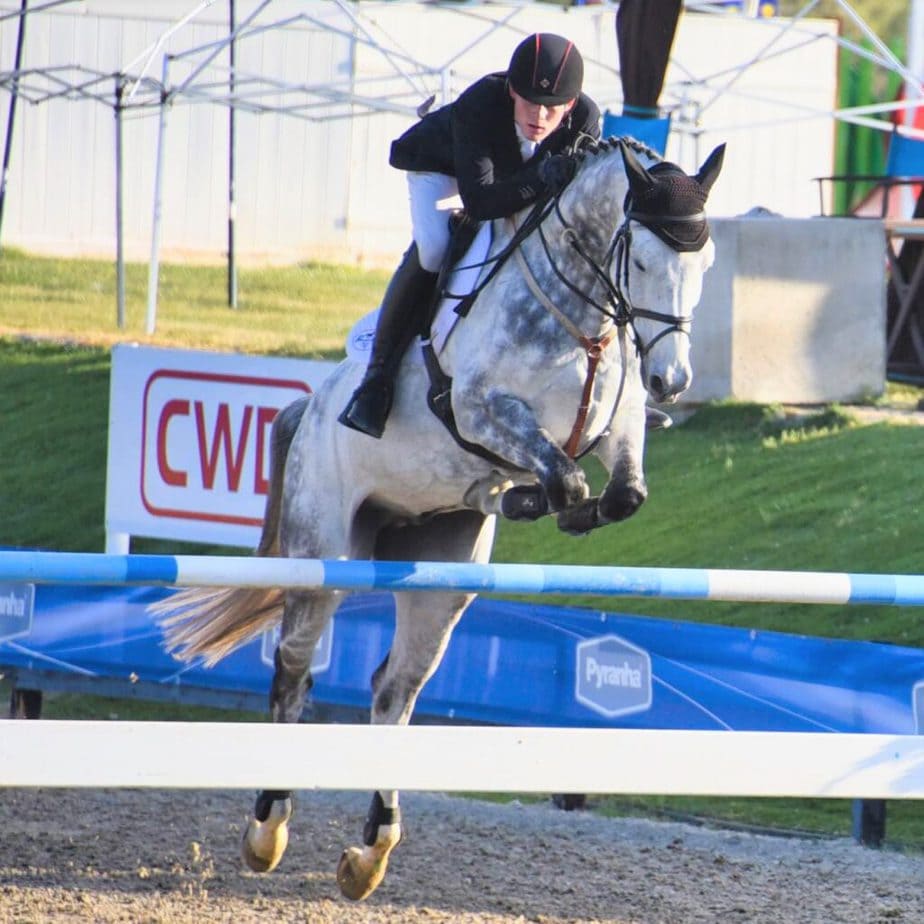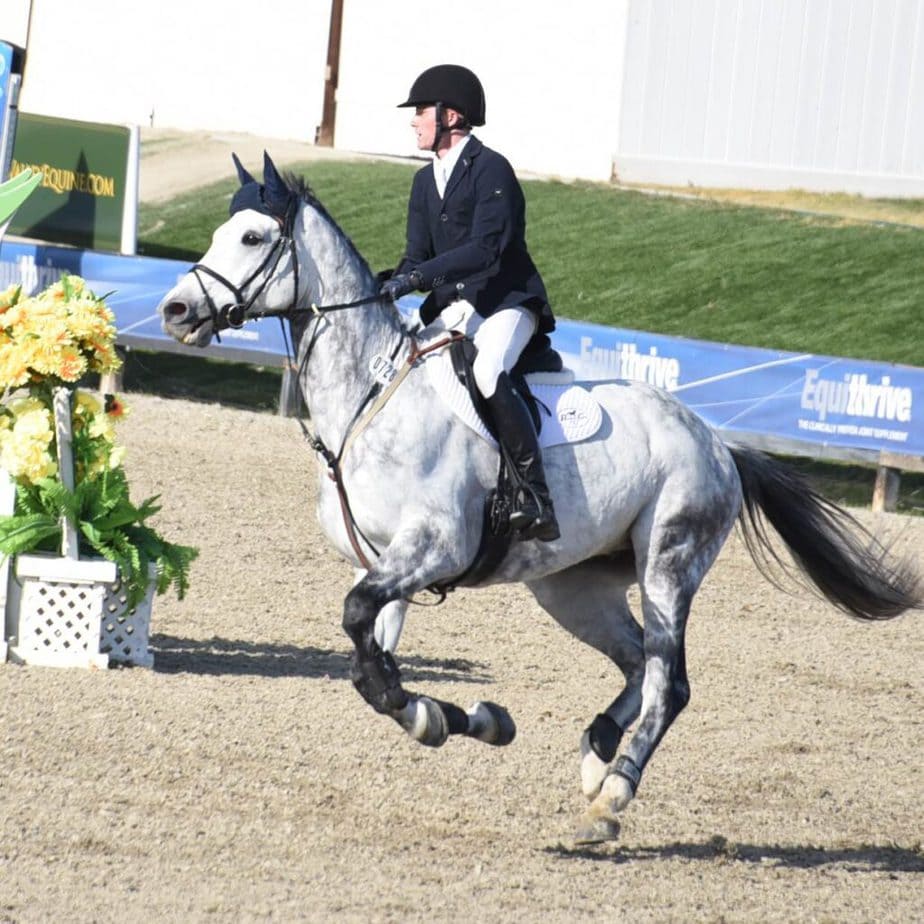 2020
All three Ebelings rode in the Desert Dressage CDIs in November 2020 at the Desert International Horse Park in Thermal, California. "Between Ben's horses and mine and Amy's, we have great horses," said Jan. "Our team was just stellar," said Amy. She rode Bernini (Belissimo M x Walt Disney I) in the small tour and the 2011 Hanoverian, Don Finesse (Dancier x Don Davidoff), at fourth level. In all, the Ebelings brought 18 horses(!) to the two CDIs, including horses owned by Anne Romney. Jan's been her trainer for many years.
Some of Anne's horses that Jan rode: Bellena (Belissimo x Welser), a 2010 Hanoverian mare, Status Royal OLD (Statesman x Rubin Royal), a 2010 Oldenburg, and Diamond's Diva (Diamond Hit x Santander H), a 2006 Oldenburg mare. He also showed Zitat (Zaladin MI x Blue Hors Don Romantic), a 2013 Swedish Warmblood. "I was trying to show all my developing horses here," said Jan. "Status Royal—he is an amazing horse. They all have their different temperaments. He can be totally fine with the judges' booth but spook at one flower. All the flowers are the same―he picks one. After a while, he forgets about it. He is a super talent."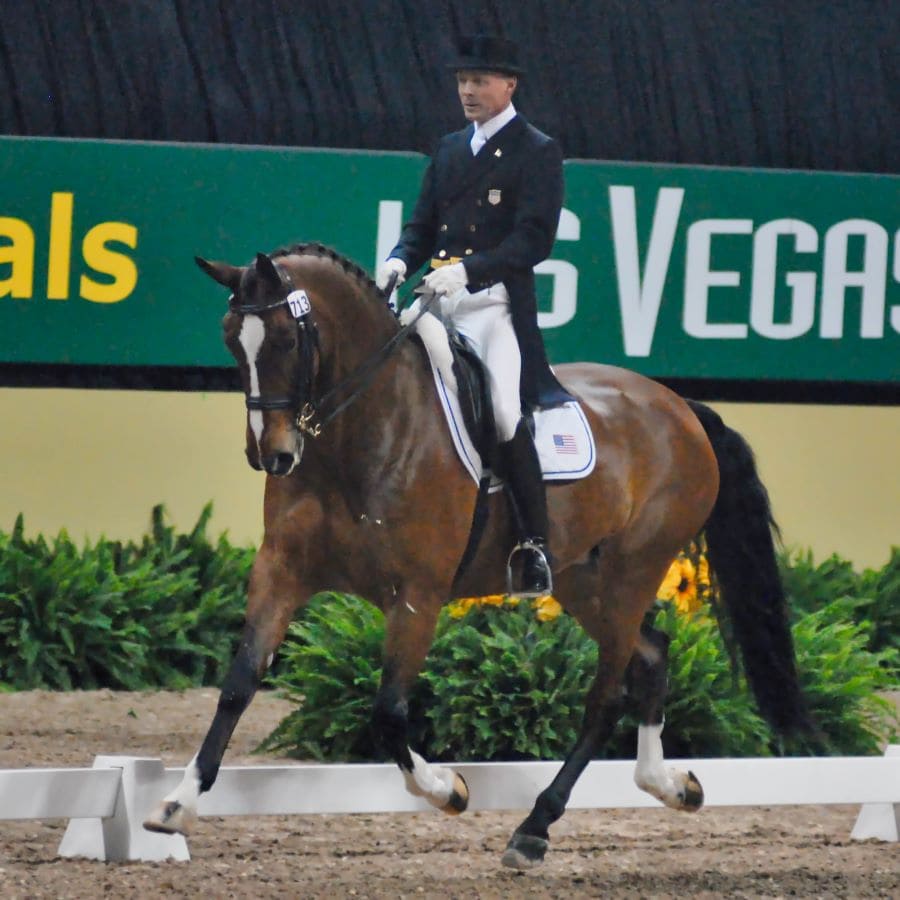 Jan also specifically named Bellena as being particularly talented. "I had a wonderful two tests with her this last weekend. She is nowhere near where she will be in a few years." Amy added, "She is so unbelievable. So wonderful to train. So many people are enamored of her." Jan admitted that he's riding mares these days. "I have almost all mares. I think Rafalca kind of put me in my place. She is now 22. We have two wonderful babies out of her, a four and a three-year-old."
Ben talked about Illuster Van De Kampert (Spielberg x Contango) saying, "He is really, really special. His real strong point is his piaffe-passage work―so much power coming from behind and a lot of lift in his front leg. He's a little inexperienced in shows. It's taken some time to get him relaxed and to figure out his rhythm." Ben went on to ride this 2008 BWP gelding to wins in the CDI Under 25 Grand Prix and Grand Prix Freestyle at Desert Dressage. "We will transition him to the Senior Grand Prix," he said.
2021
As their first season competing at Grand Prix, Ben Ebeling and Illuster Van De Kampert (Spielberg x Contango) exceeded the Ebelings' 2021 goals. "Ben just had an unbelievable year that surprised all of us," said Amy Ebeling. "It was just shocking and so wonderful. Part of the dynamic was that there were no expectations of him at all. He has done such solid work and established a strong relationship with this horse, Illuster, for a couple of years now. That really solidified this year."
Ben just turned 22 in time to celebrate his 53rd placing in the FEI World Dressage Rankings after earning scores in the 70s in Florida and Europe. He started the year moving up from the U25 to open Grand Prix in Florida. Wins there led to his being selected for the USEF Short List for the Olympic Games, so he rode in the Mandatory Observation Event for the U.S. team. He was named the second alternate for the team.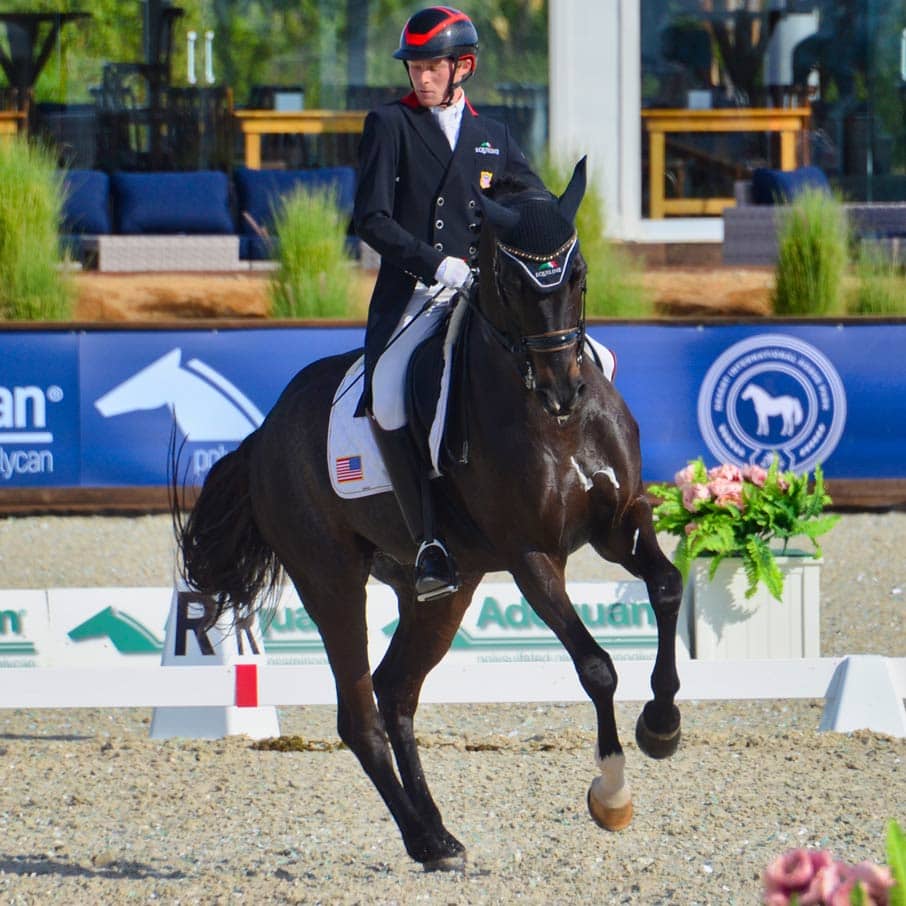 Next was Europe for Ben and Amy. Jan Ebeling remained home, training horses and riders at their California barn. Ben calls his mother the "Queen of the organizers," and Amy labeled their European trip a "whirlwind" saying, "We arrived in Rotterdam a few days before the show. I'm glad that I have done so many trips with the horses. We really nailed it and had it organized beautifully." Ben earned fifth for his freestyle at the Rotterdam CDIO5*-NC, scoring 75.180.
After Rotterdam, Ben joined the U.S. team in their quarantine required before the Tokyo Games. Amy recalled, "All the riders were preparing for the Olympic Games, and it was really wonderful for Ben to be introduced to that A-list of riders. He got along so great with them and held his own. He was so professional and so wonderful with his riding, and with being on a team for the first time."
Ben and Amy then moved on to Hof Kasselmann in Hagen, Germany. Illuster had a short break while Ben's German coach, Christoph Koschel, was in Tokyo serving as chef d'equipe of the Japanese team. "[Ben started working with Cristoph] a few years back when he made the European tour with his Young Rider horse, Bugatti," explained Jan. "I had to stay home so we had to find someone he could ride with. Christoph teaches very much the same way I do. It's been really fun to work with him. He is my eyes on the ground."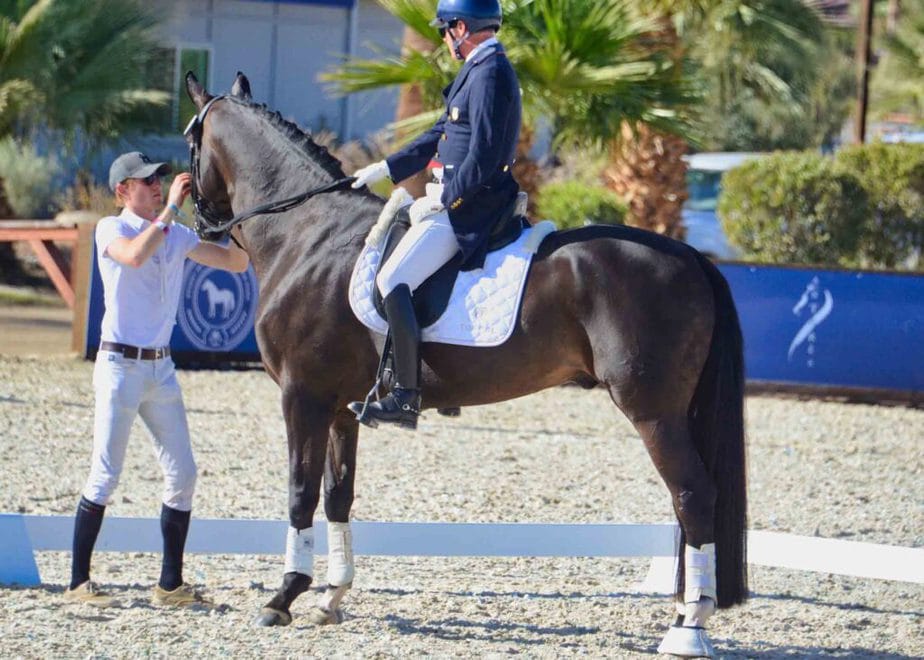 In September, Christoph reported about Ben: "The horse and rider are doing well. They are pretty new in the international sport; we are just competing for eight months now in the senior ring. It's tough for an U25 rider. Ben really climbed up in the world ranking [now 57th]. Now it's time to get more experience in the long Grand Prix. We are working on that. It's just fine-tuning. To get from a very good level to a super-good level, you keep working and get some good results. It never ends. Now we work on everything, just to get better. We are thankful for what we got, and now look for the future."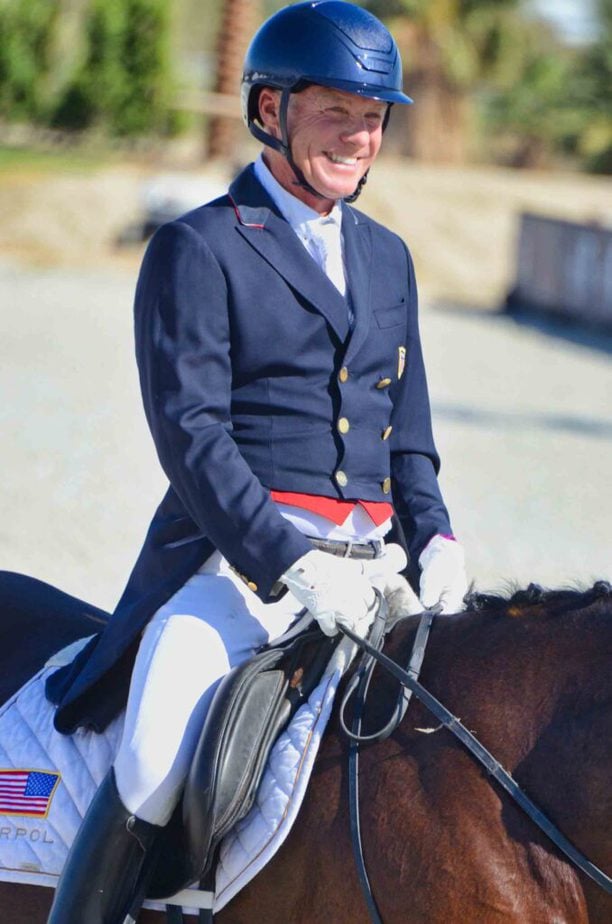 At the Hagen CDI3* in September, Ben placed third in the Grand Prix with a score of 70.282. "That was great preparation for him to get back into the show ring," said Amy. A week later, both Ebeling parents were present to cheer Ben on at the Aachen CHIO.
Ben was on the U.S. team for the Nations' Cup in his first 5* event, scoring 68.326 in the Grand Prix and 76.325 in the Freestyle. The team earned fourth place. "Aachen was just unbelievable," said Amy. "It's such a big environment. He's such a young guy and he was calm and held it all together. I am so impressed with him." Ben said, "I continue to hone my skills as a Grand Prix rider. I have to remember it's both of our first seasons." Amy added, "He met all of his goals for this year, so that was exciting. I'm so proud of him for the way he's handling all these high-pressure situations."
At home in California, Amy said, "Ben is making us proud every single day, in so many ways. He's working at the barn and really being a great leader with our staff. He's the first one out there in the morning and the last one to leave at night. He's riding and helping out, doing all the things he should be doing to help a successful team."
The Ebelings took seven horses to the Desert Dressage I CDI3* at the Desert International Horse Park in October 2021. Jan showed Zitat (Zaladin MI x Blue Hors Don Romantic), Indeed (Hofrat x De Niro, placed 3rd in the Grand Prix Special), Status Royal OLD (Statesman x Rubin Royal, won the Grand Prix Freestyle), and Bellena (Belissimo x Welser, won the FEI Grand Prix). His student, Ann Romney, rode Ambience (Trento B x Metall) and Ben rode Uriel du Houx (Sandro Hit x Florencio 2), and Bellini (Bertoli W x Weltmeyer). Jan coached Ann and Ben before their classes. Speaking quietly into his wireless microphone, he kept repeating "Good" and "Very good" reassuringly into their headsets.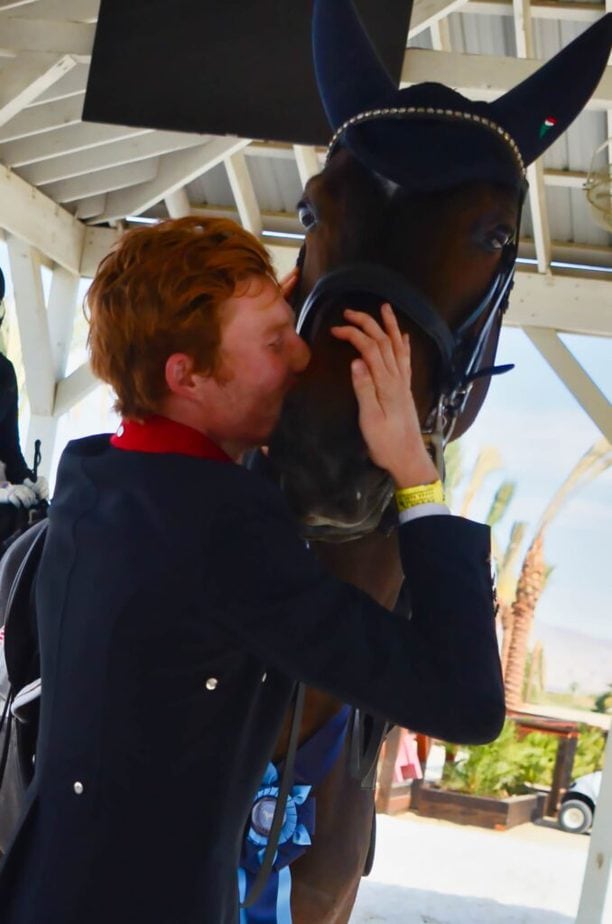 When asked how Ben was doing, Jan answered, "Pretty good!" He added, "We're buddies outside the ring, but inside, we give no quarter!" He did chuckle watching Ben go off course in a Prix St. Georges test saying, "Unfortunately, I can't complain. I've done the same thing in that test. I turned the wrong way after the halt and lost 2 points. That was in 2016 at the L.A. Equestrian Center. Ben was in the class, and he cruised through his test and that was the first Prix St. Georges he ever did." Despite being a student at Carnegie Mellon University majoring in marketing, Ben declared himself a professional with USEF earlier this year. Even as a pro, he lets his emotions show after each test—he kisses all of his horses in appreciation for the ride.
Learn more about the Ebelings at theacres.com.
Read more dressage stories.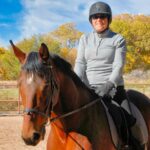 From Bosque Farms, New Mexico, Charlene is an equestrian journalist, writing about sport horse training, showing, and breeding. She's earned awards for her magazine work from the US Equestrian Federation, The Chronicle of the Horse, and the Society for Technical Communication. In 2013, she won the Alltech A+ Award for Best Article. She is a member of the International Alli-ance of Equestrian Journalists. Charlene has ridden and shown Western, hunters, and dressage.