VIRGIL FILMS ENTERTAINMENT
presents
THE MUSTANGS: AMERICA'S WILD HORSES
NOW AVAILABLE ON-DEMAND
We are thrilled to announce the incredible feature-length documentary THE MUSTANGS: AMERICA'S WILD HORSES, an amazing story about America's wild horses from their turbulent history to their uncertain future. 
Directed by Steven Latham and Conrad Stanley and executive produced by Robert Redford, Patti Scialfa Springsteen, and USA Olympic Equestrian Silver Medalist Jessica Springsteen, the film opened nationally in theaters on October 15th and launched on TVOD on November 23rd. 
In addition to being in select theaters, the film is now available on


Apple TV

 and 

Amazon Prime Video

.
THE MUSTANGS takes audiences on an odyssey throughout America to places few people have seen or even know about. There are more than 80,000 wild horses on our public lands and more than 50,000 in government corrals. The film also puts a spotlight on the work of Operation Wild Horse, an organization, that pairs mustangs and veterans with PTSD.
Centered around the history and current situation of these American icons, the film's soundtrack features American musical stars including Bruce Springsteen, Willie Nelson, and Emmylou Harris. The original song "Never Gonna Tame You," is performed by Platinum-selling artist Blanco Brown and written by legendary songwriter Diane Warren, a 12-time Oscar® nominee and GRAMMY®, Emmy® and two-time Golden Globe® award winner whose songs have been featured in over 100 motion pictures and has been inducted into the Songwriters Hall of Fame. 
Available on TV On-Demand
Watch it on Apple TV
Watch it on Amazon Prime
EXECUTIVE PRODUCERS
Robert Redford, Patti Scialfa Springsteen, and USA Olympic Equestrian Silver Medalist Jessica Springsteen
FEATURING
"Never Gonna Tame You" (Original Song from "The Mustangs: America's Wild Horses") written by music icon Diane Warren and performed by Platinum-selling artist Blanco Brown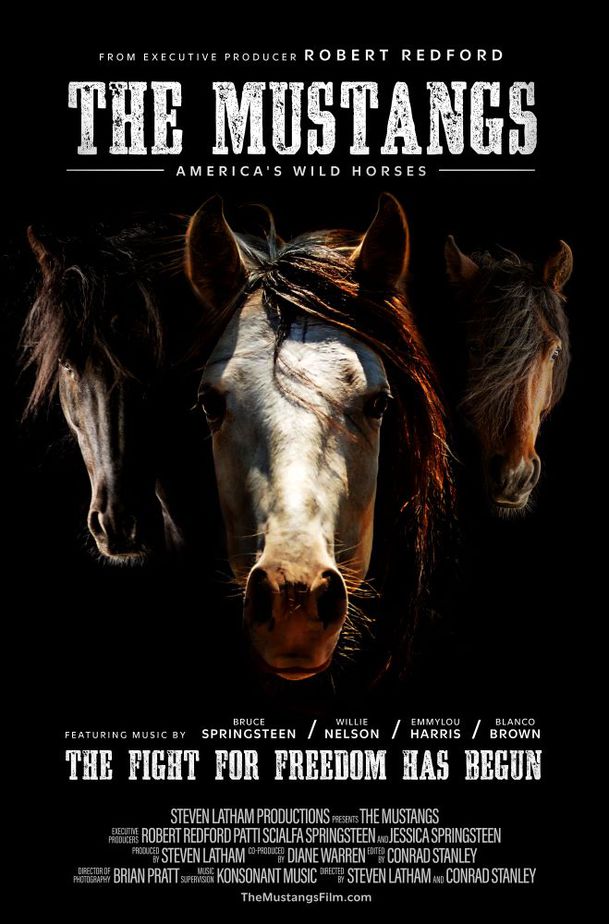 DOCUMENTARY | 90 MINUTES | ENGLISH
Read Our Editor's Film Review

HERE
WANT TO SEE IT ON THE BIG SCREEN?
IN THEATERS NATIONWIDE ON OCTOBER 15th
NEW YORK – Cinema Village
LOS ANGELES – Laemmle Theatre
CHICAGO – Music Box Theatre
PHILADELPHIA – Philadelphia Film Center (Bourse Theater)
WASHINGTON, DC – Miracle Theatre
SALT LAKE CITY, UT – Salt Lake Film Society
ROME, NY – Cinema Capitol Rome
WOODSTOCK, IL – Classic Cinemas Woodstock
RED BANK, NJ – Count Basie Center Cinemas
SPARKS, NV – Galaxy Theatres Victoria
LAKE WORTH, FL – Lake Worth Theatre
BATON ROUGE, LA – Manship Theatre
COLUMBIA, SC – Spotlight Cinemas Capital 8
HUDSON, NY – Spotlight Cinemas Hudson
SOUTH ORANGE, NJ – The Village at SOPAC
OMAHA, NE – Film Streams (Dundee Theatre)
ASHEVILLE, NC – Grail Moviehouse 
TUCSON, AZ – The Loft Cinema
SANTA FE, NM – Center for Contemporary Arts
VICKSBURG, MS – Strand Theatre
OPENING NOVEMBER 12th
SOUTH ORANGE, NJ – The Village at SOPAC / Cinema Lab Theatres
ROME, NY  – Cinema Capitol
TEHACHAPI, CA  – Hitching Post Theaters 
BIG BEAR LAKE, CA – Village Theaters North / The Village Theaters
See It On The Film Festival Circuit
Heartland International Film Festival
Edmonton International Film Festival
Film Fest Tucson
Film Fest 919
Newport Beach Film Festival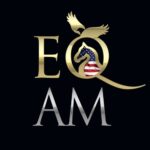 As an equestrian media outlet focused entirely on American horse sport, EQuine AMerica showcases the USA's equestrian talent (both two-legged and four) in the disciplines of para dressage, dressage, hunters, jumpers, and eventing. We support and promote our nation's fantastic equine events, products, services, artists, authors, science/tech, philanthropy, and nonprofits through our online magazine and social media platforms. Our mission is to offer you interesting/inspiring short and long-form content in a format that's beautiful, readable, and relatable.