There's a famous saying: everyone deserves a second chance. The Thoroughbred Retirement Foundation's Second Chances Program is all about giving those second chances.
TRF works with prisons and inmates to help them turn a new leaf, with the help of horses and their particular power to heal.
Out of all their success stories, Lauren is one of the most compelling. From inmate to thriving in the equestrian business, she was able to turn her life around, and then some.
Her Low Point
Years ago, Lauren made a mistake.
"I got into a really bad DUI accident… I was sentenced to five years."
Lauren served her time at Lowell Correctional Institution, which was a difficult time in her life. Prison life, according to Lauren, is especially tough for women.
"Being a woman….you're dealing with a lot more emotional aspects of life too because we're women… you can get crushed really easily."
Turning it Around
While at Lowell, Lauren was able to qualify for the second chances program by TRF.
"I was able to get into that program while I was incarcerated, which was a big, big, big blessing."

This was the start of a new, more hopeful chapter in Lauren's life.
"I was trying to be as optimistic as I could. And just, you know, everything happens for a reason. And thankfully, I was able to get into that great program with horses, which I already love(d)."
She started out in the stables, taking care of the horses, getting to know them.
"Dealing with learning, learning, literally everything to do with horses was really, really, really great… I was able to kind of turn all of that around to make my life better."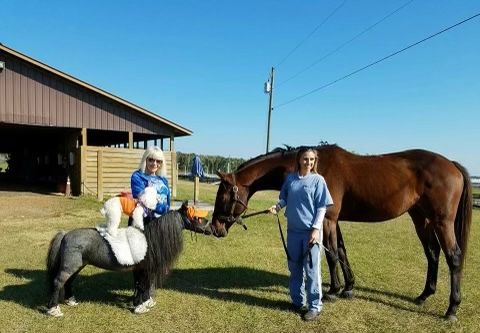 Interview
Read the full interview below:
StreamHorseTV: Going into prison + the Second Chances program what did you envision your life would be like afterward??
Lauren Vannunnci: I had really high hopes for myself when I got home. A list full of plans and things I wanted to do and accomplish. I wanted to get a job learning to train racehorses and to become a jockey since I have always been small enough to do it. I wanted to go to the RRP with my horse Dude. I was going to have a truck, a farm, my horses. I learn quickly that the fast life wasn't for me and did get a job training "future" racehorse's instead. I knew that I wanted to settle down and spend as much time with family and friends as possible. I knew I wanted to finish school and earn a degree. I envisioned myself buying a house on a farm so I was able to always have my horses close- I did buy a house but the farm is still on my list! I knew I wanted to get married & eventually I did! I wouldn't say I hit too far off my pre-release vision!
StreamHorseTV: How did you find confidence + courage to make new positive chapters happen for your future??
Lauren Vannunnci: I had to wear what happened to me, I had to own it. That is what gave me confidence. I knew I had to tell people about my story, to whomever wanted to hear it. People's reactions were not hindering to my new beginning, but where actually engaging and tusually hey wanted to hear about it. The common response was that it could have happened to them "they just got lucky", so that really helped. I knew that I wanted to be the best version of me & tried not to be too too hard on myself. Some things did and still do bother me, but i've really tried to change my mindset around to have a more positive outlook on things because I've been through too much to be negative. I really believe it's all about mindset.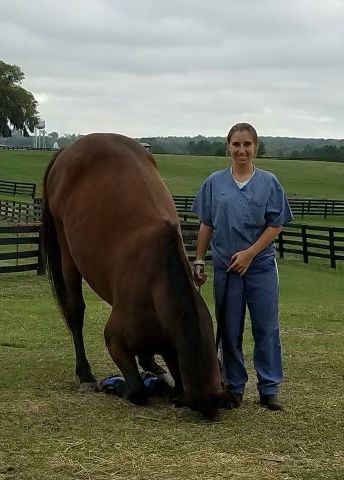 StreamHorseTV: Describe how making a mistake once doesn't mean everything is a lost cause….
Lauren Vannunnci: Being is prison really taught me that my life isn't over. If anything, it was just beginning. It was a very humbling experience and I learned so many great life lessons from people in there. There are great people wherever you go, you just have to have the ability to see past the mistakes. Anyone can change the path that their on, if and when they really want to. I believe that people are put on certain path's in life because they need to learn something or maybe even to teach someone else something. One mistake didn't make me a lost cause… it made me a stronger, better, humbler person. I was able to get out and start fresh in a new place with new dreams. While I was in prison, that thought of knowing I was able to do start completely over set me up to have the best mind frame to succeed.
StreamHorseTV: How do horses transform humans who need a little saving + what is your most rewarding horse story out of the program??
Lauren Vannunnci: Horses are one of the most therapeutic remedies out there. I'm pretty sure its proven? Well, at least by me it is! Being around them, taking care of them, riding them, etc. Whatever it is that you are doing with them, you are going to get twice as much back from them in due time. I remember when my horse OK Dude first got there, I thought he was the coolest thing. He was such a playful little boy, but definitely a challenge. I needed that challenge. I ended up working with him every day. Cleaning his stall, grooming, grazing, walking, etc. When his knee (Carpal bone fracture) ended up being better and after I got him to stop nipping (per carole's rule) I was able to trick train him into one of the best one's there. It was so rewarding knowing that carole wouldn't work with him at first because he was so naughty & I was able to train him to be better & like I said, he ended up being the best one there. I worked with him every day. He taught me patience. He taught me that with hard work and dedication you really can do anything you want. He holds such a special place in my heart, I will never ever forget him.
We grew so close I remember sitting in his stall before I was going about to go home. I cried out of fear, love, hope for my future. And also because I was sooooo sad I had to leave him. At the time I thought I was going to be taking him home and we were going to compete in the RRP, but when I got homes those plans changed & it seemed like I couldn't shake my past. (I got a letter in the mail saying my license was revoked for 3 years.. so that was a big hurdle I had to get over. They only make you stronger though!) Anyways, I remember sitting in his stall, so upset, and he just stood right by me and nudged me seeing if I was okay and pretty much comforting me. It really showed me how much they really do care about us especially at our worst.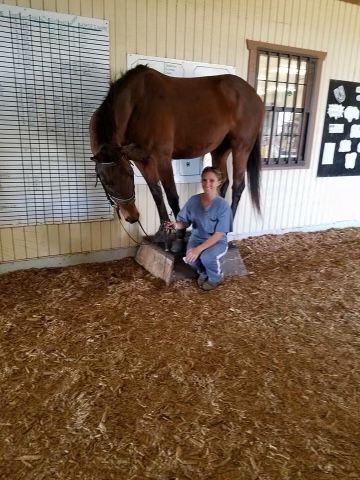 Lauren Today
Lauren now works for Brennan Stables and is their Director of Client Relations.
She is an incredible success story, and Lauren has faith that others with her background can follow in her footsteps. To many inmates or ex cons, it may seem impossible to start a new chapter. To people feeling this way, Lauren has this to say:

"You do have a future that you literally can do anything that you set your mind to. And just because you messed up once, maybe even twice, I mean, it's okay, it, you, you just have to switch that around and use those mistakes for the better.