Traditionally, using horseshoes has been an instrumental part of taking care of horses. Nowadays, some equestrians are looking for other options.
Since 1993, Cavallo has been producing the latest cutting-edge equine tech. Their signature product – hoof boots.
What are Hoof Boots?
Essentially, they are like shoes for horses! Typically made of polymers, they serve as an alternative to the quintessential horseshoe. Note: hoof boots are not meant to simply replace horseshoes.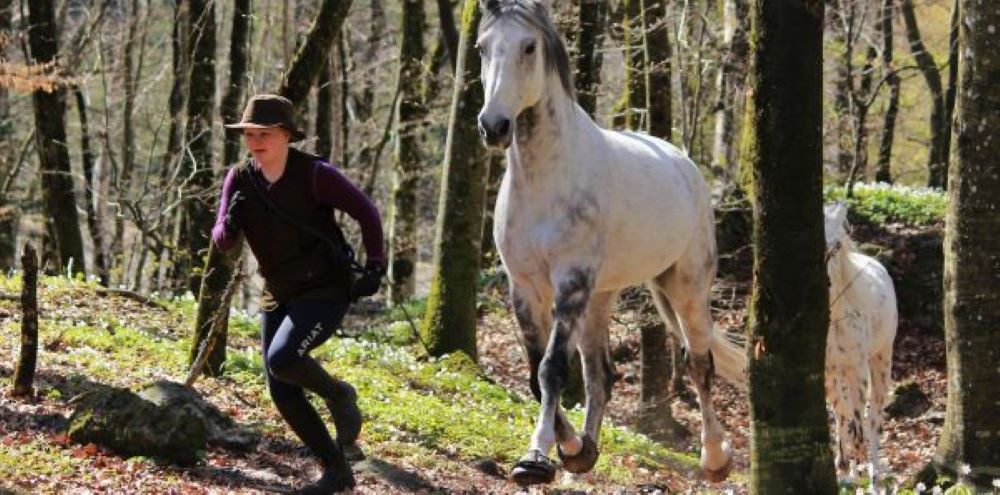 In this blog post, Cavallo's Krystal explains that hoof boots are part of a wider lifestyle change for horses: the goal is to "allow your horse to live barefoot on natural terrain then apply the boots for daily exercise and riding." Krystal isn't arguing for simply replacing horseshoes with hoof boots, but to encourage horses to live au naturel and use the boots for when the horses are doing strenuous activities to protect their hooves.
What are the Advantages of Hoof Boots?
Krystal explains that hoof boots work well with all kinds of horses, from trail riders to eventers. Even better: "In the case of tender-footed horses, (using) boots will usually lead to a huge improvement in movement."
Cavallo Boots in particular have the advantage of being easy to use; the velcro straps make putting the shoes on especially simple.
You won't have to worry about sacrificing your horse's comfort either: "Cavallo Hoof Boots are not meant to fit skin-tight like some other boot brands. This allows plenty of space for the hooves to flex and function naturally."
Advice From Carole Herder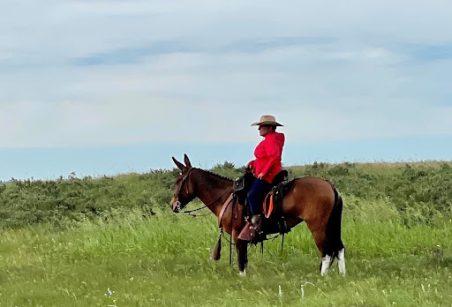 Carole Herder, President of Cavallo Horse & Rider Inc, was sent a question by an equestrian interested in trying their product:
"I've been asked to ride my horse in several spring and summer parades. I have a friend who drives her horse all over town for events and parties, and she recommends that I try hoof boots–so I'm reaching out to you. What advice do you have to help … (what) can I do to keep riding and driving horses from sliding and becoming sore while traveling on the asphalt?"
This is how Carole responded:
"Any horse can slip while walking on asphalt roads. Barefoot horses do not slip anywhere near as often as shod horses, but the hard surface can cause fatigue. It's so easy to pop on your horse's Cavallo Hoof Boots to provide traction so he will have traction and cushioning on any terrain. You also have the option of using Cavallo studs.
If you want to keep your horse barefoot, he will need protection when stepping over rocky terrain–and the smooth, hard roads. You're doing the right thing to plan and find out how you can keep him feeling good while on hard ground. Bare hooves on aggressive terrain aren't comfortable for the horse or rider."
Emma's Story
Many equestrians have had great success from trying horse boots.
One customer, Emma Massiggale, who was initially concerned about the viability of hoof boots, had this to say:
"I was introduced to Cavallo Hoof Boots and, to be honest, I was at the point of thinking that barefoot really wasn't going to work for me, but I spoke to the team at Cavallo and thought I would give their Trek boots a 'go.' When the boots arrived, my first thoughts were that they look like they might stay on! After using them on my team over the past years, I can honestly say that I have NEVER lost one."
Nicole's Story
Nicole Pinto works at Pinto Carriage Works, LLC, a company "well-known for (their) special event services including weddings, birthdays, funerals, baraats, vidais, corporate events, quinceaneras, parties, promotions, holidays and more." Horses are the stars of show at Pinto! So naturally, Nicole wanted to find the best way she could to make sure her horses could perform well. Like many others, Nicole saw great success with the use of horse boots.
"I haven't seen a single slip on any hard surface since starting to use these boots," Pinto said. "My horses are happy to move out at any time with their boots on. The one thing that I have noticed is that their movements are more fluid on pavement with the boots on. These give my horses a lot of confidence on the roads. It doesn't matter if it's gravel, pavers, pavement, or brick— they know they can walk across it confidently without fear of a weird pressure affecting their hooves."
Pinto also explained the positive feedback she has gotten from using horse boots.
"I have a lot of birthday party guests that comment on [the horses'] boots and are impressed that we are looking after their feet," she said. "We also have one wedding venue that will only use us because we use boots– they have a lot of gravel and have horses themselves. The boots help show the public that we care about our babies."
How to Start
The Cavallo site has many great resources to get you started on horse boots.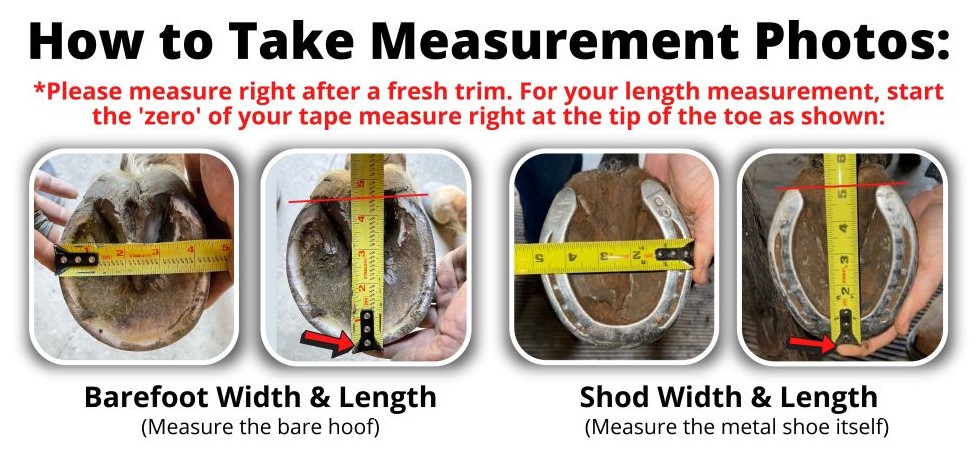 This article goes into depth about how to find boots that fit your horse. Cavallo also has video tutorials if you would prefer a visual guide.
Here is Cavallo's FAQ section for general information on horse boots.
Options Available
There are many great options if you are interested in transitioning your horse to living barefoot. Here are a few samples of available boots on the Cavallo website: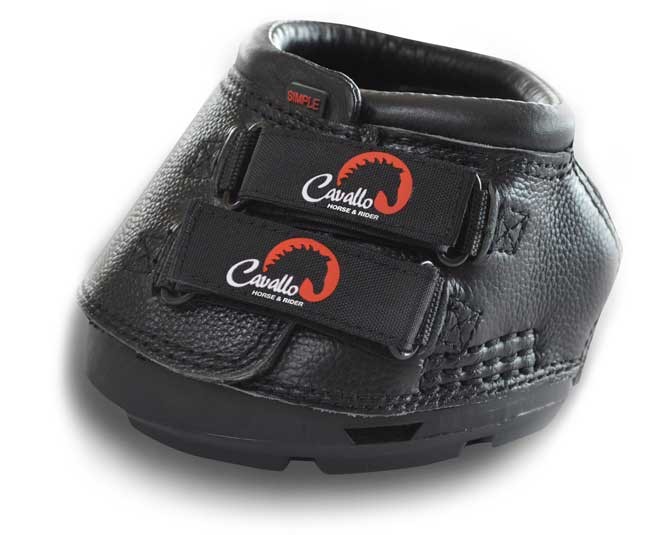 These simple black boots are great for a more minimalist look. The velcro straps make it so they are easy to put on your horse.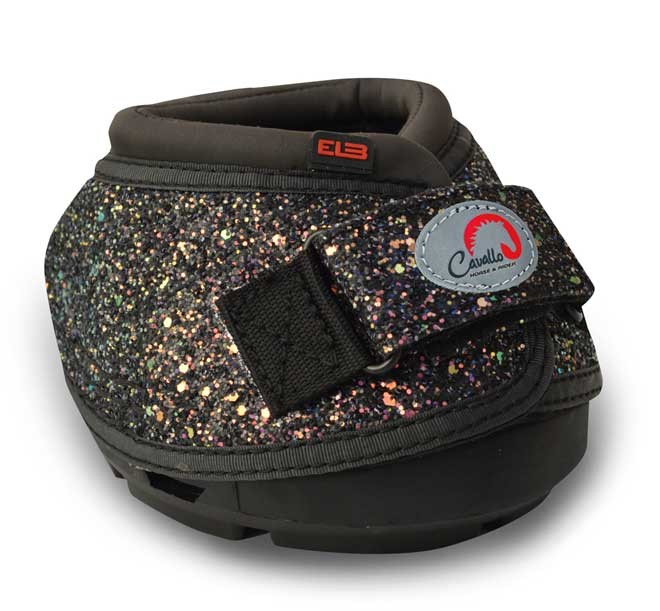 If you prefer a bit more glam, Cavallo also has boots with sparkles!
Cavallo also sells other great products, such as saddle pads and much more!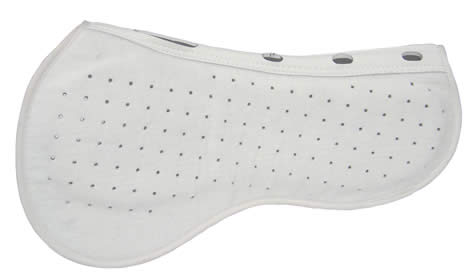 Whether you are a horse boot aficionado or a total newbie, Cavallo's horse boots could be a great way to improve your horse's comfort and give you some peace of mind.
ABOUT CAVALLO
The Cavallo website is loaded with research, testimonials, and FAQs to help guide you as you transition to barefoot and prepare to ride in any sport. Visit Cavallo's website for more help or join the discussion on Facebook. Sign up here for Cavallo's free newsletter and special community discounts.
ABOUT CAROLE HERDER
Carole Herder is the author of the #1-bestselling books: There Are No Horseshoes in Heaven and the newly-released Hoofprints on The Journey. Her company, Cavallo Horse & Rider Inc., manufactures and distributes horse products, including Cavallo Hoof Boots and Saddle Pads, to 26 countries worldwide. Herder designed and developed Cavallo Hoof Boots and Total Comfort System Saddle Pads. She's an honored recipient of the BCBusiness Women Innovator Award, Royal Bank of Canada Woman Entrepreneur Award, a member of the Women Presidents' Organization, and a certified Chopra University Yoga Instructor and Ayurvedic Teacher.
Visit cavallo-inc.com to learn about the full line of Cavallo Horse & Rider products. Call toll-free from the USA or Canada: (877) 818-0037.