– CATHY WOODS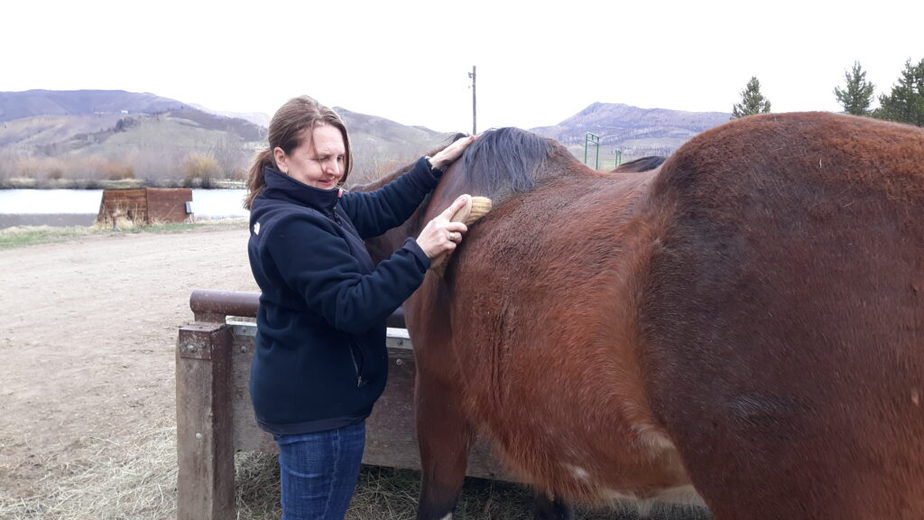 It's not all about the ride!
It's not uncommon for horse owners to become complacent about grooming amidst the many other tasks involved with having horses – combined with finding the time to ride. But, a dedicated, mindful equine grooming session can be quite soothing for you and your equine partner and yet another way for you both to, share space. 
For me, especially during the cold, winter months and because I don't have a warm enclosed barn, I find myself doing just the essentials in regards to horse care; feeding, mucking, making sure my horses are as warm and safe as possible. I'm also an advocate of letting horses be horses, but to be honest, sometimes, mine look downright feral as I slack on their grooming. I often find myself doing what's called, a quick cowboy groom, focusing on just the areas that need direct attention, paying little attention to anything else. And, in reality as horse owners, sometimes, that's all we have time for.
Often, equestrians can become task oriented or fixated on, the ride or the event, skimming over the true joy of simply being around horses. Mindful grooming is a nice way to connect beyond riding and your horse will thank you for it because, after all, who doesn't love a good spa-day and quality time with a friend?
As part of my Body, Mind, Equine TM retreats, I include a, mindful equine grooming segment. This session often ends up being some of the sweetest and most popular aspects of the program. When I take the time to do this in my own barn, with my own horses, I'm reminded of how rich the experience is for me and them – so it's a win/win! 
The benefits of mindful grooming are:
Slowing down and an opportunity to practice present moment awareness
Spending quality, quiet time with your horse
Relaxing and soothing for both horse and human, lowering stress levels
Getting hands on your horse to inspect anything that might be missed at a glance, such as tenderness, weight loss/gain, hoof issues and the like
An opportunity to observe energy, energy-shifts and to be mindful of what energy we are bringing to our horsemanship i.e., calm, rushed, scattered, centered etc.
An occasion to bond, build trust and connect
As my horses are now seniors, I find we spend more time doing relaxing, simple activities such as grooming sessions compared to our many years of long, challenging trail rides. As things change, we find new pathways to partner.
Maybe you no longer have interest in riding, or perhaps you or your horse has sustained an injury preventing saddle-time. Maybe your friends are going riding, but you're having an off day and just not feeling it– there's nothing wrong with staying behind and spending time with your horse in another way.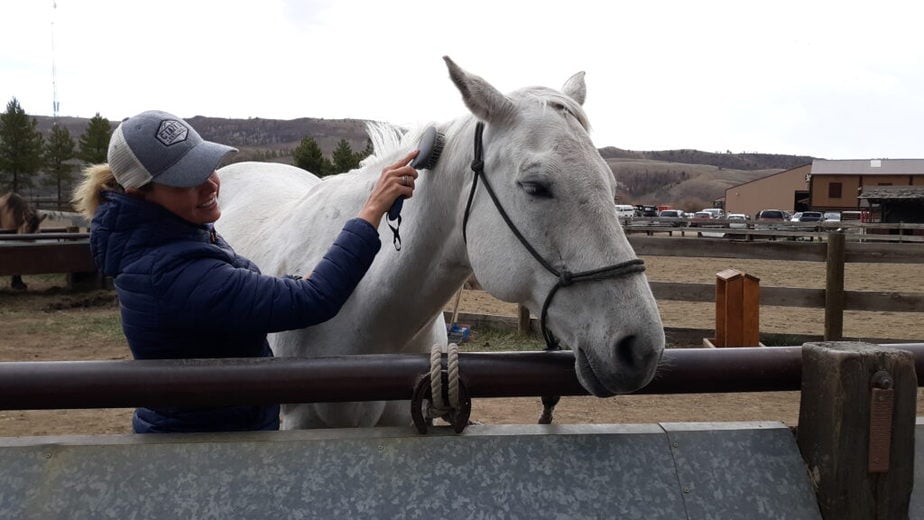 Suggestions for a mindful grooming session:
Mindful grooming can be approached several different ways depending upon personal preference, your set up and number of horses.
Make the session feel special, much like you would when setting up for any special occasion. Your horse will feel the difference. Maybe it's playing some relaxing music in your barn, or mindfully setting out your grooming tools. I like to start and end my session by giving my horse a peppermint!
Sessions can be done in complete silence which can be a nice break and a counter balance from all the noise in our lives. 
Soft music can also be pleasant – choose something soothing and calming. I personally like to play, Native American flute music; I find the sounds, peaceful, primal, and ethereal.
Before greeting your horse, take a few moments to center yourself; be still, with eyes closed and breathe deeply, collecting and gathering yourself. Your horse will detect the difference when your energy is centered vs. fragmented.
Before grooming, take a moment to breathe with your horse. Stand next to him/her with grounded feet and place a hand on their chest, side or near the nostrils then, breathe deeply – see if you can sync up your breath. Not only is this calming and connecting but also helps us become keenly aware that the same life-force energy flowing through us, also flows through our horse (and all living things) interconnecting us on a deeper level. 
Then, begin your grooming regime in whatever way you like, while staying attentive to what you're doing. Often, we operate on auto-piolet, but learning to stay in the present moment is a gift – that's why it's called, the present!  When your mind wanders from your task, notice that you've come out of the present moment and bring your attention back. In my program, I teach two tools to stay harnessed in the present, the breath and the bodily sensations. When you catch yourself mentally drifting, come back to those two things – they're always there.
Pay attention to your horse's response/body language – is he/she showing signs of relaxing and enjoying the experience; are there areas you groom and you notice your horse really likes or dislikes having those areas worked on? 
See how much you can notice. When mindfully grooming, pay attention to the subtleties, the smells, the sounds, the sensations, the breath. Use this time as a meditative experience, a meditation in motion if you will. 
If you groom with others in a shared barn or with a riding group, perhaps suggest doing this as a group activity. Group energy can sometimes enhance the experience for all. 
The session can be as long or short as you'd like. It's not about the quantity of the time, but rather the quality of presence. 
In closing, thank and appreciate your horse for being part of your life and a for being a, creature-teacher!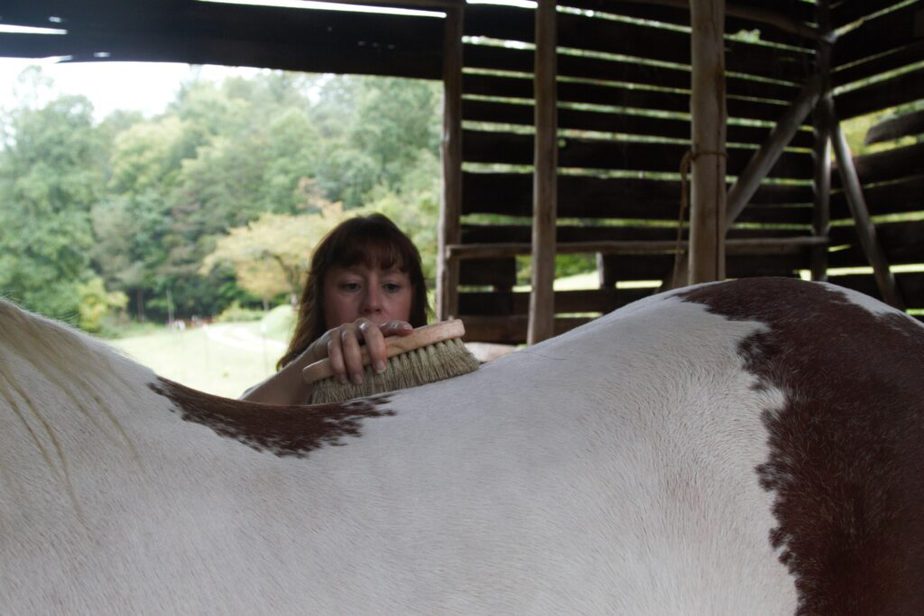 Sometimes, it's nice to, just be with your horse! Happy Grooming and your horse says, "Thank you!" I hope you'll give mindful grooming a try and continue to seek new ways to connect with your horse and the world around you in a deeper way.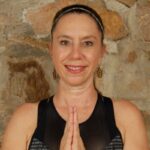 Cathy is a yogini and horsewoman, author of Yoga for Riders, creator of Body, Mind, Equine™ and The Mindful Equestrian™ online courses, and national retreat leader/clinician. She has taught and led retreats for equestrians and non-equestrians since 1991 at distinguished locations such as Kripalu Center for Yoga and Health, Yogaville Ashram, and Mount Madonna Center. As an equine enthusiast and avid rider, Cathy combined her passions to create a program called Body, Mind, Equine™ that focuses on the use of yoga principles and postures to improve horsemanship, from ground to saddle. She offers retreats and clinics at ranches, resorts, equine centers, and expos—including Equine Affaire and Equitana USA—as well as for private groups and equestrian organizations like USHJA.