—L.A. Sokolowski
"My favorite animal to see when riding in the bush is the cheetah," says David Kishaa, head horse guide at ol Donyo Lodge at the base of Mount Kilimanjaro in the Chyulu Hills of Kenya, Africa. "Because the cheetah is the cat we can get closest to on a horse and this is always a special experience."
Special experiences are what people, penned in from the pandemic, want from their vacation. Collecting memories has replaced collecting souvenirs, say experts in today's international travel industry like Travel Leaders Network adviser Linda Jelencovich in West Palm Beach, Florida: "They [travelers] feel time might be shorter."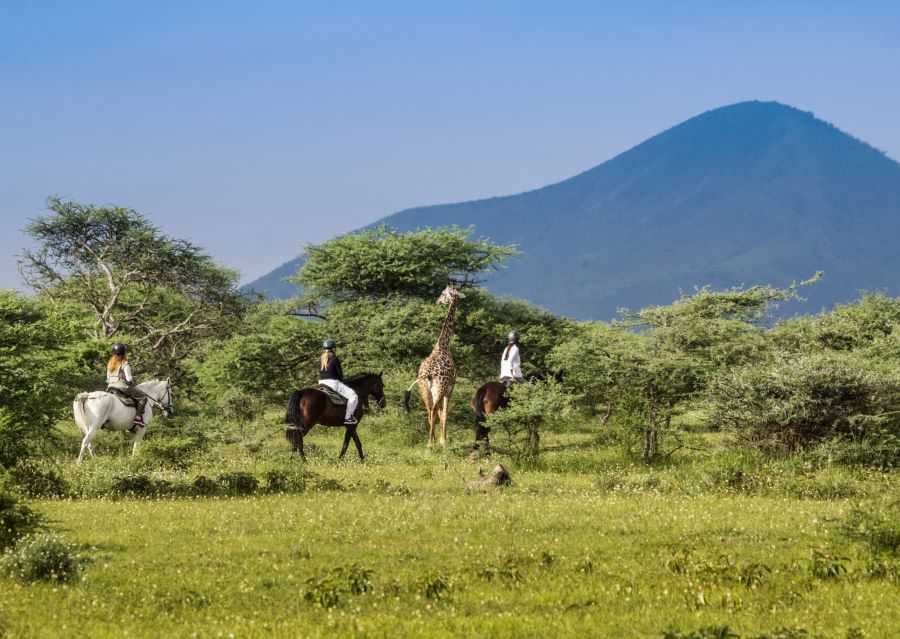 Ol Donyo Lodge, one of the brightest jewels in Kenya's eco-tourism crown, makes it easy to saddle up for a special experience with morning, afternoon, and day rides appropriate for families, couples, and individuals who can choose from a stable of horses managed by Lana Flowers and ready to bloom for riders, whether novice or advanced in skill.
Swapping the horsepower of a 4×4 open land cruiser for a morning or afternoon excursion on horseback is one of the most peaceful and unique ways to experience Kenya's diverse landscape and some of Africa's awe-inspiring natural world. Guests can forge an unrestricted path across soft volcanic soils, ride across open savannah alongside inquisitive giraffe, jackal, and antelope, and—while passing herds of zebra, elephant, and wildebeest—might indeed be lucky enough to spot a cheetah up close.
Two such adventures, a Tented Safari "Out of Africa" Ride and a Lodge-Based Safari with day trips to Amboseli National Park, are offered through entrepreneur and equestrienne, Stacey Adams, president of Active Riding Trips based in Stanfordville, New York. Since 2003, Stacey has been the premier provider of curated, boutique, horseback riding trips to 17 nations and throughout the United States.
"This is one of the most special rides we offer," says Stacey. "It epitomizes the best in an African safari with all the comforts of a luxurious lodge. This is an oasis for adventure, relaxation, and privacy in abundance."
Photos courtesy of Active Riding Trips & ol Donyo Lodge
David has worked for the last seven years with Great Plains, the award-winning tourism conservation organization founded in 2006 by Dereck and Beverly Joubert. He is the head guide and heads the riding department at ol Donyo Lodge, one of 16 properties owned by Great Plains, offering safari experiences built around bespoke, caring, and considerate values. The Great Plains Foundation, based out of Jupiter, Florida, conserves and expands natural habitats in Africa through innovative conservation initiatives that depend on the success of its conservation-tourism parent company, Great Plains. In short, your great vacation experience here gives back for the good of wild Africa.
"I was born and raised here," David says. "I know the surrounding landscape and area. I spent my school holidays herding cattle in the bush and becoming comfortable with the bush around me. My job is exhilarating! Through riding, I get to share a connection with the horses, as well as show guests this amazing place from the back of a horse."
David is sharing how to make that connection with another local—a promising young horseman, Soinkei Shamat, known fondly to the Lodge's riding team by the Maasai name, Ntipapa. "He is a wonderful member of our team! He came from the area and spent many years herding cattle in the bush and seeing horses on the plains. One day, I would like to see him become one of our guides."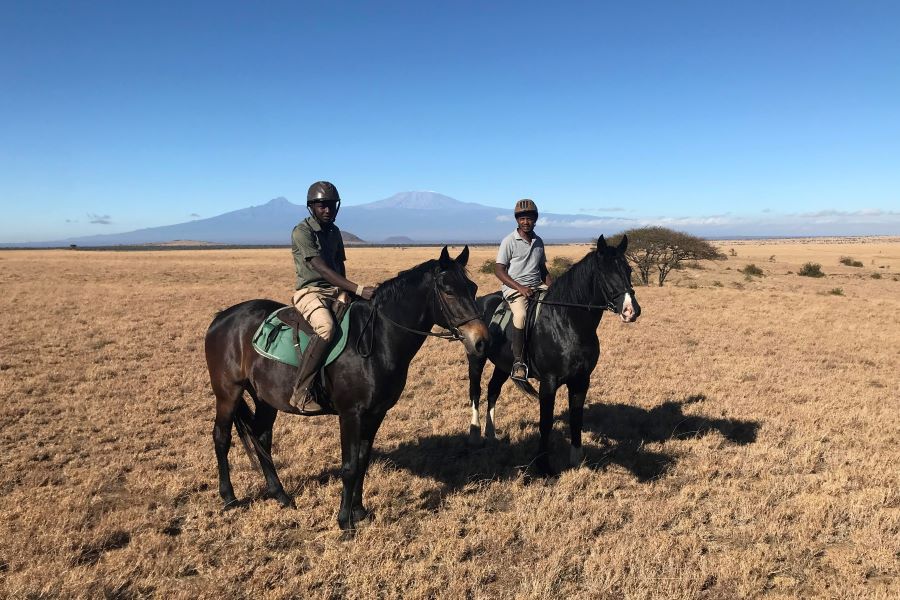 Pairing horses with riders begins at the stables set within an acacia forest at the foot of the Chyulu Hills and home to calm and hardy Boerperds, a modern South African breed that has recreated the traditional Cape Horse and now-extinct Boer Horse. The origins of the Boerperd go back to horses imported from Java in the 1600s and an infusion of Thoroughbred bloodlines in the 1700s. The Boer Wars between 1880 and 1902 led to the extinction of the old-type Boer horse, but recognition in 1996 by the South African Department of Agriculture spurred the formation of a breeder's society and concerted efforts to recreate the breed.
Several Thoroughbreds are also available and recommended for intermediate and advanced riders. Intermediate riders can enjoy gentle 60- to 90-minute rides exploring the plains. Those with more experience can head out for two- to four-hour rides with exhilarating medium to fast canters.
First, the stable team at ol Donyo Lodge warm up guests in the saddle for an assessment to ensure they are paired with the appropriate horse. Guests can choose between British, trail, or Western saddles to ensure they are comfortable. And all the horses, the team attests, are an absolute joy: soft, responsive, sensible, and fun yet well mannered and calm… Even when wildlife is nearby!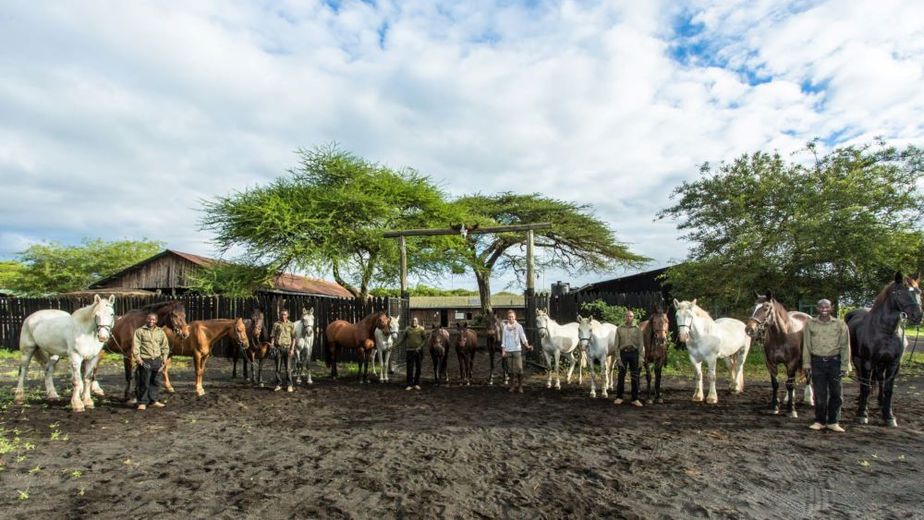 A few last things about cheetahs and horses… While the big cat's body is considerably shorter than that of the average horse, the two share roughly the same stride length (22 feet or 6.7 meters), but a cheetah can complete more than three strides per second compared to just two strides per second for a horse.
So which outruns the other? It depends. While nothing beats the cheetah for acceleration (0 to 45 mph in two seconds compared to a horse at 44 mph in 300 yards), when traveling over extended distances, you can relax and sit tight—a horse can outrun a cheetah.
Come to Kenya. Ride its horses. Let its guides and wildlife bring you special experiences to call your very own.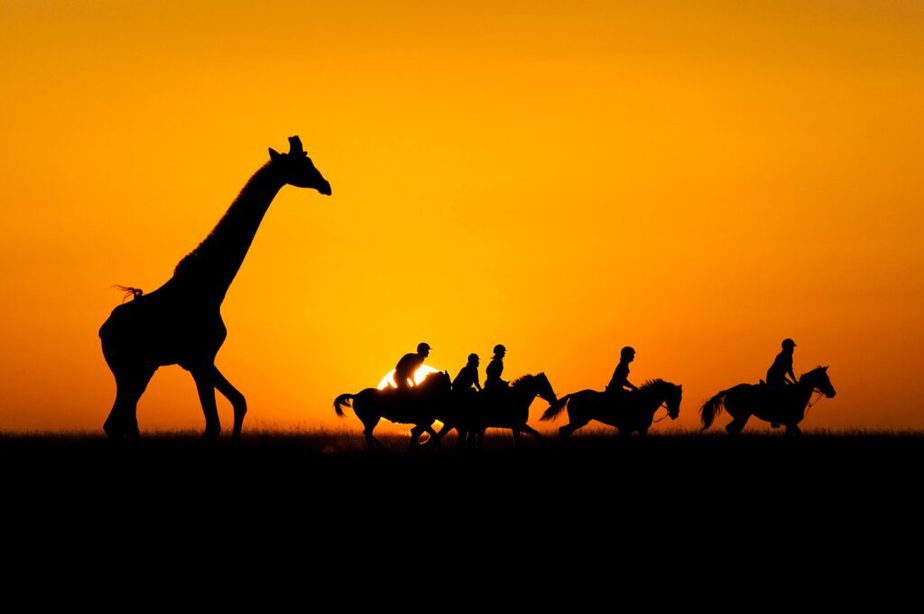 ---
Want to learn more? Talk to Stacey Adams, an expert in adventure travel since 2003 when she launched Active Riding Trips, the premier provider of curated equestrian experiential vacations in 17 countries and throughout the United States. Her commitment to offering only the best experiences for horseback enthusiasts includes personally inspecting each and every trip to assure the highest standards in amenities, services, and luxurious comfort. Sign up for travel updates at activeridingtrips.com. In the meantime, come along for the ride on Facebook and Instagram.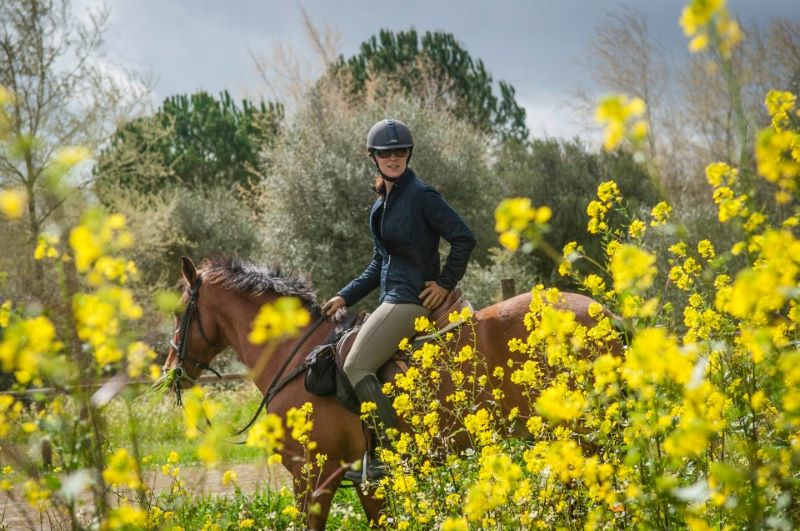 Looking for more stories about Our World? Find more here.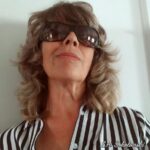 L.A. Sokolowski is a New York-based award-winning multi-platform journalist, image/brand consultant, and nonprofit development advisor at the highest international levels of equestrian sport, welfare, lifestyle and culture. She is 2017 recipient of the American Horse Publications Chris Brune Spirit Award for her contributions to the horse industry, 2020 nominee and 2016 Syracuse Press Club Sportswriting Award winner, 5x winner of AHP Media Awards for excellence in freelance equestrian journalism, and was recognized by ACOG for outstanding press relations services at the 1996 Olympics.