L.A. SOKOLOWSKI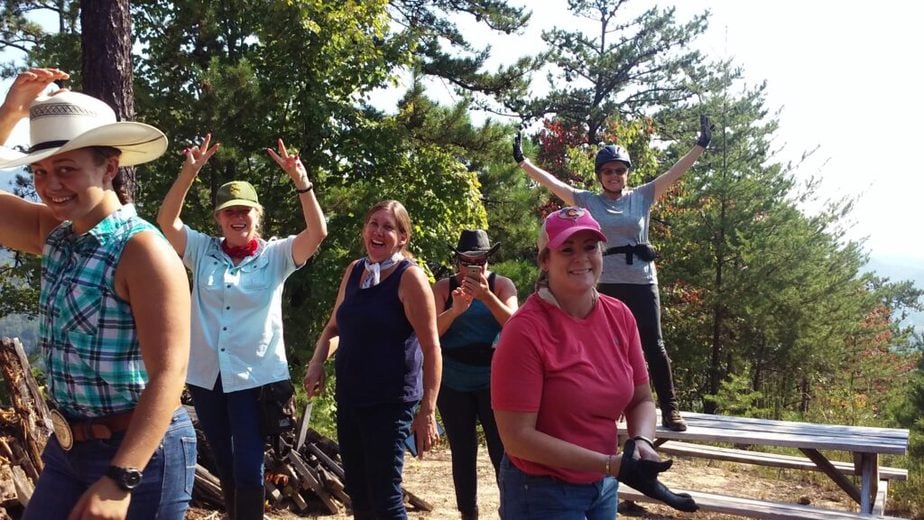 Cosmopolitan magazine calls it "the only good fake holiday on the calendar," and while February 14 is all about romance, Galentine's Day — on February 13 — is all about the girlpower of friendship.
Galentine's Day entered the public lexicon about a decade ago, thanks to a character on the TV comedy, Parks and Rec, Leslie Knope. During an episode of the show's second season, she said, "Every February 13, my lady friends and I leave our husbands and boyfriends at home and just come and kick it, breakfast style. Ladies celebrating ladies."
So you could say that Recreation is at the heart of what makes Galentine's Day special. Gal pals getting away from it all to renew friendships, make memories, and share unforgettable adventures.
That's what brought best friends, Ann and Kathy, to the Gannon family's French Broad Outpost Ranch, at the foothills of the Smoky Mountains in Tennessee.
The two had grown up together in Norfolk, Connecticut, becoming and staying friends from the age of four until moving away from one another after high school.
Nor could they have been further apart — Kathy and her husband Matt were in South Berwick, Maine, and Ann had been on the opposite coast in Olympia, Washington – when the first steps in their horseback riding journey began.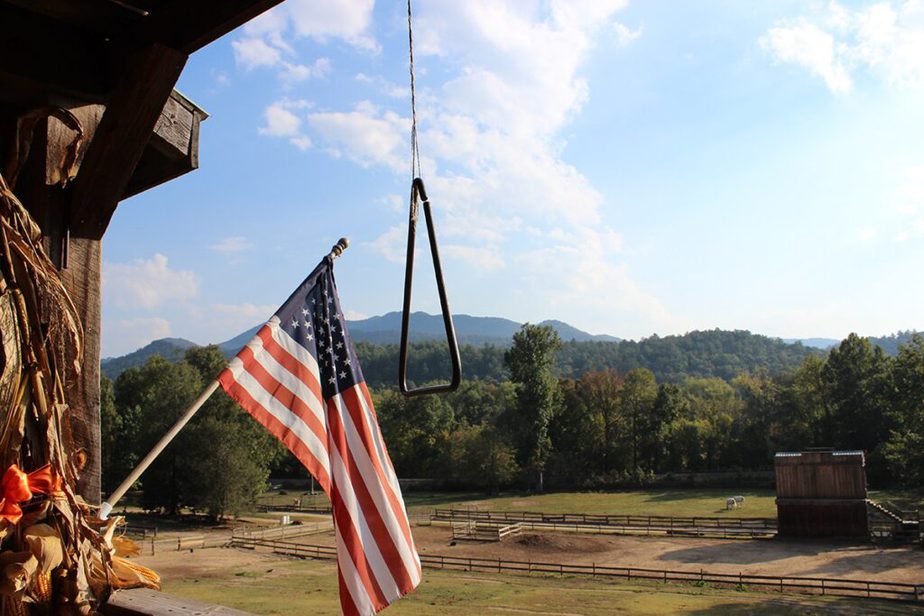 What prompted their trip, Ann says, "Were two besties wanting some much needed reconnecting time. But I'll never forget how it came about…!"
Each November, Ann explained, Kathy would return to to New England, to the Eastern States Exposition show grounds in West Springfield, Massachusetts, to enjoy one of the largest horse-related trade shows and clinics in North America, Equine Affaire.
"I had moved back to Connecticut to take care of my elderly dad, so Kathy asked me to come with her to Equine Affaire. After checking out many (so many!) vendors, we found the booth for Active Riding Travel and must have spent a good hour talking and joking with Stacey and the staff there. They were promoting an enticing riding trip to Ireland, but family responsibilities put off any immediate plans for me."
Later, after her father's passing released Ann from those responsibilities, she saw an advertisement on the boutique horseback riding travel agency's website, ActiveRidingTrips.com, promoting a trip package in Tennessee called Women's Week, at the French Broad Dude Ranch.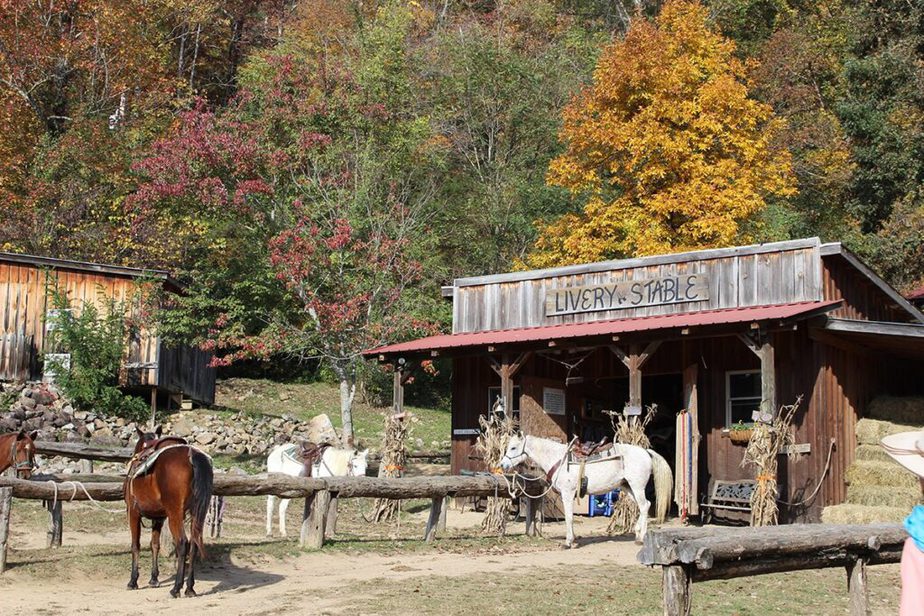 "I knew it would be the perfect trip for recovering from Dad's death," Ann said. "Kathy agreed, and we booked it."
"We planned it very fast eight months ahead, so [Active Riding Trip president] Stacey's help was invaluable in helping us with budgeting questions, packing questions, questions about tips for the ranch staff, and," Ann laughs, "more questions!"
Nestled in the foothills of the Smoky Mountains and surrounded by Cherokee National Forest, the French Broad Outpost Ranch has been described as a "true gem" for riders and those seeking a true dude ranch experience (that also understands horse people). Its programs also cater to families, with an array of pioneer fun and games like horseshoes or simply relaxing by the in-ground pool, aka 'swimming hole.'
The ranch has been built to recreate the essence of an Old West town, complete with well-appointed and comfortable hotel rooms and a saloon ready to slake a rider's thirst after a day on the trail.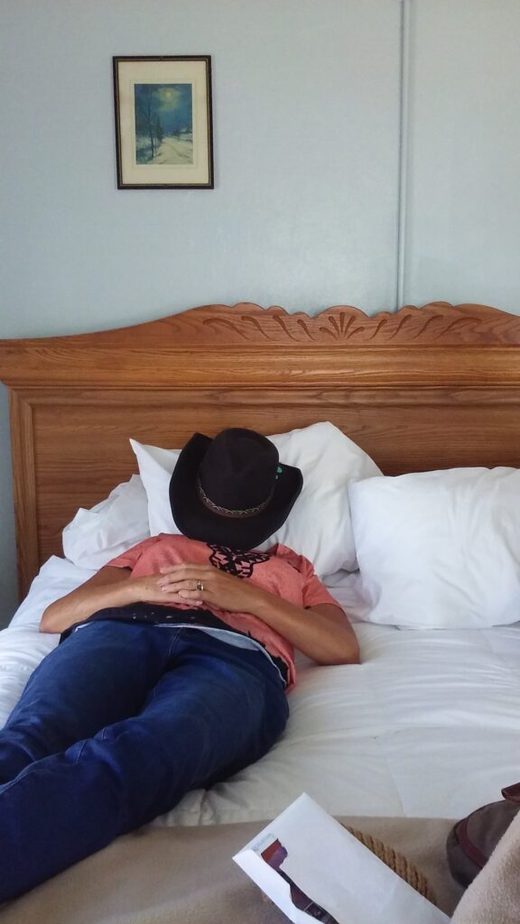 A week at the French Broad Outpost includes morning and afternoon guided trail rides and the chance to practice herding and sorting cattle, plus whitewater rafting, black powder shooting, and nights filled with square dancing for a little do-see-do around the bonfire.
"We had a fantastic time," Ann says. "The other girls on our Women's Week were fun, too. We all played Bingo at night and laughed a bunch, and went tubing down the French Broad – so fun! It was great for me because we had to saddle our own horses, so I learned how to do that Western style. Kathy, because of her experience, enjoyed being matched to a more spirited horse."
Kathy adds that, among the best 'souvenirs' from Women's Week has been the new 'horse friends' they made and continue to keep in touch with.
"It worked out great," Ann says, "for both of us."
Life is short. Hug your friends and have a Happy Galentine's Day.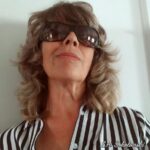 L.A. Sokolowski is a New York-based award-winning multi-platform journalist, image/brand consultant, and nonprofit development advisor at the highest international levels of equestrian sport, welfare, lifestyle and culture. She is 2017 recipient of the American Horse Publications Chris Brune Spirit Award for her contributions to the horse industry, 2020 nominee and 2016 Syracuse Press Club Sportswriting Award winner, 5x winner of AHP Media Awards for excellence in freelance equestrian journalism, and was recognized by ACOG for outstanding press relations services at the 1996 Olympics.