―Cathy Woods
It's interesting to observe how things play out. Just over a year ago EQuine AMerica Magazine was kind enough to feature an excerpt from my book, Yoga for Riders, published by Trafalgar Square Books. Fast forward to 2021, and here I am as a regular contributing writer for this wonderful equestrian publication. I am thrilled and grateful to be on board!
The support of my work from EQuine AMerica and the equine community has been immense. It is my great joy to share my combined passions of yoga and horses and hopefully shed new light on how perfectly the two actually complement each other and in ways beyond the obvious! Clearly, one could see how the physical aspect of yoga would benefit equestrians and other athletes, but I like to open students up to the deeper teachings of yoga and how they too can be applied to horsemanship and daily life!
To help readers get to know me in this first article, I'd like to share a little about myself and my perspective about how and why yoga pairs so well with horsemanship and life in general. The yoga of everything!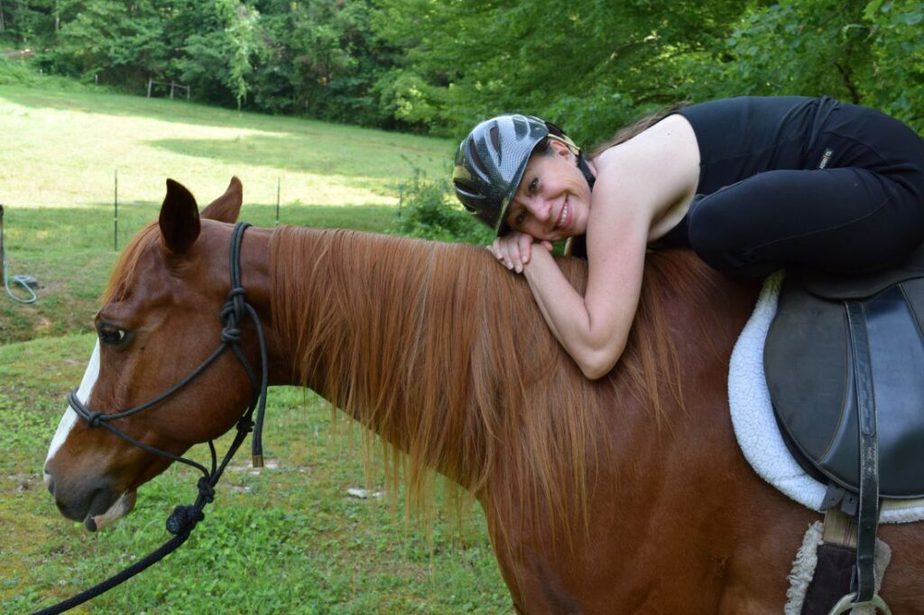 Literally, as a life-long yogi and teacher of yoga for 31 years, I have always been well aware of how the practice of true and authentic yoga can enhance life well beyond the yoga mat, so it was only natural for me to combine yogic principles into my horsemanship. At first, I never really thought twice about it since I approach all aspects of my life from a yogic perspective―the hold adage, "How you do anything is how you do everything."
I guess you could call me the "OG" here, as I've been combining yoga and horsemanship long before it was a thing and long before my book was published. When I first publicly introduced the concept of yoga and horses many years ago, it was not well received and dismissed as, too woo-woo, trendy, or fluff. At that time, the equine and non-equine worlds were not as ready to embrace mindfulness and wellness practices as they are today. I believe our fast-paced lives have caught up with us and, now more than ever, people are seeking ways to slow down, connect, and enrich their lives.
It feels like I've opened Pandora's box as, since launching this concept well over a decade ago, I've noticed a recent boom in others also sharing this likely paring. I believe that's how the Universe works―thoughts, concepts, and actions organically produce energy and pathways for others to tap into. That's interconnectedness―that's yoga. That's evolution!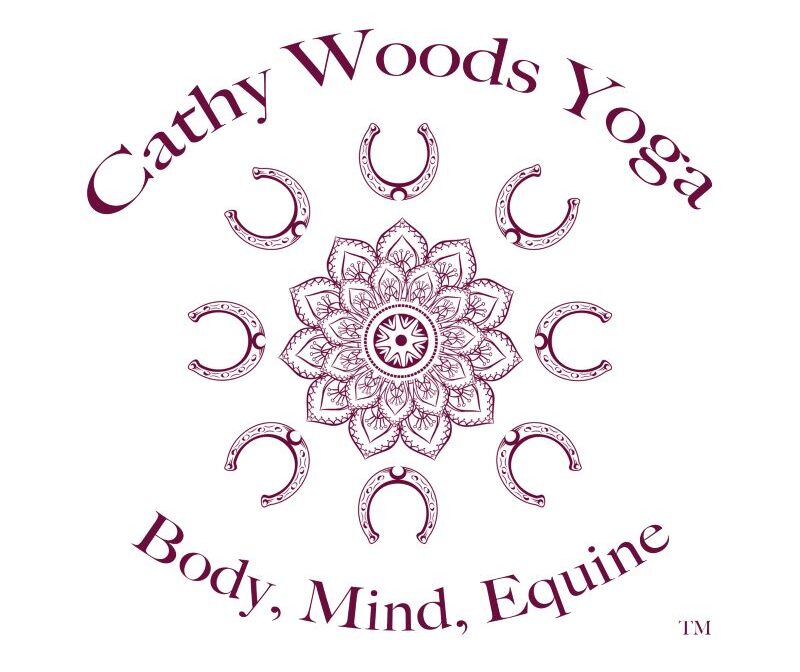 Fortunately, I've always been one to follow my inner voice and continued to apply the whole of yoga to my own horsemanship, from ground to saddle, even though it was not a popular concept. Then, I slowly began sharing it with a small group of friends and interested equestrians in the form of a program I created called Body, Mind, Equine™. It was super exciting and affirming to see those "ah-ha" moments when people really got the concept and gleaned the benefits!
Some of those benefits include:
Becoming a more mindful overall horseperson from ground to saddle
Bringing heightened, integrated awareness off the mat and to our interactions with horses
Using the age-old, yogic practice of breathwork when working with horses as a calming and refining tool to notch down our energy (especially when feeling nervous, scattered, fearful, or anxious) and learning to breathe through challenges
Slowing down and not always being task-oriented
Increased balance, flexibility, strength, focus, symmetry, feel, and connection
To name a few…
Yoga is a sacred practice/path to me, not just the trend of the week or acrobatics on horseback. I always strive to maintain the integrity of the tradition. And it isn't a fairytale or mystical approach to horsemanship either. For me, combining yoga with horsemanship extends far beyond the yoga postures and doesn't negate good, quality, and safe horsemanship (shoes, helmet, handler, equine ground-manners, etc.). In fact, it's a quite practical approach. I am passionate about teaching how the true and whole practice of yoga is actually a form of groundwork and collection for the human as we become more, skilled, mindful, conscious, and compassionate human beings on and off the mat.
Sadly, the Americanized version of yoga has become mostly about yoga poses, athletics, cute trendy yoga clothes, and catchphrases. In its origins, yoga is an 8-limbed path to enrich living―yoga postures are only one of those limbs. When I teach about applying yoga to horsemanship, I am referring to the principles of yoga in addition to safe and beneficial postures for horse and rider. My comprehensive program focuses on "The Parallels of Yoga and Horsemanship," which I share with you here (along with a link to a printable version).
When reviewing the below parallels, it can be helpful to ask yourself:
Am I practicing these in both yoga and horsemanship?
What am I doing on my yoga mat?
What am I doing in my horsemanship?
You may find it helpful to print and post these parallels in your yoga space or in your barn to use as a gentle reminder.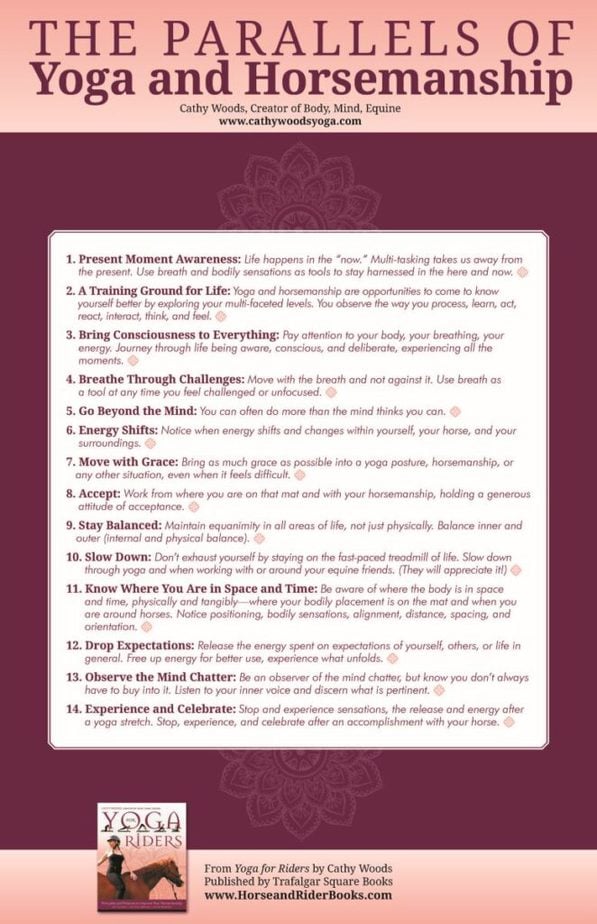 I hope that you've found this article and my concepts intriguing and beneficial. If this has piqued your interest, know that it's just the tip of the iceberg about how the practice of true yoga can enhance not only your horsemanship but your whole life as well.
In the days to come, I look forward to sharing more yogic and horsey wisdom with you through EQuine AMerica Magazine.
Happy Trails & Namaste,
Cathy Woods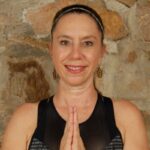 Cathy is a yogini and horsewoman, author of Yoga for Riders, creator of Body, Mind, Equine™ and The Mindful Equestrian™ online courses, and national retreat leader/clinician. She has taught and led retreats for equestrians and non-equestrians since 1991 at distinguished locations such as Kripalu Center for Yoga and Health, Yogaville Ashram, and Mount Madonna Center. As an equine enthusiast and avid rider, Cathy combined her passions to create a program called Body, Mind, Equine™ that focuses on the use of yoga principles and postures to improve horsemanship, from ground to saddle. She offers retreats and clinics at ranches, resorts, equine centers, and expos—including Equine Affaire and Equitana USA—as well as for private groups and equestrian organizations like USHJA.