—ANGELA NUÑEZ-BOWMAN, CERTIFIED YOGA INSTRUCTOR
Are you looking for a way to build a deeper bond with your horse? No matter which discipline(s) you and your horse practice, horse yoga can be a wonderful addition to your routine. Horse yoga is a way to spend time with your horse without asking him to perform. This is a practice your horse can enjoy thanks to the calm energy and gentle massage it provides for him. If you've never tried regular yoga, that's okay! The first step to building a horse yoga practice is meditation and "pranayama" (breathing exercises). Begin by simply spending time with your horse in his field and meditating. Allow your mind to become quiet and your awareness to expand. Horses, as long as they are healthy, sound, and safe, are almost always in a state of simultaneous awareness and relaxation. If they sense a threat, they go into pre-flight or flight mode; otherwise, they enjoy simply being, hanging out with their herd mates, and grazing. Practice just being with your horse.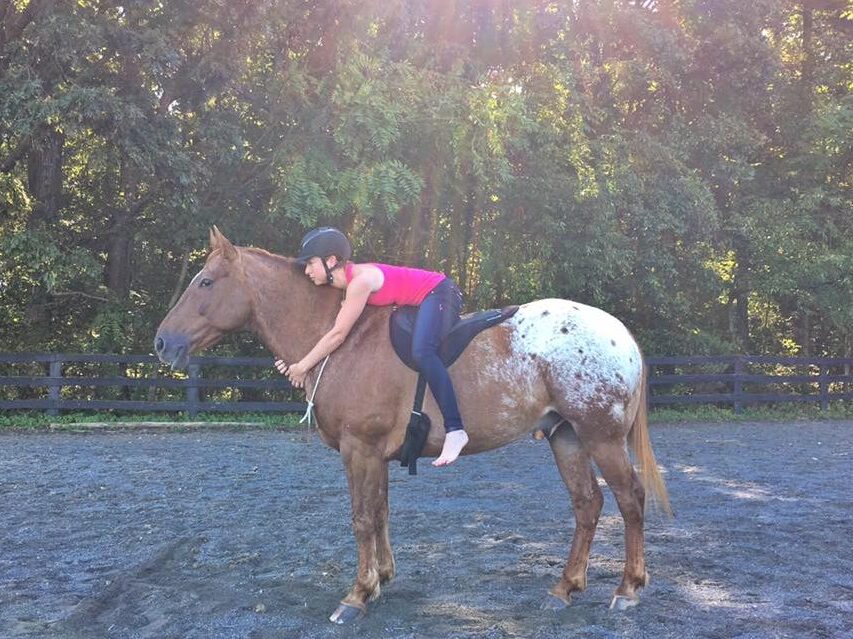 Next, practice some breathing exercises while hanging out with your horse. Begin with breath awareness, feeling the air move in and out through your nose. Start to deepen and slow down your breath, breathing all the way down into your belly. "Deergha Swasam," or the Complete Yogic Breath, is a great practice to do while you're riding in order to relax yourself and your horse. As you inhale, bring the breath first into the belly, letting the belly gently expand, then bring the breath into your lungs, and finally all the way up into your chest. Exhale slowly from the chest, then the lungs, then the belly. Continue for a few minutes. Stop if you feel any dizziness or lightheadedness.
Deergha Swasam will stimulate your parasympathetic (or "rest and digest") nervous system, which will also encourage your horse to relax whether you're practicing this pranayama mounted or unmounted in your horse's presence. Once you're comfortable with these meditation and pranayama practices, you can begin to work toward mounted horse yoga. Make sure your horse is sound and accustomed to lots of different things happening on his back, such as the "around the world" exercise, swinging your legs back and forth, doing sit-ups, trunk twists, and other common exercises. Getting your horse comfortable with movements like this will help him stay relaxed when you start doing "asana" (poses) while mounted.
Once you and your horse are ready for you to practice some poses while mounted, check out my beginner horse yoga video:
Starting any yoga journey is exciting, and horse yoga is unique in that you get to journey together with your horse as your partner. When you're ready to try mounted horse yoga, play it safe and have someone hold your horse, but allow him to move if he wants to. I never recommend forcing your horse to stand still. If your horse needs to move, allow him to do so. Take a few laps around the ring and try again. Use a bareback pad for your and your horse's comfort. Begin by practicing meditation and pranayama while mounted so your horse can learn that during yoga, all he needs to do is relax and enjoy the peaceful energy. This may take some time with some horses, as so many horses are used to being asked to perform in some way every time someone is on their back. Be patient with your horse and with yourself. This practice is about relaxing and bonding—not performing or competing.
Yoga is the cessation of the fluctuations of the mind. If you can work toward this, your riding and your relationship with your horse will improve. When you control your breath, you control your body and your mind. Horses are hyper-aware of their environment, including their rider's emotions and state of being. Yoga will help you be calm and grounded no matter what and will, in turn, help your horse stay calm even in typically stressful environments. Yoga can lead you to a place of unshakable peace within. Horse yoga can give the gift of peace to your horse, as well.
NOTE: EQuine AMerica always recommends you wear your helmet while performing mounted yoga. Footwear is also advised.
ANYONE WHO ATTEMPTS TO PERFORM HORSE YOGA AFTER VIEWING THIS POST DOES SO AT THEIR OWN RISK. ANGELA NUÑEZ-BOWMAN AND CLR MEDIA, LLC ARE NOT LIABLE FOR ANY INJURIES INCURRED BY THOSE WHO ATTEMPT HORSE YOGA AFTER VIEWING THIS POST.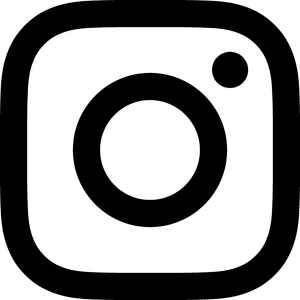 @horse_yoga_girl


@horseyogagirl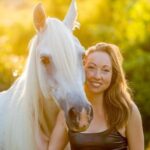 Angela Nuñez-Bowman is a lifelong equestrian and certified yoga instructor specializing in Hatha, Buti, and Horse Yoga. She is sponsored by Horse Tack Company and Equivisor and is a brand ambassador for Outback Trading Company and Goode Rider. Angela has been featured in Horse & Hound, People Magazine, TMZ, Good Morning America, Mashable, Daily Mail, Equestrian Living, Virginia Living, and The Huffington Post. She resides in rural Virginia with her husband, two dogs, and two horses.