—By Ginny Simon, Dressage at Devon
Christine Smith is very important to the future of Dressage. When she's not working at her day job (she's a flight attendant), she fills her time with horses and youth. Christine is a top handler, a coach and mentor, and a breeder of Champion Selle Francais, Oldenburg, and Danish Warmblood Sport Horses.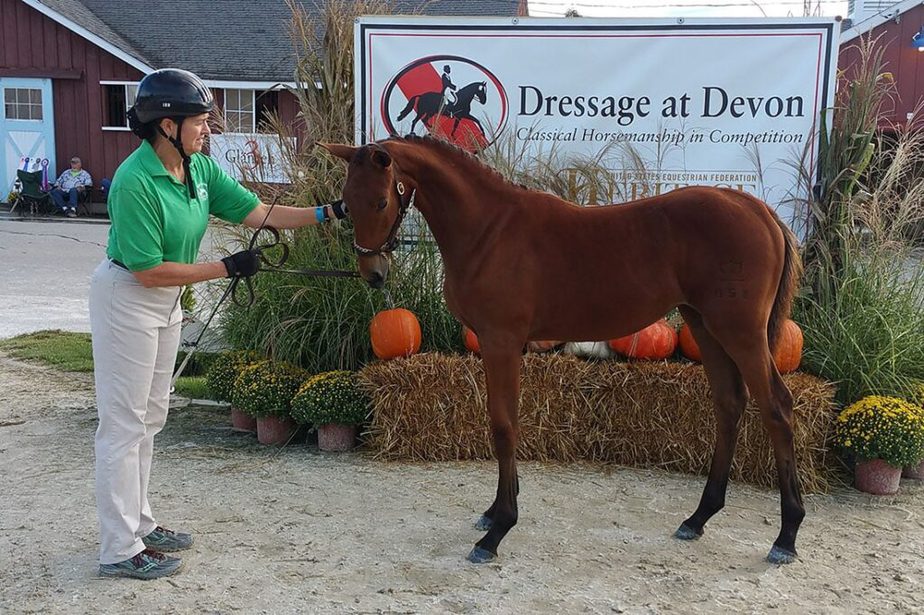 Christine attributes her ability to work with and breed horses to her 33 years as a flight attendant. She got to see the world and, at the same time, visit potential sires in person.
"The cool thing about my job is the ability to fly and look at every live stallion I've bred to. It's a full-time job, but it's afforded me my lifestyle." In fact, she was first exposed to showing in-hand in Europe on one of her flights with horses. "Before I transported people, I shipped horses all over the world by air. I ran the East Coast office of a West Coast-based equine air transportation company in the mid-'80s. In my travels, my schedule allowed me to go to a stallion inspection where I saw people showing in hand. I was hooked."
Her first horse, Nelly Des Ongrais, an import from Germany, was given to her as a result of this job. Nelly had an injury so she couldn't be sold and she had a blood disorder so she couldn't be shipped from the US to England. Christine's show career began in 1995 handling Harricot Du Glenn, her first foal from Nelly Des Ongrais. While still a novice, she jumped in with both feet. She not only went to her first breed show, she even went to Dressage at Devon!
"I was a novice at showing in dressage. I went to three dressage shows that year and one hunter breed show. By the time I was in my second year, I had learned a lot, but I still took a 6-month-old filly (my yearling colt was not cooperating) to an amateur handler class at Dressage at Devon with 38 mature horses and placed first. Ignorance is bliss!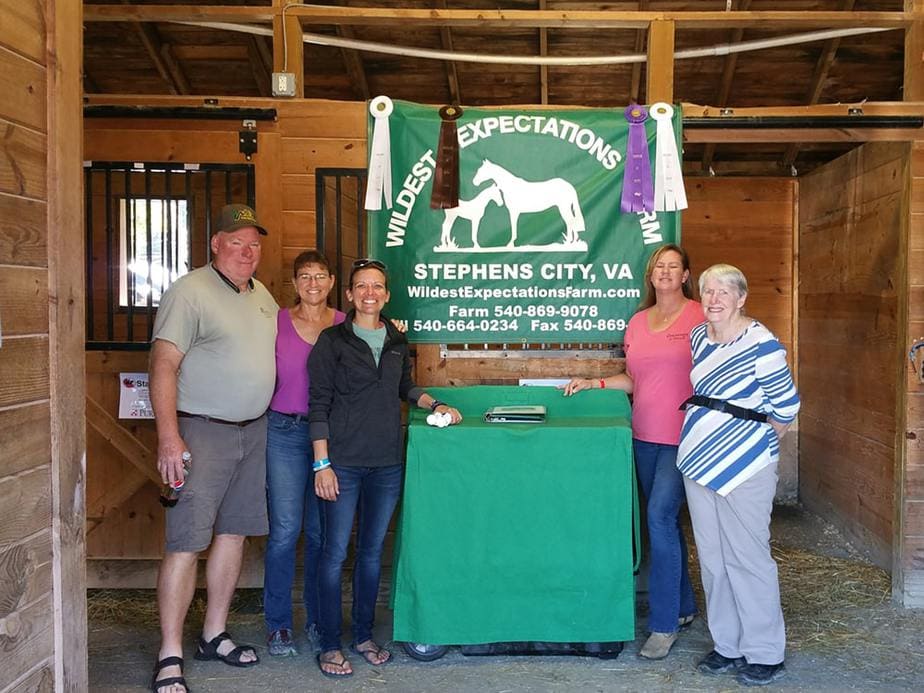 "I started watching other handlers and learning as much as I could as fast as I could. I took two clinics with Bob Orton who was very generous with his time and encouraged me to go pro. That's when I realized that this could be a real profession. It combined my track (in running) background with horses!" Working and handling babies became her niche and she began to expand her business, handling for others.
"In the early 2000s, Fran Smith from the Kentucky Dressage Association called and asked me to conduct a handling clinic. I was really excited about the opportunity. I remember one young woman who came to the clinic with a two- to three-year-old. Let's just say her attire and tack were not appropriate and her horse was walking all over her. I tried to point her in the right direction. Later that year I went to a show where she was perfect, from her attire to the horse's tack and presentation. She won the amateur handler class. I was overjoyed and so proud of her!
"Training horses is about trust. They need to be confident that you aren't going to lead them into something where they can get hurt. From the time my horses are babies, I try to expose them to anything and everything so, when they go to a show, they're calm and as unflappable as a horse can be. Handling is basic horsemanship. It always surprises me when horse owners don't know how to safely handle their horses on the ground."
Breeding is the other side of Christine's equestrian life. "I used to transport horses by air and I fell in love with the Selle Francais breed. Her breeding program started in 1993 when her dad, Glenn Smith, asked his daughter if she'd ever considered breeding her mare. Christine told him that she had already picked out the stallion but could not afford it on her flight attendant income. He suggested breeding twice, keeping one and selling the other. And that he would fund the breedings and could be paid back after the sale of one of the offspring."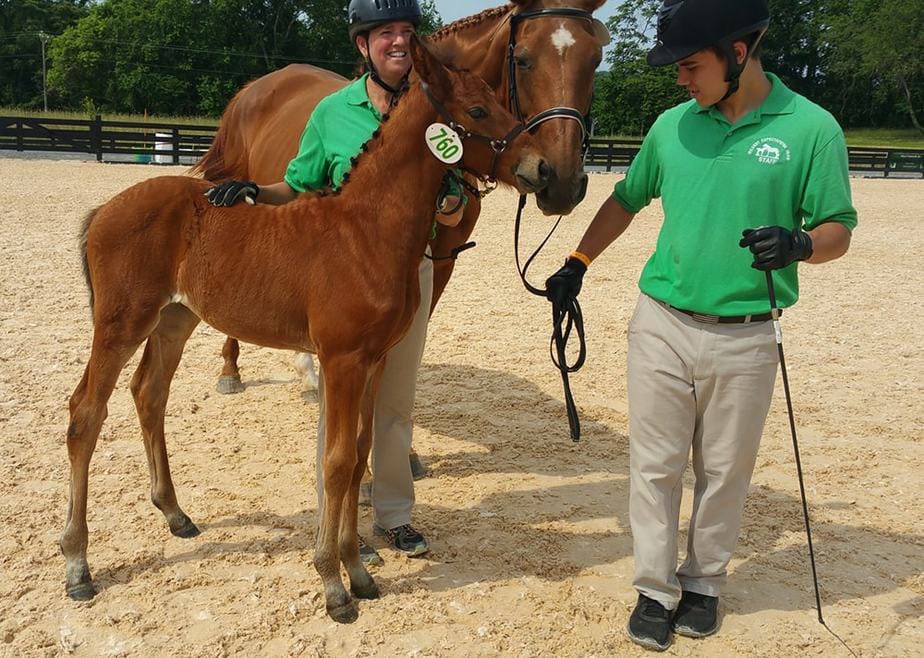 Christine sold Harricot Du Glenn (French for Glenn's Beans a nod to her father's participation) and kept I'dbedelighted (Del), Nelly's first filly who had been the highest-scoring Elite Selle Francais in the US, Mexico, and Canada in 1996. Del once finished 3rd in a huge open class at Dressage at Devon. "I keep that ribbon with all my championship sashes as it is my most valued award. Being a little fish in a big sea and doing that well was amazing!" she says.
"I also breed Oldenburgs and Danish Warmbloods—breeds that I had the opportunity to work with as a handler at breed inspections. I found that I enjoyed handling their foals and decided to breed to some top stallions including Cabaret from Hilltop Farm and Oak Hill Ranch's Solos Landtinus, Don Caruso, and Ripline (who I showed as a 6-month-old at his inspection and was able to watch him grow up as well as handle his offspring.)"
Today, Christine owns and runs Wildest Expectations Farm, a 20-acre farm based in Frederick County, VA. She works with her husband, Bill Weinell, who she says is "crazy good" with the babies, and Karen Williams who trains and rides for the farm (Karen started out as one of the kids Christine mentored years ago).
"My mom said I'd never be able to have horses or own a farm. I've had three farms and bred somewhere around 35-40 horses." Wildest Expectations Farm is home to two foundation mares, retired from breeding as they are 25 and 26 years old, and their offspring. "Our breeding program is now in its 5th generation, and we are very proud of our new generation of foals."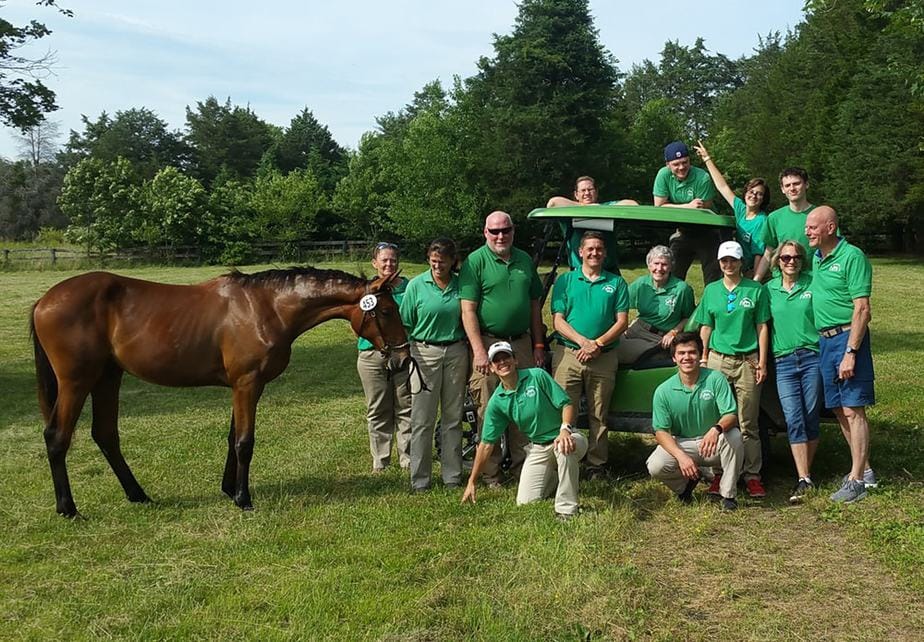 Christine will be bringing three homebred horses to the 2021 Dressage at Devon Breed Show. One is the Solos Landtinus 2-year-old gelding out of Temptress (Voltaire) who has qualified at every show he's attended this year for the Dressage at Devon championship class. Also débuting at her first show is Ripple in Time, a 5th generation for the farm's breeding program. She is a 4-month-old filly out of Beautifulice Asscher. These horses will be competing in their respective age/gender classes as well as their individual breed classes. The youngsters will also be in the Shoppin' in the USA Class on Thursday. Christine will also be bringing Sam Creveling, one of her handling trainees, along with her.
Christine has a simple philosophy: "I have always been more interested in behavior than points. How they place in a show, especially the younger horses, is not as important as their behavior—even though I love to win. As far as breeding, there's no point in breeding anything but the best! And we're breeding great horses in the U.S.A."
Visit Wildest Expectations Farm on Facebook.
Visit wildestexpectationsfarm.com