Egypt's Nayel Nassar Wins $400,000 Grand Prix of New York―Makes World Show Jumping History
April 28, 2019 at the Longines Masters New York―New York, NY
After Chicagoan Nayel Nassar (EGY) dominated the Longines Speed Challenge two nights prior (Friday, April 26th), he went on to best 28 other horse and rider combinations to make history… Nassar double-crowned himself the first rider to ever win both the Longines Speed Challenge and the Longines Grand Prix at the same event AND the first to do it aboard the same horse!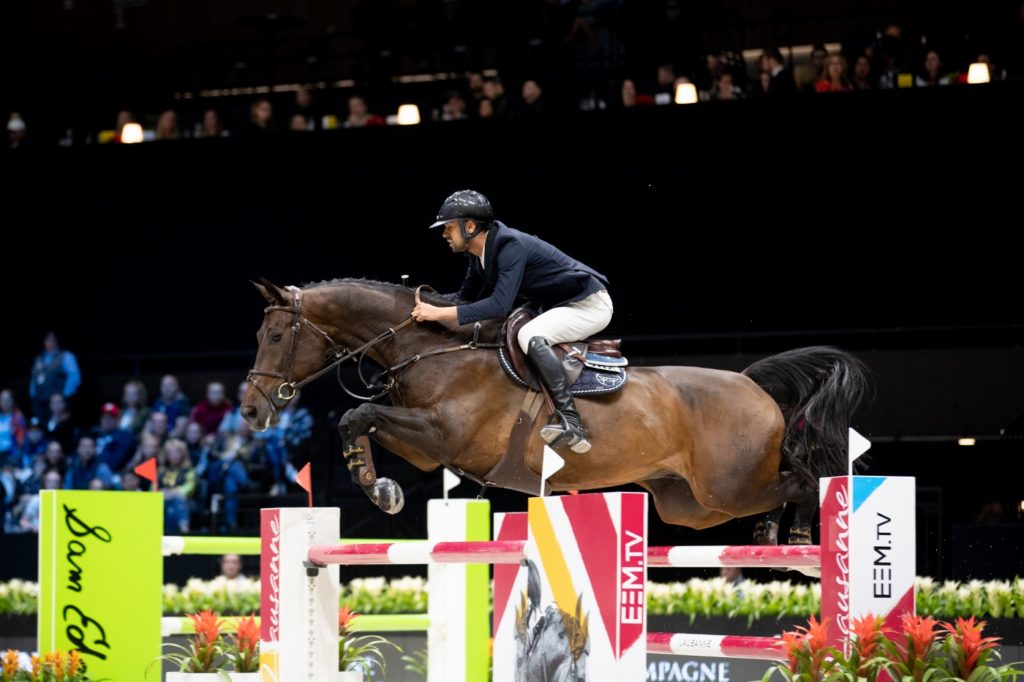 Nayel Nassar can jump clear with his eyes closed aboard Lucifer V.
Photo by Jessica Rodrigues for EEM
German course designer, Frank Rothenberger, built a difficult test for those 29 horse and rider combinations who were brave enough to accept the Longines Masters New York Grand Prix challenge. Only 12 of them were lucky enough to move on to the second round: six (of six different nations) who managed to jump clear and six who posted the fastest four-fault rounds. Those 12 moved on for the all-deciding final.
After 11 horse and rider combinations went round, the 12th―Nayel Nassar―came through to sweep the track. After putting forth a heart-stopping performance aboard 13-year-old Westphalian gelding, Lucifer V (owned by Evergate Stables, LLC), Nayel galloped home in only 38.59 seconds to an erupting crowd.
Of his mount, Nayel commented, "He really jumps with his heart and it's an incredible partnership to have a horse like that. He's such a trier and an athletic horse; he's faster than anything I've ever ridden before with a natural ability to leave the jumps up."
"He loves to go fast! You know you have a chance to win every time you come out. It's an incredible feeling and I'm grateful to have him." ―Nayel Nassar
When asked what it was like to write Longines Masters history, Nayel was an incredibly gracious winner: "It means the world," he said. "Thank you, Christophe [Ameeuw], for providing us with this platform. We can't showcase what we do without a platform to do it on, and I'm really grateful."
Cristophe Ameeuw, the creative mind behind the Longines Masters Series, had some reciprocating comments grace, "When you have the winner of the very famous Longines Speed Challenge on Friday and today you win this Longines Masters Grand Prix here in New York, a star is born. Thank you so much Nayal, you did an amazing job."
"Here in New York, a star is born!" ―Cristophe Ameeuw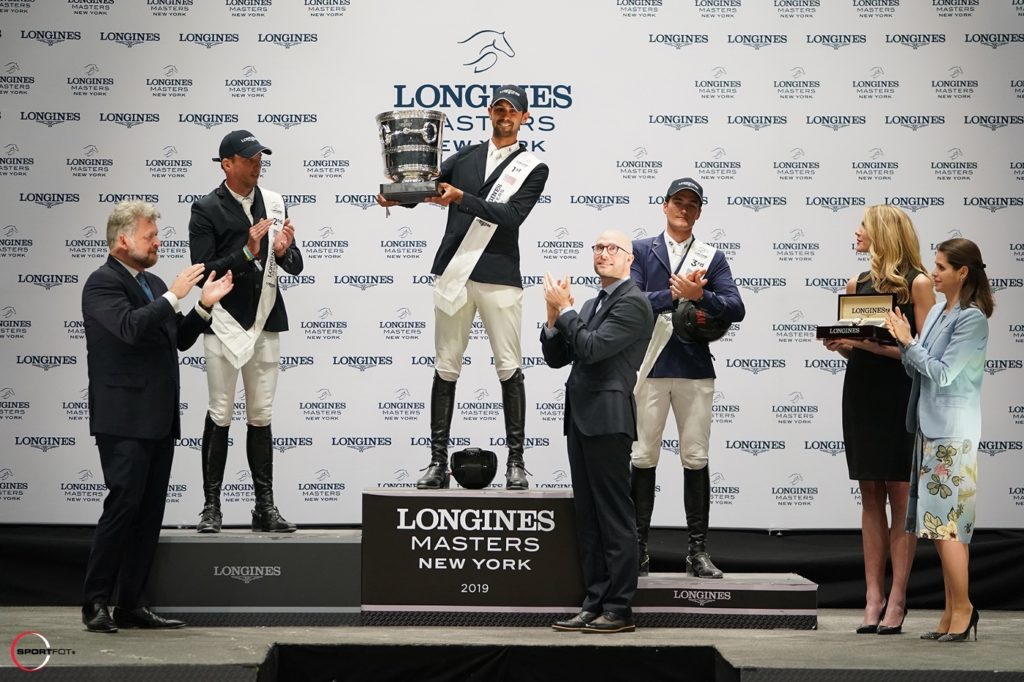 Christophe Ameeuw is joined by Longines Marketing Vice President Matthieu Baumgartner and Fernanda Ameeuw of EEM to congratulate the history-making winner.
Photo by Sportfot for EEM
The podium for the Longines Masters Grand Prix of New York:

1. NAYEL NASSAR (EGY), Evergate Stables LLC: 0/0/38.59
LUCIFER V: 2006 Westphalian gelding by Lord Dezi x Grandeur

2. HARRIE SMOLDERS (NED), Evergate Stables LLC: 0/0/39.46
UNE DE L'OTHAIN: 2008 Selle Français by Conterno Grande x Cento

3. OLIVIER PHILIPPAERTS (BEL), Malin Baryard AB, Stuteri Arch: 0/0/40.93
H&M CUE CHANNA 42: 2006 SWB mare by Cardento 933 x Robin Z