The 2019 $50,000 Devon Arena Eventing competition, sponsored by Douglas and Cynthia Howe and Salt Works, showcased top-level eventing in a unique class that incorporates two of the three elements of three-day eventing: cross-country and show jumping. A packed crowd looked on as a record 33 entries turned out to challenge famed course designer Captain Mark Philips' tracks, where ultimately Boyd Martin (USA) and Denise Lahey's Contestor took home the top prize after dominating two rounds of competition. Defending champions Chris Talley and Sandro's Star finished with reserve honors and Buck Davidson and Carlevo rounded out the top three.
I've been [at Devon] many nights watching my wife ride at Dressage at Devon and watching McLain Ward winning the Grand Prix show jumping. It's one of those venues that just oozes with aura and it's a real honor to have eventing here.
―Boyd Martin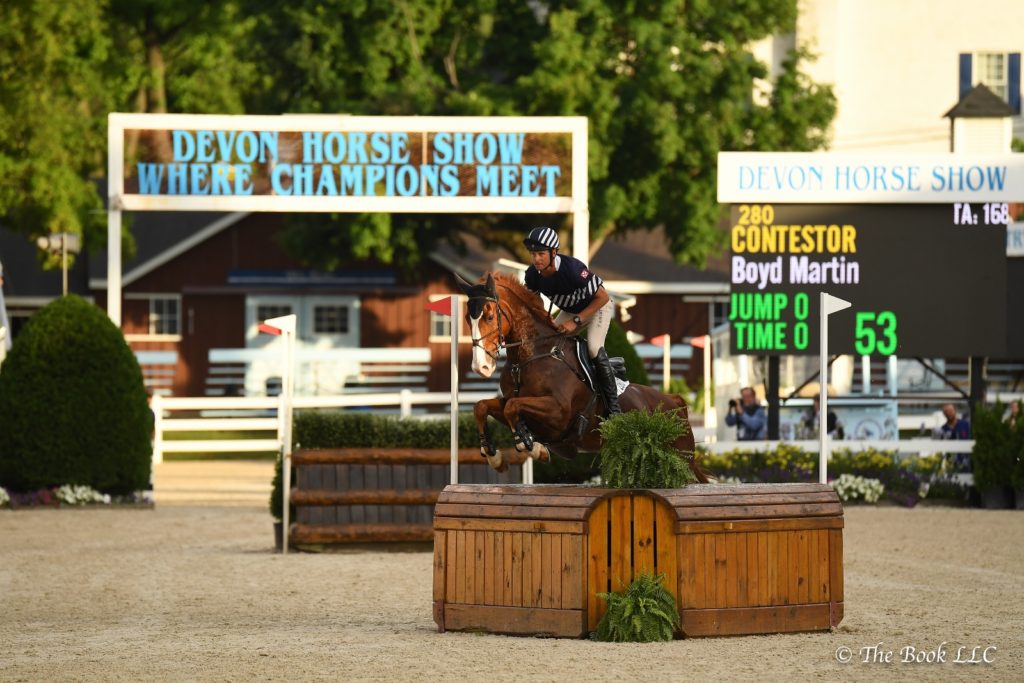 Phillips's 26-obstacle course, which utilized both the Dixon Oval and Wheeler Ring, challenged horse-and-rider combinations to navigate typical elements found on a cross-country course, including skinny brushes, tables, and corner obstacles, while also tackling stadium fences. Operating under a two-round format, the first round set a time-allowed of two minutes and 38 seconds, which posed an issue for 17 combinations. Following round one, the top 12 athletes returned to the Dixon Oval to complete 15 more obstacles in a jump-off round.
Defending champion Chris Talley mustered two mounts into the second round jump off: Hannah Salazaar's Faramund and  Sandro's Star. Faramund started the second round carrying 2 time faults and finished with 4 faults. Talley returned to the ring with his second mount, Sandro's Star, and came just shy of Martin's winning time in 73.94 seconds.
Martin and Contestor tackled the course with ease to take the lead with zero combined faults and a time of 73.30 seconds. The two-time Olympian and the 12-year-old Oldenburg gelding have been partnered since 2014. The gelding was bred and raised by longtime friend and owner for Martin, Denise Lahey of Stony Brook Farm. In talking about his mount Martin said, "I've had him for many many years. I spotted "Cortez" (Contestor) as a 3-year-old in a clinic [Lahey] taught.
He's sort of had an up and down career but he's just a really good boy. I'm lucky because he's an ultimate trier. Tonight he was a home run and I'm thrilled with the way he went.
I think it's good having a mixture of cross-country and show jumps for him, just because he likes that forward ride. Sometimes if I get too backwards in my canter he loses his scope a bit in the jumping so I'm pretty happy with him."
RESULTS
$50,000 Devon Arena Eventing
Place / Horse / Rider / Owner / R1 Faults / Time | R2 Faults / Time
1. Contestor / Boyd Martin / Denise Lahey / 0 / 156.34 | 0 / 73.30
2. Sandro's Star / Chris Talley / Hannah Salazar / 0 / 156.75 | 0 / 73.94
3. Carlevo / Buck Davidson / Carlevo LLC / 0 / 155.97 | 0 / 74.92
4. I Bella / Jennie Brannigan / Nina Gardner / 1 / 158.35 | 0 / 79.19
5. Cooley O / Julia Ennis Batters / Julia Ennis Batters / 2 / 163.19 | 0 / 83.71
6. Lukeswell / Hannah Burnett / Lukeswell Partnership / 0 / 156.89 | 4 / 78.80
7. Quinn / Missy Miller / Missy Miller / 0 / 153.67 | 4 / 78.80
8. Bendigo / Ema Klugman / Ema Klugman / 1 / 161.67 | 4 / 82.75
9. Faramund / Chris Talley / Hannah Salazar / 2 / 162.73 | 4 / 76.78
10. Gaya / Buck Davidson / Kathleen Cuca / 1 / 158.31 | 5 / 88.75
11. Snow Leopard / Elizabeth Jahnke / Light Speed Equestrian LLC / 2 / 165.60 | 8 / 78.40
12. Cristano Z / Caroline Martin / Caroline Martin / 1 / 159.86 | 14 / 93/30